Can Israel Really Deter Attackers by Demolishing Their Homes?
The country has resumed its controversial policy of destroying the houses of Palestinians accused of terrorism.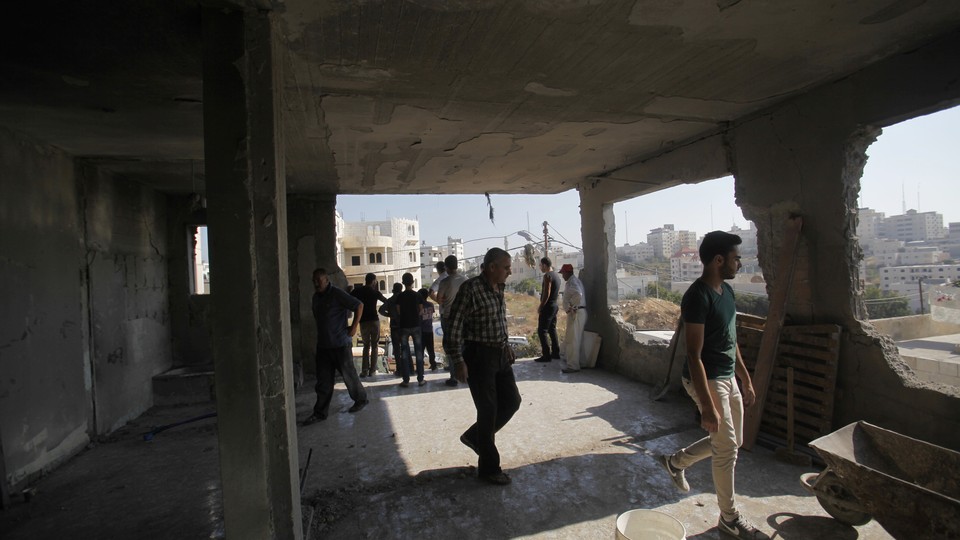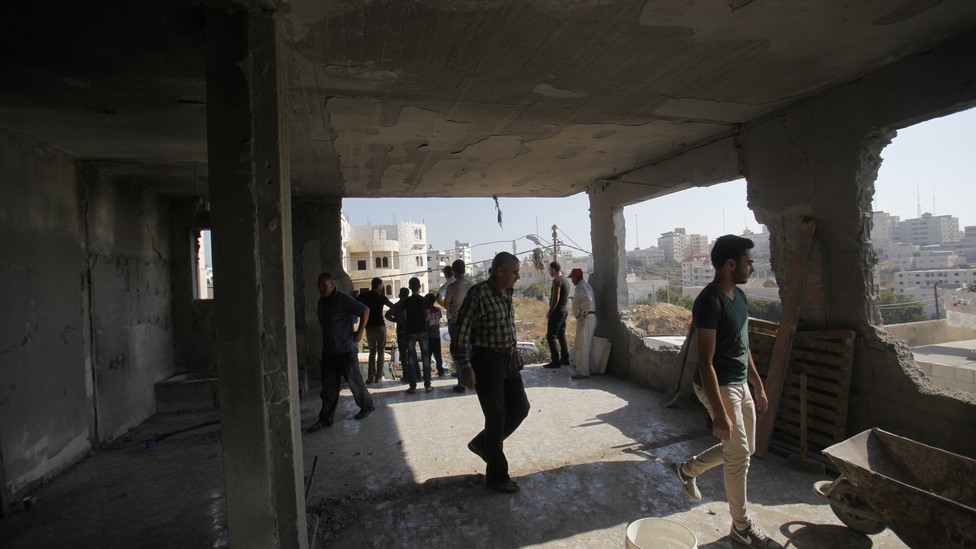 Just hours after a grisly attack on a Jerusalem synagogue on Tuesday that left four Jewish worshippers and a police officer dead, Israeli forces razed the home of a Palestinian man who had carried out a deadly car attack last month.
The timing was both meaningful and coincidental. On Monday, before the synagogue massacre, Israel announced that it was stepping up its policy of destroying the homes of those the state suspects of committing terrorist attacks. Cited as a deterrent to Palestinian violence, the policy was a hallmark of the Second Intifada, the Palestinian uprising against Israel in the early 2000s in which thousands of Israelis and Palestinians died. The return of home demolitions comes amid a recent flurry of attacks across Jerusalem, Tel Aviv, and the West Bank that have left nearly a dozen Israelis dead.
As the Israeli human rights group B'Tselem reports, more than 650 Palestinian homes were either sealed or demolished from 2001 until 2005, leaving the families of attackers homeless. The policy was discontinued after an army committee determined that razing homes not only failed to deter attacks, but also stoked Palestinian hatred of Israel. House demolitions, declared legal by Israeli courts, were also criticized internationally by the United Nations and others for smacking of collective punishment for family members who may have had no connection to the attacks.
As the Forward reported back in September, house demolitions "date back to a 1945 British Mandate emergency regulation in pre-state Palestine that allowed the British military to confiscate and destroy any home used to discharge a weapon, or any home used by a person who violated military law."
While the policy is meant to have a psychological effect for a would-be attacker whose family would be left homeless, some suggest house demolitions are also designed to offset the economic benefits of committing an attack. One example: During the first three years of the Second Intifada, the families of Palestinian suicide bombers, as well as the families of those killed in clashes with Israel, routinely received checks for up to $25,000 from former Iraqi dictator Saddam Hussein.
Hussein may be gone, but the financial incentives for Palestinian attackers who are jailed or killed are still around. Back in June, when Israel first announced it would resume house demolitions after three Israeli teenagers were kidnapped and killed, an Israeli official told the Jerusalem Post:
On the Palestinian side you have a whole package of incentives to carry out terrorist attacks, such as if we arrest the terrorist, their families get a generous allowance from the PA.
The official also likened the demolitions to a leveling of the economic playing field. But as the European Union reportedly considers sanctioning Israel over its settlements in the West Bank, the reignition of an internationally unpopular policy could also end up harming Israel economically.
On Wednesday evening, Israeli Prime Minister Benjamin Netanyahu vowed to continue the policy, saying in a statement, "We have nothing against the residents of eastern Jerusalem but we will not tolerate attacks on our citizens and we will act against those who do these things and against those engaged in incitement."
He added: "With a determined and vigorous hand, we will restore security to Jerusalem."