An Awkward—and Productive—Exchange Between China and Japan
The meeting between China's Xi Jinping and Japan's Shinzo Abe wasn't warm. But it was important.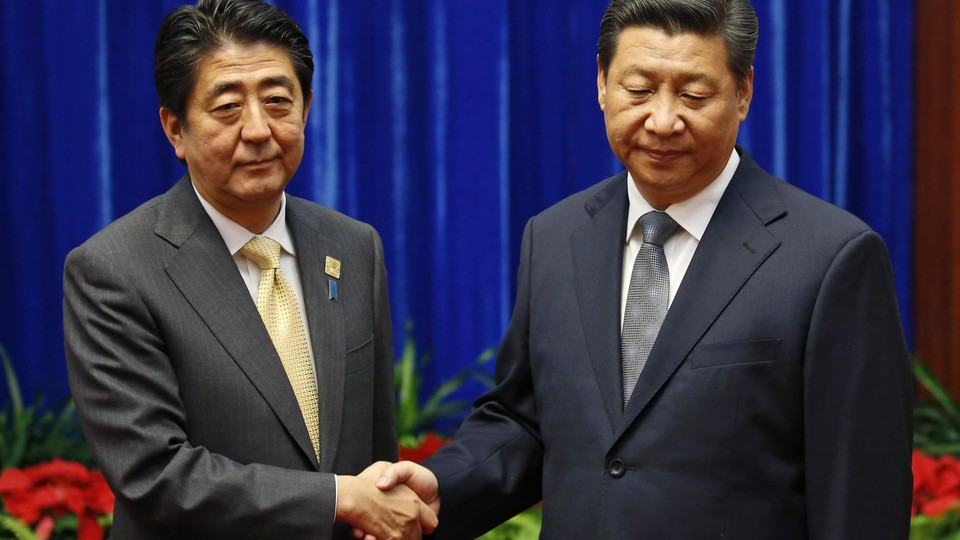 This week's meeting in Beijing of the Asia-Pacific Economic Cooperation (APEC) Economic Leader summit has, despite the stodgy name, provided several opportunities for laughs. First, the Chinese-distributed "informal" outfits made the world leaders look like extras in a Star Trek movie. Elsewhere, Russia's Vladimir Putin raised eyebrows by gallantly, if inappropriately, placing a shawl over the shoulders of Peng Liyuan, the wife of Chinese president Xi Jinping.
But the most-publicized encounter of the APEC summit was the exceedingly awkward handshake between Xi and Shinzo Abe, Japan's prime minister. After months of frosty diplomatic relations between the two countries, Xi and Abe finally met on Monday. But rather than embrace warmly, they instead regarded each other like boys forced to make up after a schoolyard fight.
Considering the contentious relationship between China and Japan, the fact that the meeting occurred at all is remarkable. Ties between the two countries have been especially strained in recent years. Both countries claim the Senkaku Islands (called the "Diaoyu" in China), an uninhabited archipelago whose waters are thought to contain significant natural-resource wealth. Two years ago, the Tokyo government inflamed Chinese sentiment by purchasing the islands from a private Japanese citizen. Ever since, China has asserted its sovereignty through regular military incursions nearby, raising fears that an unplanned incident might draw Japan—and by proxy the United States—into conflict with China.
A further complication is the role of nationalism. Chinese nationalists contend that Japan has failed to sufficiently atone for its brutal occupation of China before and during the Second World War. Japanese nationalists, meanwhile, have pressured Shinzo Abe to revise a pacifistic clause in Japan's post-war constitution. Sino-Japanese ties suffered when Abe visited the Yasukuni Shrine, where Japan's war dead are buried, last December, and China has called on Abe to promise not to do it again. But Abe, in a nod to Japan's nationalists, has refused to make any promises.
There are also signs that the relationship has begun to thaw. Japanese and Chinese diplomats discussed the Senkaku Islands issue last week and agreed, if nothing else, to continue dialogue over the dispute. And Abe has spoken of deepening economic and trade ties to his country's giant neighbor.
Considering all the baggage in the Sino-Japanese relationship, the handshake—as painful as it looked—was a gesture of goodwill, not discord.