Why Would a Mexican Drug Gang Target Student Protesters?
The discovery of mass graves prompts charges that officials hired cartel hit men to go after rivals.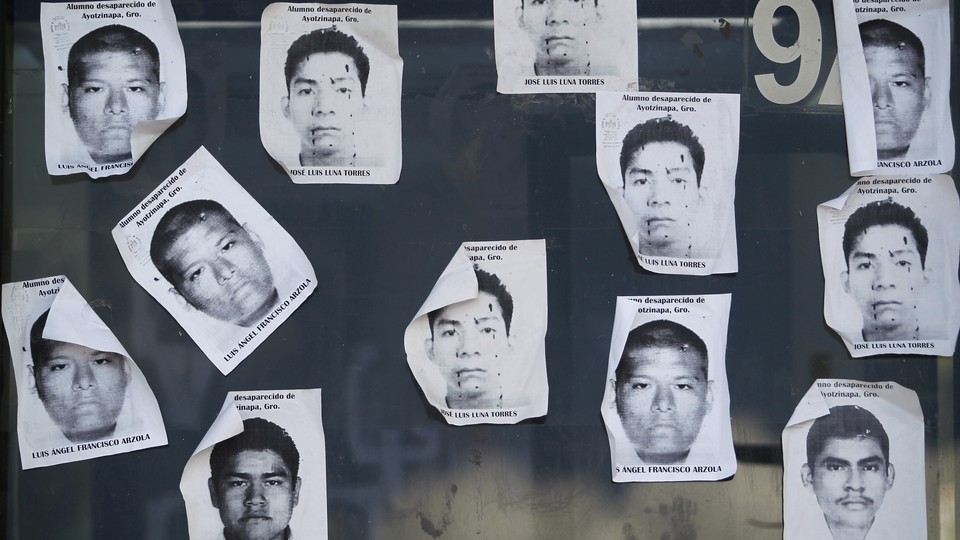 On Thursday, Mexican officials reported finding more mass graves in the southwestern state of Guerrero, following Saturday's discovery of 28 charred bodies in the same area. The bodies have not been identified, but the graves appear to be linked to the disappearance two weeks ago of 43 student protesters after an altercation with police officers in the province's city of Iguala—a clash that reportedly left six dead and 25 injured. The brutality of the murders appears to point to gang violence, which raises the question: Why would a drug gang target students?
As protesters marched to demand justice for the students and parents of the missing held candlelight vigils for their vanished children, Mexican authorities directed blame at Iguala's government and police force. Mexico's attorney general, Jesús Murillo Karam, told reporters in Mexico that Iguala's police "are a disgrace to their uniforms. They are killers working in a drug cartel." Guerrero Attorney General Iñaky Blanco has accused the city's police of sending 17  protesters to their deaths at the hands of the criminal organization Guerreros Unidos. State prosecutors have issued arrest warrants for the town's mayor and security chief in connection with the case, and at least 22 Iguala police officers are in custody.
The Wall Street Journal reports that tension had been building between students, who staged frequent and disruptive protests, and the local government for more than a year. Less clear is why a drug cartel would want to go after dozens of young leftists in a feud with the local government. "[I]t it is a symptom of a systematic process that has been taking place in Mexico for years," wrote the journalist Ioan Grillo from Iguala on Thursday. "Drug cartels are taking over chunks of government apparatus, from local police forces to city and state governments."
It's not always clear, however, whether the local government is working for the drug cartels, or the other way around. InSight Crime's David Gagne suggested on Thursday that Guerreros Unidos was likely "acting as 'muscle' for corrupt local officials," since the cartel itself had little incentive to target the students.
"Oftentimes criminal groups can take actions that authorities cannot," InSight Crime's co-director Steven Dudley told me. As to who exactly is working for whom in Mexico's criminal-political nexus, Dudley said, "The short answer is, we don't know. And the longer answer is, it changes all the time."
The dynamic is complicated by the ongoing fragmentation of Mexico's criminal groups, sometimes as a result of the death or capture of their leaders in counternarcotics operations. Guerreros Unidos, for example, split from the larger Beltrán Leyva Organization after its founder, Arturo Beltrán Leyva, died in 2009. Gagne noted that a similar process has taken place in Colombia, "in which an increasing number of small criminal groups rely on extortion, micro-trafficking, and contract killings to bring in cash." As smaller groups proliferate, wrote Gagne, "they must look for more diverse revenue streams rather than relying principally on the transnational drug trade."
One of these revenue streams can be helping corrupt local officials settle scores. "This is obviously an extreme, extreme case," said Dudley. "If you were seeking to keep a restive group of students at bay you presumably would just need to beat them up or something. ... The extreme nature of the use of force here is very confusing and may speak more toward a more generalized environment in Guerrero right now than anything else." Guerrero is one of the country's most violent provinces.
Meanwhile, Thursday's capture of another cartel boss in Mexico's north has been covered as a symbolic gesture from a national government intent on diverting attention from the power of criminal organizations at the local level. If it leads to further fragmentation of Mexico's organized crime, however, that short-term victory may fuel the very dynamic filling mass graves further south.