Why I Won't Give Up My Dream for Hong Kong
I watched democracy stall here a decade ago. I can't see it happen again.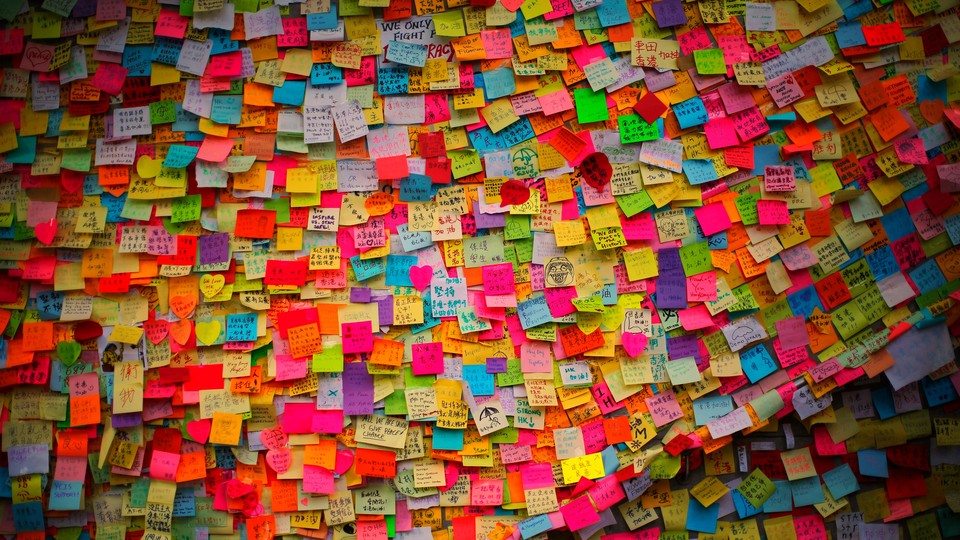 Earlier this month, I swam across Victoria Harbour—the lifeblood of Hong Kong since our inception—in an annual race that was only recently revived after decades of concern about the water being contaminated. Hong Kongers of my father's generation talk wistfully about the old cross-harbor swim and how wide the harbor was in those days, before the land-reclamation projects began, before the Cross-Harbour Tunnel.
Their reveries reflect an existential fear: Without our harbor, even the meaning of our name, "fragrant harbor," becomes obsolete. We would suffer the fate we most dread—the crux of what has driven our students into the streets over the last month in their umbrella-toting droves: We would be just another Chinese city.
Hong Kong officials met with student protesters for the first time on Tuesday, and if there was one message the government conveyed, it was this: Give up on your dreams. That happens to be a line from the unofficial anthem of the protest movement, a rock ballad by the local band Beyond, and if you have visited any of the protest sites, you know how the next line goes: Anyone can do that.
Eleven years ago, I was the dreamy student. The controversy surrounding proposed anti-subversion legislation under Article 23 of the Basic Law, our territorial constitution—controversy stoked by the malaise of SARS and the untimely deaths of two of our most beloved pop stars—had exposed our combustible political arrangement, and it seemed clear to some that without the release valve of direct elections, the top was eventually going to blow. I was a rising junior at Yale, all of 20 years old, when as also transpired this month in The New York Times, Martin Lee Chu-ming, the founding chairman of Hong Kong's Democratic Party, wrote an article calling for universal suffrage, and Leung Chun-ying, now our chief executive but then a cabinet member, wrote back saying why that couldn't work—that the proposal was deceitful without some kind of vetting by Beijing. The hope of publicly nominating candidates for Hong Kong's highest office, one of the core demands of the protesters today, died more than a decade ago.
Naive student that I was, and embarrassed to be studying at an elite foreign university rather than home fighting the good fight, I tried to enter the fray by writing a rebuttal to Leung, boldly pronouncing that the march of democracy never stops, so he might as well get out of the way. To my surprise, the South China Morning Post published the piece, and to my even greater surprise, Leung responded, with language uncannily similar to his New York Times rebuttal to Martin Lee this month. We went back and forth for a couple weeks before the debate petered out, as did public anger. The SARS epidemic receded. The Article 23 legislation was shelved. The National People's Congress in Beijing ruled out universal suffrage in 2007, and the top did not blow.
In the years that followed, though I lit candles on June 4 in memory of the students who died in Tiananmen Square, and marched on July 1 in Hong Kong's annual demonstration for democracy, I grew up. I worked as a corporate lawyer in Central, the financial hub that protesters have occupied in recent weeks. I bought an apartment in the Mid-Levels, home to many of the bankers and lawyers who work down the hill in Central. It felt so seamless, passing from the privilege of my childhood to that of adulthood. And whether it was my parents midwifing China's petrochemical and pharmaceutical industries or my law firm shepherding the Chinese Internet to the world's money markets, the mainland fed this privilege.
But not only the mainland. None of who I am today, none of what I have, exists without the freedoms and rights, of expression and to property, that in China are still unique to Hong Kong, all of which allowed ideas and capital to flow freely in to the mainland and out to the world, protected by our laws and independent judiciary. Without any help from the mainland, our city of outcasts—like my great-grandfather who fled here from China's warring Guangxi region in 1925—built upon this barren rock one of the wealthiest, best educated, safest societies in the world, as readymade for democracy as any place has ever been. What made this possible—our free markets and our free press, our courts and our schools—are not gifts from the Chinese Communist Party; they are the fruits of our own labor.
Today's protesters are not trying to change China. They are merely asking to preserve that which we ourselves have sown. And if you include the 1.4 million Hong Kongers who say they signed a petition opposing civil disobedience but supporting universal suffrage, a clear majority of the Hong Kong electorate thinks democracy is the best way to do that.
If the government disagrees—if Leung, as he told the foreign media this week, is afraid of a tyranny of the masses who make less than $1,800 a month—then let's have that debate on the merits of democracy. In Tuesday's meeting, student protest leaders made their case for why truly universal suffrage would enrich our lives by holding the government accountable to all of us, not just some, but not once did the government explain how pre-selecting candidates for chief executive would make Hong Kong better, or why open nominations would make it worse. Free elections are impossible, we are told, not because they won't help bridge the wealth divide or sustain our way of life, but simply because Leung's bosses say so.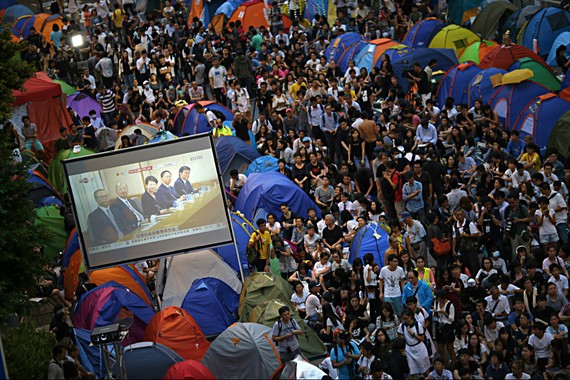 I feel for the small businesses and hourly workers who have been affected by the protests, knowing that true democracy, when it comes, will not reimburse them for their losses, and that any benefits they will reap are too far in the distance. So although I have a special fondness for liberally exercising my freedom of assembly in the shopping district of Causeway Bay, having spent most of my adolescence loitering under one of its now numerous Jumbotrons, the police were right to swiftly unblock Hennessy Road, one of Hong Kong Island's vital arteries, as well as Queensway, another thoroughfare closer to the main protest site in Admiralty. Too many Hong Kongers—the ones Leung doesn't trust with the vote—depend on those roads just to get by.
But for my peers of privilege, those more inconvenienced by the blockade of business areas like Admiralty, and to whom the institutions—the democratic institutions—of free enterprise and equality before the law have paid such generous dividends, for them to complain about a month of longer commutes is nauseously hard to stomach. They are the ones who have profited on the backs of those who bothered to fight for what freedoms we have, and they will be the ones years from now whose fortunes will grow, whose children will thrive, because of the concessions that will be won by the protesters today. The idea of public nomination may be long dead, but there is still ample room in the Basic Law to expand the base of the nominating committee and lower the threshold for the nomination of candidates. If our government does not have the courage to tell this to Beijing, someone has to.
So many voices—our own government, the central government, foreign governments, much of the international media, and even some of the protesters themselves—say there is no chance of any concession by the authorities, that this is a futile battle against an intransigent force and can yield only moral victories. It is all just the dreams of naive students, they say, a fantasy.
But so is Hong Kong. On that recent Sunday morning in Victoria Harbour, when I had swum to roughly the midpoint between Hong Kong Island and the mainland, I took a moment to drift on my back and let the city wash over me. The harbor and the skyline, the hills and the bays, the food, the movies, the money, and, of course, these protests—politically engaged teenagers doing homework on the streets, collecting garbage, singing songs—all these are unreal. Our city is a dream, a place where umbrellas float through tear gas, schoolchildren lead civic debates instead of virtual lives, and 999 of every 1,000 trains run on time. On that ship in Nanjing 172 years ago where China signed us away, after the British surrendered us on Christmas Day, 1941, when the tanks plowed into Tiananmen Square on the morning of June 4, 1989, we were never supposed to exist, not like this.
I have been a student in or from Hong Kong for 25 years, until I graduated this month from the City University of Hong Kong with a master of fine arts in creative writing, endorsed by my chancellor Leung Chun-ying to express myself with any words I choose. I choose words of protest. Others can bet against the march of democracy, but I still go with the better odds. I am a student no longer, but a dreamer, and a Hong Konger, always.