Why Did Jordan Ban Halloween?
What the government's fraught balancing act has to do with costume parties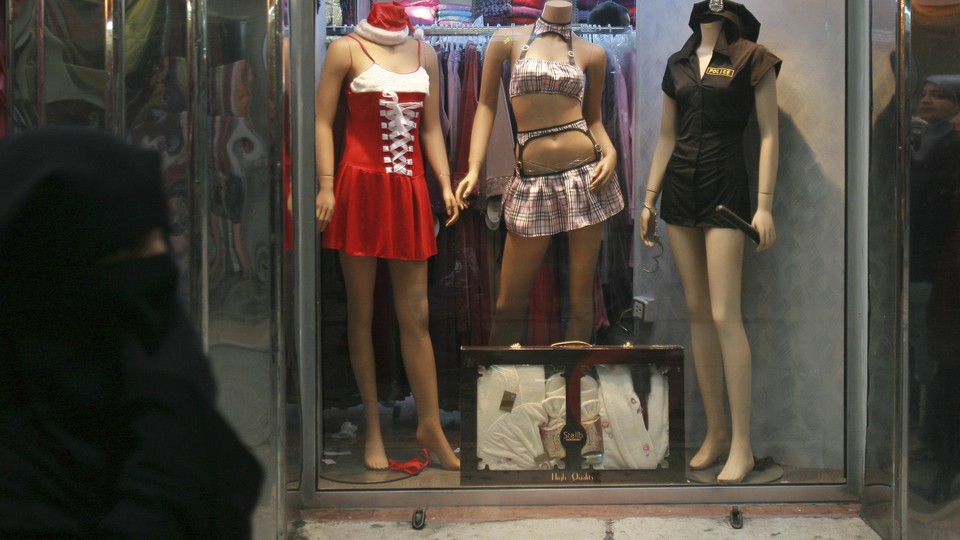 Last year, when I was living in Jordan, I went to a typically rowdy Halloween house party. Dressed as a "Real Housewife of Amman," I tucked a bottle of wine in my apron and embraced the night along with expats and Jordanians alike. In my experience, Halloween celebrations in Amman mostly exist in very particular bubbles for the wealthy and the foreigners. But this year looks like it will be different. On Wednesday, Jordan's Ministry of Interior abruptly issued an edict banning all public celebrations of the holiday. The U.S. Embassy in Jordan warned:
U.S. citizens should expect police reaction, including arrests, at any public Halloween-themed event. The U.S. Embassy advises that U.S. citizens traveling from their home to a Halloween party, or vice versa, cover up their costumes while in public or in a car.
This isn't the first time Halloween has been contentious in Jordan. In 2012, arsonists set fire to the entrance of a West Amman cafe that had hosted a Halloween party the night before; the local Muslim Brotherhood chapter subsequently issued a statement calling the Halloween event a gathering of "Satan worshippers." This year, the government itself started condemning Halloween celebrations before they began. A spokesman for the Ministry of Interior, Ziad Zou'bi, said such parties were not in keeping with traditional Jordanian values.
Almost immediately after the ban was announced, Jordanians took to the Internet with blog posts and cartoons criticizing the government's new approach to the holiday. "We obviously have a state that is keen on appeasing conservative forces whenever it's up against the wall," wrote Naseem Tarawnah, co-founder of the online Jordanian news site 7iber, on his blog. "Jordanian society, as a whole, has grown more conservative and/or religious in recent years." State opposition to "secular/liberal/western activities," he wrote, would "always find ways" of making itself felt, and Halloween was no exception.
While Jordan is a key U.S. ally in the Middle East, it is also true that a large swath of its population opposes its government's involvement in America's war against ISIS. A high proportion of Jordanians doesn't consider ISIS a terrorist organization (62 percent of respondents to a recent poll in the country said it was); still fewer (44 percent) consider al-Qaeda a terrorist group. Jordanian Salafists have begun to join ISIS in Syria. Islamists across the country are torn about whether or not to support Jordan's participation in U.S.-led airstrikes in Iraq and Syria. The Muslim Brotherhood has openly declared that the fight against ISIS is "not Jordan's war," while some of Jordan's Islamic religious leaders have voiced tentative support for airstrikes. There is a growing disparity between what many of Jordan's conservatives feel, and what their government is doing to keep up Jordan's image as a beacon of moderate Islam and foe of terrorists in the Middle East.
But what does Halloween have to do with it?
"This seems like a convenient easy concession, like a bone to throw the Islamists, when the government is struggling a little with its Islamic credentials," said my friend Alex Simon, a Jordan-based Fulbright scholar who studies the regional impact of Syria's civil war. "It falls within a broader process of Jordan trying to maintain a tricky balance between in theory being a moderate Islamic country, but still with a relatively conservative population."
Zeyad Tuffaha, another friend of mine who lives in Amman, told me in an email that the political situation there "got officially bad" with Jordan's announcement it had joined the international coalition fighting ISIS. "The central intelligence, the military and the police have their hands full," he wrote.
Jordan, and its American-educated king, have been portrayed in Western media as relatively liberal for the region. But the ban on Halloween illustrates the tension between the government's outward assertions of its backing for Western-led anti-terrorism efforts and its attempts to maintain the support of conservative constituents who oppose that campaign. Zeyad called the ban "more of the same" of the "growing wave of intolerance" he had experienced in Jordan.
And its effects may be felt long after October 31. "Regardless of what the larger agenda is, simply relenting to conservative forces means this country goes nowhere but in one direction – and it's a direction I would personally deem to be ... unfavorable, to say the least," Tarawnah concluded on his blog. "There's a need for a clash between these two opposing forces – the kind that yields a critical discussion or even a great debate."