Who's Behind Hong Kong's Counter-Protests?
Mainland Chinese, organized crime, and business interests counter the Umbrella Revolution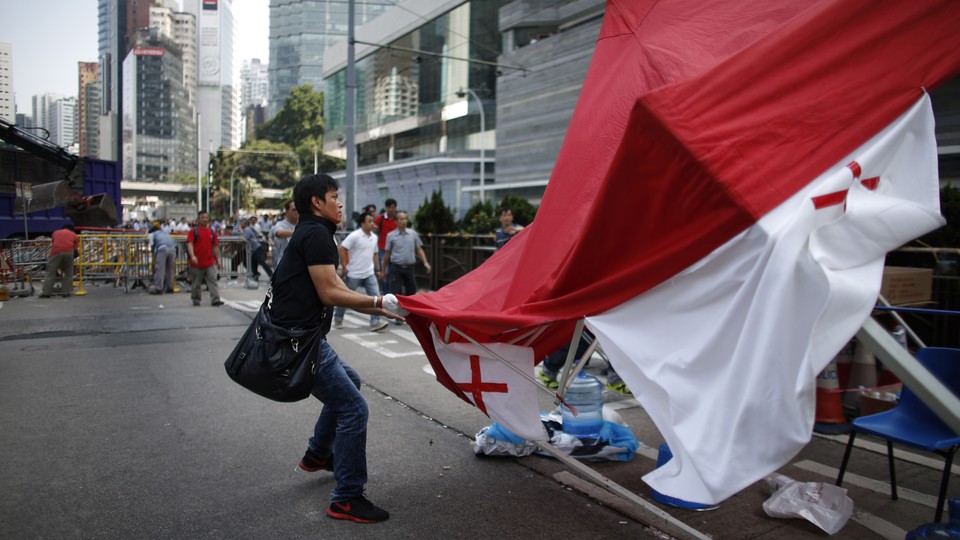 Four days after Hong Kong's government abruptly canceled a scheduled meeting with student protest leaders, many in the territory appear to be losing patience with the demonstrations: A group of counter-protesters, some adorned with banners reading "Enough is Enough," clashed with protesters in Hong Kong's Admiralty district on Monday. Meanwhile, the territory's embattled chief executive, Leung Chun-ying, whose resignation is a core demand of the protesters, said he would not allow the demonstrations to continue indefinitely.
Hong Kong's student protesters—particularly the precocious 17-year-old Joshua Wong—have received substantial international press attention in their battle to achieve true universal suffrage in the territory. But in a movement referred to as an "Umbrella Revolution" against unwanted Chinese interference, the protests have not eroded significant political divisions within Hong Kong itself.
Since the 1997 handover, hundreds of thousands of mainland Chinese natives have migrated to Hong Kong, where they now comprise more than 10 percent of the territory's population. The relationship between the mainlanders, who speak Mandarin, and the Cantonese-speaking Hong Kong natives has not been easy. Mainlanders have complained of job discrimination and shoddy treatment in the territory, where anti-Chinese sentiment has grown. In Mong Kok, a neighborhood where protest violence has been especially acute, pro-democracy supporters reportedly shouted at their opponents to "go back to the mainland."
Not all of the counter-protesters, however, are from the mainland. Hong Kong's student leaders have accused the triads, organized crime syndicates with significant business interests across the territory, of dispatching thugs to break up the protests. (The police announced that of the 19 counter-protesters arrested in Mong Kok last week, eight had triad connections.) Others have complained that the protests, which have blocked several of Hong Kong's most important business roads, have disrupted enterprise in the territory.
As protest leaders try to keep momentum alive, Hong Kong's government has shown little inclination to negotiate: Leung has said that there is "zero chance" that the territory will rescind a new election law that limits eligibility for the 2017 chief executive elections to candidates vetted by Beijing.
"Under the appropriate situation we hope to allow society to return to normal as quickly as possible," he said.