Where Is Kim Jong Un?
A guide to what we know—and don't know—about the North Korean leader's disappearance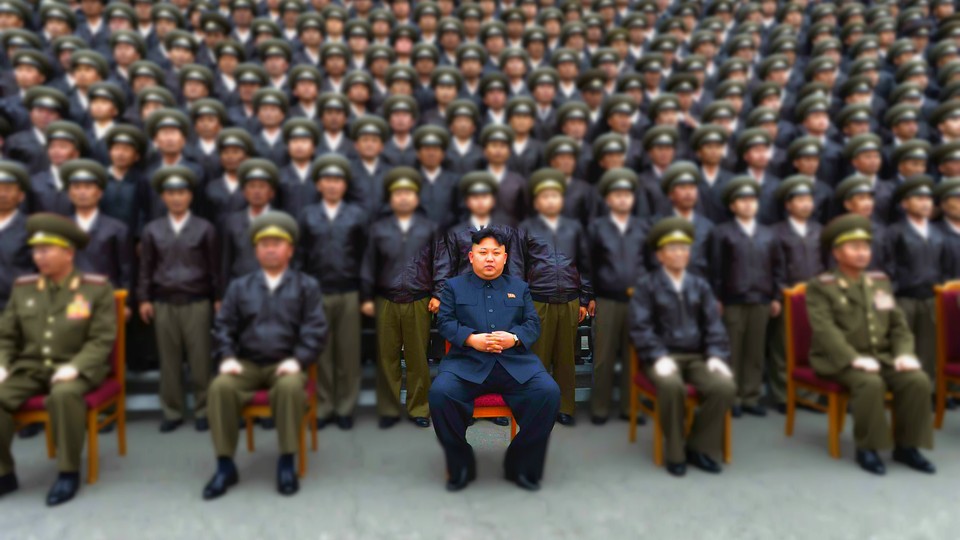 One of the perils of doing things differently than your predecessor is that people quickly forget how things used to be. North Korea's late leader, Kim Jong Il, was a fairly reclusive man, one who seemed more drawn to the tunnels under Pyongyang than the bright lights above. His son and successor Kim Jong Un, by contrast, has been omnipresent in North Korean media since his first ebullient on-site inspection in January 2012. He assesses the output of women's hosiery and shoes, urges faster mushroom production, gesticulates at goat farms, measures the length of offshore artillery fire, embraces the troops, hugs small children, and welcomes tall, pierced men from abroad. He directs painters and architects, launches missiles, watches lubricant ooze, and enjoys North Korean girl bands with his wife. Clearly, his goal is not just to look at things, but to be looked at.
That's why it's so remarkable that the 31-year-old marshal hasn't been seen in public since cameras captured him smoking cigarettes at a performance of the Moranbong Band on September 3. Speculation about his whereabouts only increased in late September after Reuters' James Pearson reported that a North Korean propaganda film had shown a hefty Kim Jong Un limping and indicated that he was suffering from "discomfort." The narrator of the film relayed the news with fulsome gratitude and even seemed to guilt-trip viewers for forcing such an obviously busy man to work so hard. South Korean news outlets have raised the possibility that Kim is recovering from ankle surgery.
Kim's prolonged absence, along with reports of what appear to be rather standard restrictions on entering and exiting the North Korean capital of Pyongyang, have fueled rumors of a coup. (One of the most-quoted sources for a variant of this theory, the North Korean poet and defector Jang Jin Sung, argues that the coup actually took place back in December.) But there is no evidence so far of an attack on the Kim family, which has done an extremely thorough job over the past seven decades of eliminating even the hint of internal opposition.
Kim Jong Un hasn't been wholly incommunicado over the past month. He's been credited in North Korean media with several pieces of writing: A missive to Bashar al-Assad and a long letter to Youth League workers in Pyongyang emerged in early September, and letters to various communist leaders abroad (including the Chinese) followed. Over the weekend, three top North Korean envoys visited Incheon, South Korea for the closing ceremony of the Asian Games, in the highest-level meeting with South Korean officials in several years. The delegation members refuted rumors that Kim was sick, as has North Korea's representative in Geneva.
That Hwang Pyong So, a senior military official, led Saturday's delegation to Incheon has been interpreted by some as confirmation of his great clout in North Korean high politics. Only a year ago, Hwang was but one lonely face in a sea of black-clothed officials when Kim Jong Un's uncle, Jang Song Thaek, was brutally purged from the ruling Workers' Party of Korea. But he has since risen meteorically. Jang Jin Sung, the North Korean poet-defector, prominently maintains that Hwang is running the show in North Korea via his Organization and Guidance Department (OGD). Jang's assertions, amplified by news outlets such as CNN and Vice, are extremely dramatic and certainly deserve further investigation. The OGD appears to be a rather mundane apparatus that many communist parties share, though Jang and others with extensive experience inside the regime maintain that in North Korea it is particularly malevolent. But his role with the OGD should not blind us to the fact that Hwang's other job titles are also quite powerful: vice chair of the National Defense Commission (ostensibly the most powerful institution in the government) and director of the General Political Bureau of the Korean People's Army. Moreover, holding various positions within the North Korean government is far from unprecedented, and chair-swapping among elites is common, much like in the Chinese Communist Party. At least thus far, North Korean media has not personally lauded Hwang for his role in the Incheon trip; nary a single image of the journey has been shown on North Korean television or in the Party newspaper.
Kim Jong Un's main public function, as the object of a totalitarian cult of personality, has been to serve as the face of the regime. He is now unable to fulfill that role, for whatever reason, and the system is insufficiently evolved for an appearance by his wife, or his sister, to do anything except further stoke speculation. All the rumors over the last month may ultimately reveal very little about the North Korean system, which is already known for its secretive and unpredictable modes of operation. But it shows that we share with the North Korean people a tendency to excessively focus on the Kims to the detriment of knowing more about their immediate subordinates, let alone the roles they play in running the country. If North Korea's young leader doesn't make a public appearance for the October 10 "Party Foundation Day," it would send a message: We may soon learn much more about the old officials we rarely notice as we pore over images of Kim Jong Un looking at things, and look right back at him.