What Does a Good Nuclear Deal With Iran Look Like?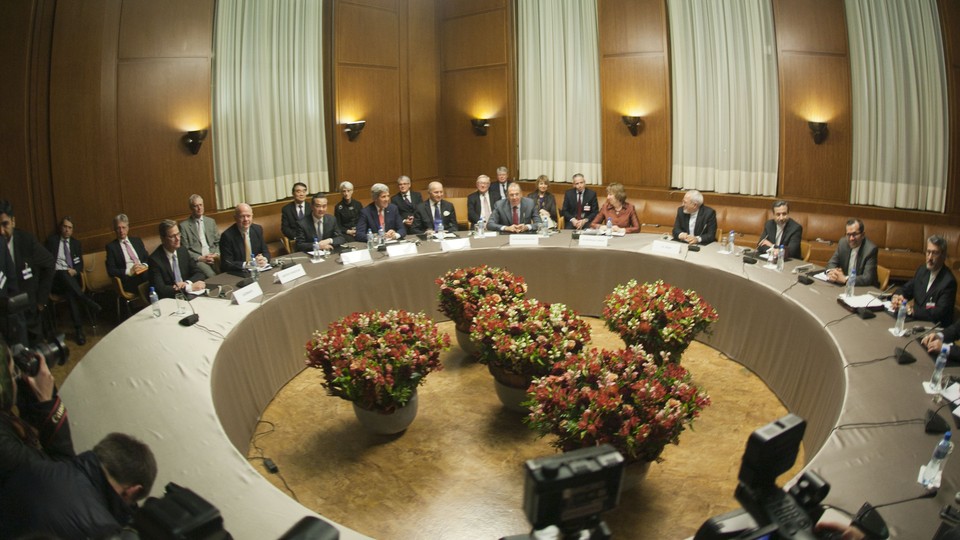 Laicie Heeley, director of Middle East and Defense Policy at the Center for Arms Control and Non-Proliferation, offers a considered response to my recent assertion that the Obama administration has "retreated from the longstanding demand that Iran dismantle its nuclear centrifuges" and that under its new proposal in ongoing nuclear negotiations, "Iran could resume its progress toward a weapon at almost any time."
Mr. Frum fails to acknowledge that this would be true under any conceivable agreement. Because Iran has already obtained the knowledge necessary to build its current program, even if all of its centrifuges were dismantled or destroyed, they could be rebuilt. The more important question is, will the U.S. be able to detect an Iranian move toward reconstituting its program and react in time? The answer to this will be determined by a variety of factors, including tough, verifiable monitoring and inspections. Without a deal, we will lose the ability to monitor and constrain Iran's nuclear program. Nothing is more dangerous than that.
I would point to the news out of Iran on Monday:
A fire and explosion at a military explosives facility near the Iranian capital Tehran has left at least two people dead, reports say.

The semi-official Iranian Students News Agency (ISNA) said the fire was in an "explosive materials production unit."

A pro-opposition website reported a huge blast near the Parchin military site, southeast of the capital, but this was not confirmed.

Parchin has been linked to Iran's controversial nuclear program.

The International Atomic Energy Agency (IAEA) has not been given access to the complex since 2005.
The kicker is the last line. It reminds us how limited and defeated U.S. inspection rights have been in Iran, through this year of negotiation.
Here's the key point: The rulers of Iran clearly want sanctions relief. They have got a considerable measure already, and will likely soon obtain more from the Obama administration. The rulers of Iran are not, however, looking "to come in from the cold." They are not looking to rebuild a more normal relationship with the United States. They are looking for the maximum economic benefit consistent with not abandoning their pursuit of a nuclear weapon. Any inspection rights the U.S. may ultimately obtain will be inspection rights within the context of persistent and profound Iranian rejection of the goals of an inspection regime.