The Mafia in Italy: A New Trial Opens Old Wounds
As the country's president testifies in Rome, one of Europe's largest economies continues its struggle against organized crime.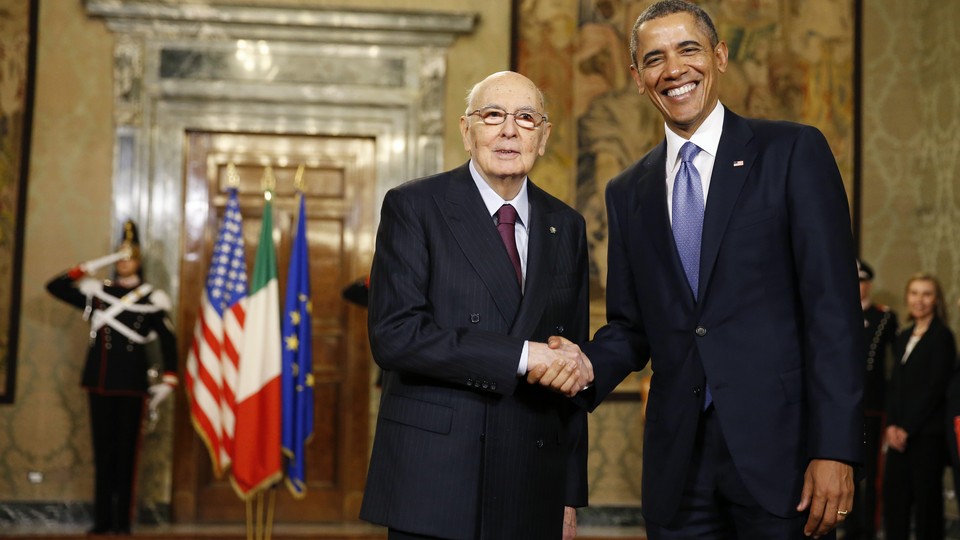 In a move unusual for a politician of his stature, Italy's 89-year-old president Giorgio Napolitano testified in Rome Tuesday at an anti-mafia trial in which several government ministers and organized crime leaders are accused of holding secret talks during a period of intense violence in the 1990s.
Napolitano, who is not suspected of wrongdoing, said he had "no useful knowledge" to contribute to the proceedings, which journalists were barred from attending. His involvement in the case stems from four telephone conversations held with Nicola Mancino, who as Italy's then-interior minister was accused of giving false testimony concerning the government's dealings with the mafia.
Napolitano did not corroborate the prosecution's account.
"The president never spoke explicitly of a negotiation between the state and mafia, and he called talk about any unspeakable agreements 'conjecture without any objective elements of proof,'" Nicoletta Piergentili, a defense lawyer, said.
Organized crime has plagued Italy for centuries. But the 1992 murder of crusading anti-mafia advocate Giovanni Falcone, his wife, and their three bodyguards galvanized particular outrage and calls for justice. According to the prosecution, Italy's then-government entered secret negotiations with mafia leaders to lessen the violence in exchange for reduced prison sentences. The alleged deal didn't work. Two months after the bombing in which Falcone was killed, his partner and successor Paolo Borsellino lost his life in a similar attack.
In some ways, organized crime has declined in subsequent years. Italian law enforcement has conducted several high-profile asset seizures, and the incarcerated chief of Sicily's Cosa Nostra was recorded complaining that the country's sluggish economy reduced racketeering income.
The mafia, though, remains a potent force. In 2012, the Italian Central Bank estimated that organized crime was worth $230 billion, more than one-tenth of the country's GDP. The mafia's presence is particularly large in Italy's southern provinces. Calabria, one of Italy's poorest regions, had an unemployment rate of 19.3 percent in 2013, the highest figure in the country. But 'Ndragheta, Calabria's largest mafia organization, is thriving. The group earned a revenue of $73 billion in 2013, greater than that of McDonald's and Deutsche Bank.
"The 'Ndrangheta is a parasite," Roberto di Palma, a local magistrate, told The New York Times. A 2011 U.S. government cable published by Wikileaks was no more optimistic about the province. "If Calabria were not part of Italy, it would be a failed state," the cable said.
The presidency is a largely ceremonial position in Italy's political system, in which prime minister Matteo Renzi is the country's most powerful official. But Napolitano has played a major role in resolving recent deadlocks in Italy's fractious government.
The trial is expected to last two years. But whatever its resolution, Italy still has a long way to go in order to free itself from mafia influence.