The On-Again, Off-Again Catalonian Independence Vote
After pushback from the Spanish government, the leader of Catalonia's independence movement has decided to move forward with a "non-binding" vote.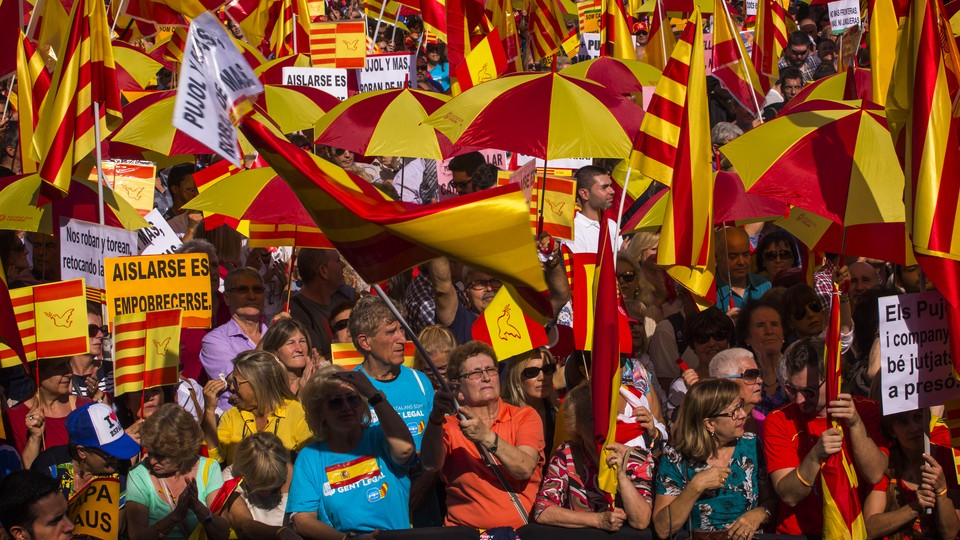 Catalonia was set to hold a formal referendum on November 9 to decide if the northern region would part with Spain. Independence, however, will not be that swift. A referendum cannot technically be held unless Spain consents to it, and both sides are given the opportunity (a process that could take several years) to explore their arguments.
On Monday, it seemed the vote was called off, but by Tuesday morning it was back on. Regardless of the legal issues, the leader of Catalonia's independence movement has decided to move forward, turning next month's event into a "non-binding vote on independence." Catalonian President Artur Mas told the BBC, "The vote on 9 November can be considered the preparatory vote." November's referendum will effectively be a measure of popular opinion.
The ballot will have two questions:
Do you want Catalonia to be a state?

If so, do you want Catalonia to be an independent state?
In order to skirt the requirement for Spanish government approval, the votes will be held in Catalonia's government buildings: "The Catalan government has jurisdiction over consulting popular opinion," Mas said. All voting details will be handled by volunteers, rather than employees of the Spanish government. "There will be ballots and ballot boxes. We can't apply the decree [to hold a referendum] but it will be possible to vote."
Because this first vote will be non-binding, Catalan politicians will have to convince citizens to vote and make their voices known, even if those voices are not immediately heard.