The Flag-Flying Drone That Sparked a Soccer Brawl
Hooliganism goes high-tech in Serbia.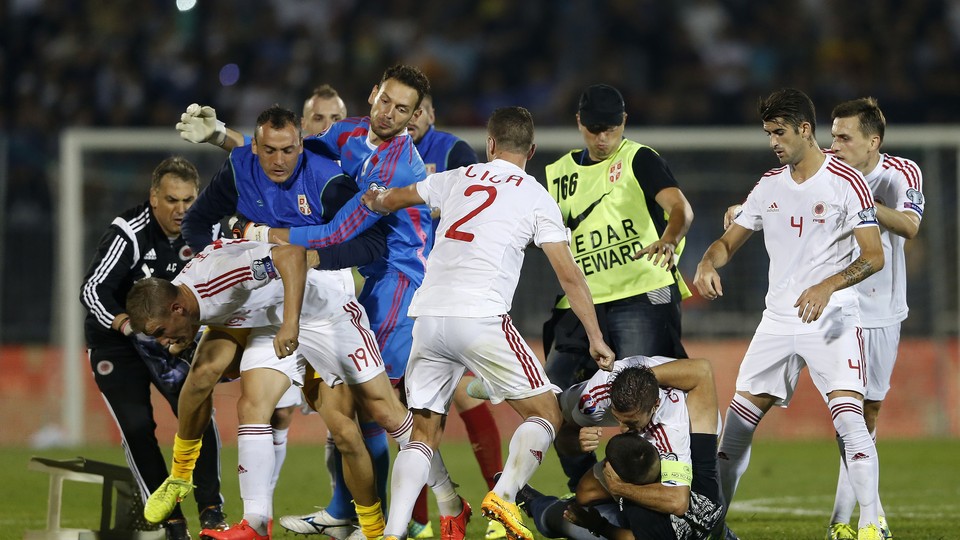 Tuesday night brought a brand-new tactic in the long tradition of European soccer hooliganism: drone-launched taunting. At about the 42-minute mark of a qualifying match for the 2016 European Championship in Belgrade, Serbia, a cheerfully lit unmanned aerial vehicle appeared in the sky over the pitch, where the Serbian and Albanian national soccer teams were facing off. The UAV dangled a flag of "Greater Albania":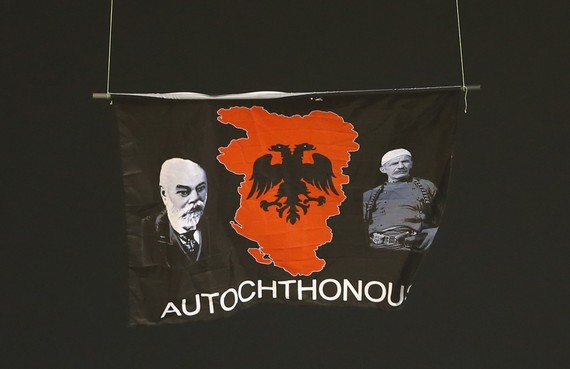 The flag depicts the amalgamated lands inhabited by ethnic Albanians—including Kosovo, parts of Montenegro and Macedonia, and a few chunks of Serbia—as well as independent Albania's 1912 founder, Ismail Qemali (left), and Albanian nationalist Isa Boletini (right), who fought the Serbs and Ottomans prior to World War I. Serbian state television reports that the airborne smack-talk may have been launched by none other than the Albanian prime minister's brother, Olsi Rama, from his VIP box, though the Albanian interior minister has denied the charge.
Whoever held the remote, though, it was what one Serbian television announcer repeatedly called a provokacija in the midst of the Albanian team's first visit to Belgrade since 1967. In the intervening period, Serbian President Slobodan Milosevic attempted to drive Albanians from the then-Serbian province of Kosovo following the breakup of Yugoslavia; NATO launched 78 days' worth of airstrikes in 1999 to stop the ethnic cleansing of Kosovar Albanians; and Kosovo, in 2008, declared its independence. Independence has not brought reconciliation between Kosovo's Albanian majority and Serb minority.
Here's that flag again, with an accompanying soundtrack of shrieking spectators. The chant from Serbian fans, per The New York Times's translation, is "Kill! Kill! Kill!"