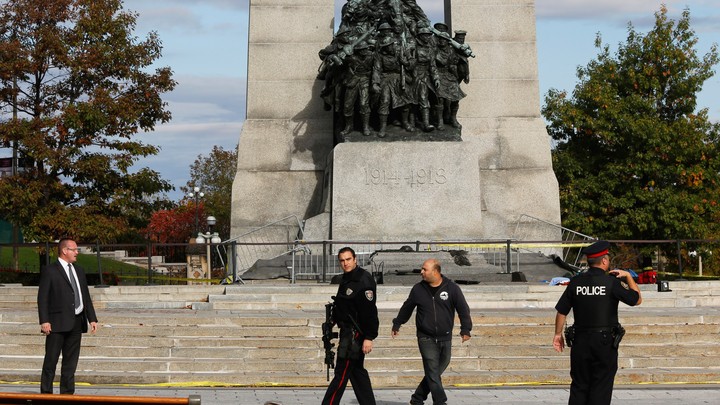 Canadians are mourning Thursday following the shooting that broke out at Parliament Hill in Ottawa on Wednesday. Nathan Cirillo, a 24-year-old member of the Canadian Armed Forces who was standing guard at the Tomb of the Unknown Soldier, was killed by a lone gunman. The shooter was later killed during a battle with police.
There were initial concerns that two gunmen were involved, as two shootings took place, the first at the War Memorial monument, then later inside the Parliament buildings. But by Wednesday night, the local police department confirmed that there was only one shooter and lifted Ottawa's lockdown. Police and government officials initially worked to protect the identities of those involved as they investigating the incident, which was described as having taken them "by surprise."
The gunman was identified as Michael Zehaf-Bibeau, a 32-year-old Canadian man. Sources told CNN he "was a convert to Islam and had a history of drug use." He had been on the radar of Canadian authorities, as they had confiscated his passport after he was deemed a "high-risk" traveler.
In an interview with the Associated Press, the shooter's mother, Susan Bibeau, apologized to the nation, saying she was mad at her son and "If I'm crying it's for the people. Not for my son." She said she had not seen her son in five years before having lunch with him last week, and that he seemed lost "and did not fit in."
The slain soldier, Nathan Cirillo, was an army reservist. Zehaf-Bibeau shot him four times in the back. Nearby soldiers and first responders attempted to save Cirillo's life and performed CPR until he could be taken away in an ambulance. He died of his injuries in a nearby hospital. Originally from Hamilton, Ontario, Cirillo was a member of a unit known as the Argyll and Sutherland Highlanders, and was the father of a six-year-old boy.
After the shooting, Zehaf-Bibeau ran into a Parliament Hill building, where officers were at the ready, and exchanged gunfire. It is widely believed the legislature's Sergeant-at-Arms, Kevin Vickers, is responsible for taking down the shooter, though it has not been confirmed by the government. A variety of officials praised him for his service to the nation during the attack, and he received a standing ovation when Parliament reopened on Thursday morning.
Jim Watson, Ottawa's mayor, told CNN, "It has been a traumatic experience, obviously, for not only our city but the country."
Though a motive has not been officially determined, Prime Minister Stephen Harper did refer to the incident as a terrorist attack in a press conference: "In the days to come, we will learn more about the terrorist and any accomplices he may have had, but this week's events are a grim reminder that Canada is not immune to the types of terrorist attacks we have seen elsewhere in the world. Let there be no misunderstanding: We will not be intimidated. Canada will never be intimidated."
We want to hear what you think about this article. Submit a letter to the editor or write to letters@theatlantic.com.