South Africa's Shock After a Soccer Captain's Murder
Senzo Meyiwa, the goalie and leader of the country's national team, was shot and killed during a home invasion robbery.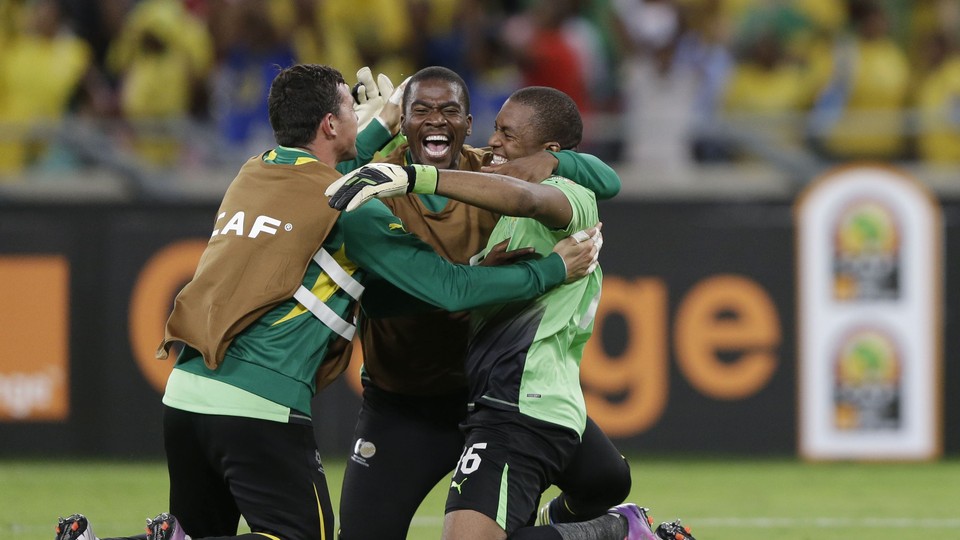 Senzo Meyiwa, the goalie and captain of South Africa's national soccer team, was killed in a violent robbery on Sunday. Police said he was at his girlfriend Kelly Khumalo's house when two men entered the home, just south of Johannesburg, under the cover of darkness and shot him. The soccer star was rushed to the hospital where he was pronounced dead on arrival.
The South African Police Service told
BBC News
that the two men inside were "demanding mobile phones and valuables." Officers broke protocol to announce details of the incident so shortly after it occurred and offered a reward of
$14,000
for details leading to arrest.
The nation was in mourning on Monday, as fans flocked to the hospital and scene of the crime to pay their respects. "We mourn the death of this young footballer and team leader whose life has been taken away at the prime of his career," said South Africa's president, Jacob Zuma, in a statement. "Words cannot express the nation's shock at this loss." Meyiwa's coach, Ephraim Mashaba, remembered him fondly: "Senzo was a very kind person. I have never seen Senzo being sad or angry in the camp."
One of his international teammates also expressed the shock and anger ricocheting across the country.
Meyiwa's shooting comes shortly after the lengthy trial and verdict, now being appealed, for Oscar Pistorius, another superstar athlete, who was convicted of culpable homicide after shooting his girlfriend Reeva Steenkamp last year. It could bring about increased debate about South Africa's gun crimes.