Sloviansk: A City With PTSD
There may be a 'ceasefire' in eastern Ukraine, but that's cold comfort for the war's survivors.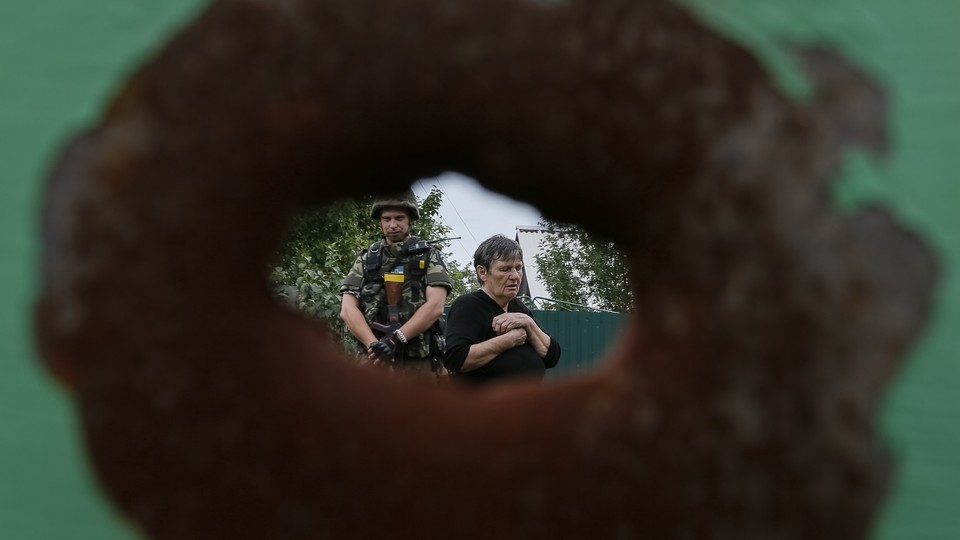 SLOVIANSK, Ukraine—Psychologist Tatyana Aslanyan is on a mission to treat a city that seems to be suffering from a collective form of post-traumatic stress disorder. "Everyone, in some way or another, shows the symptoms," she told me at the Donbass State Pedagogical University in Sloviansk, the eastern Ukrainian city where she is an associate professor. The concrete university is perched on a hill, and we looked out on a landscape marked by stout industrial chimneys, many of which no longer emit smoke.
In August, a month after Ukrainian forces wrestled Sloviansk back from rebel control, Aslanyan opened a crisis center in the city's library. There, psychologists respond to a stream of residents battling insomnia, depression, domestic violence, and anger by using art therapy, toys, and counseling. "Kiev can't help us, so we've taken the city's misery into our own hands," she told me, in reference to the Ukrainian capital. An engaging and lively woman, Aslanyan was dressed in an angular jacket with a shock of orange lipstick, making her appear more like a high-flying lawyer than a psychologist who must scale seven floors to reach her office each morning (the university's four elevators haven't worked in months). "In a way, we'd be better off if we knew something bad [was going to] befall us, because then we [could] at least prepare," Aslanyan said. "But this uncertainty only exacerbates the city's PTSD."
Only 50 miles north of what locals call "the line," where rebel territory begins, and with much of Sloviansk bullet-sprayed and in ruin, the city of around 100,000 exists in limbo, suspended between cautious relief and fear that it will once again fall under the control of pro-Russian separatists.
The three-month rebel siege of the city represented the beginning of the war in eastern Ukraine. With parliamentary elections in Ukraine scheduled for October 26, there is widespread concern that Moscow-backed separatists will prevent voting in large swathes of the country, undermining the vote's legitimacy. Their self-proclaimed government, the Donetsk People's Republic (DNR), which claims authority over most of the Donetsk region, recently threatened to hold its own elections on November 2 in both Sloviansk and the Azov Sea city of Mariupol—the last two major cities in the eastern region to resist rebel control. Despite the signing of a ceasefire between separatists and the Ukrainian government in early September in Minsk, fighting in and around the city of Donetsk has persisted, killing Ukrainian soldiers, civilians, and a Swiss national working for the Red Cross. For the rebels, who are bent on creating what they and Moscow call Novorossiya—a historically loaded term to describe southeastern Ukraine—Sloviansk and the port city of Mariupol are strategically important.
In Aslanyan's class of 40 psychology majors, whose grades she said have been negatively affected by the trauma of war, adolescent laughter quickly turned to stony silence when I asked how they were coping. "We're afraid it will go back to how it was before," said a teary-eyed 17-year-old student with thick black hair. The students spoke to me on condition of anonymity out of fear of reprisals. Her classmate, who sported a nose ring and towered over her peers at six feet, said she did not feel safe. "Even though the military are meant to protect us, seeing army trucks still freaks me out," she said, referring to the scores of government soldiers, their automatic rifles taped in the blue and yellow colors of the national flag, manning the train station, main roads, and Sloviansk's Central Square.
Stark reminders of the fighting are omnipresent: A memorial to a mass grave of civilians killed during the conflict sits in the city center, decorated with neon-colored plastic flowers; in the main cemetery, it is hard to miss the oblong mounds of 34 separatist graves, buried over June and July. Each Sunday afternoon, around 100 residents gather on the main square to rally support for Ukrainian troops. "We're fed up of not being able to make plans," a young man named Andrei told me at one such gathering. The group met by a large statue of Lenin with its neck wrapped in the Ukrainian flag, before marching around the center and chanting, "Sloviansk will stay in Ukraine!" Passing cars honked in solidarity.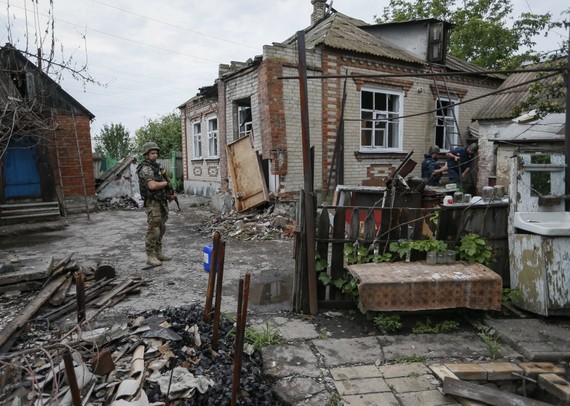 The encompassing feeling of uncertainty hints at how life could look across eastern Ukraine, regardless of whether the rebels or government forces ultimately win. Ukraine's coal-heavy Donbass—comprising the Donetsk and Luhansk regions, traditionally the country's industrial powerhouse—is under severe economic strain. Ukrainian President Petro Poroshenko said earlier this month that the war had destroyed 40 percent of Donbass's industrial potential. Through September of this year, Ukraine had mined half the amount of coal that it had during the same period last year, according to the country's Independent Trade Union of Miners. In Sloviansk, major factories producing electricity and coking coal, used for heating and steelmaking, are working at half capacity, government officials said last month. Suspended projects—half-finished repairs to the sewage system, water pipes and sidewalks destroyed by war and awaiting fixes—dot the city, as if construction workers have gone to lunch en masse. ATM machines are often missing money for days on end, electricity is spotty, and public transportation has yet to be fully restored.
Meanwhile, global interest in the Ukraine crisis, which began with mass protests in Kiev nearly a year ago, has waned. Poroshenko's high-profile visit to the United States in September resulted in plenty of standing ovations from Congress and $1 billion in financial guarantees, but no weapons. Ukrainian Prime Minister Arseny Yatseniuk said last month that he would "probably" ask for an increase to the country's $17-billion bailout deal from the International Monetary Fund (IMF) in light of war costs, but it's unclear if the IMF, which held its fall meeting with the World Bank last week, will respond to the request.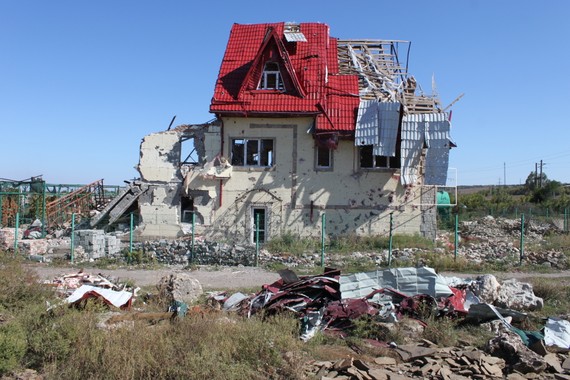 The village of Semyonovka just south of Sloviansk bears the worst scars from the fighting. As a result of its proximity to Sloviansk, Semyonovka was practically decimated by the rebel offensive on the city. Dirt roads are littered with household goods like teapots and towels, mixed with rocket casings and twisted metal. Former policeman Vakhid Mirzayev led me through the doorless entry of what was left of the home where he and his wife Nasiba raised their family. Their bed's headboard was pockmarked by bullets, so much so that the pattern the holes made could be mistaken for part of the design. A large gray hole in the ceiling served as a reminder of an incendiary rocket.
"Each day I live with the horror [that the rebels will] come back. We're so close to the line," said Mirzayev, 50, exposing a row of glimmering gold teeth. Throughout June, he and Nasiba spent each day in their basement with two of their children and their grandchildren, who have since left the village for nearby Rostov-on-Don, in Russia. Mirzayev has written the word 'empty' in Russian on their blue basement door. "This way, they won't try [to] take anything next time," he explained. The shattered windows of the regional hospital, now abandoned, were visible above their garden, where some cabbages had broken through the earth.
Like half of the village, the Mirzayevs belong to a Muslim minority of Meskhetian Turks. Originally from Georgia's border with Turkey, the Meskhetian Turks were deported to Uzbekistan by Stalin in 1944. Forty-five years later, Soviet troops booted them out of Central Asia. Around 8,000 currently live in Ukraine. "We had finally, in these 70 years, found a peaceful home and then this happens," said Nabijan Basadov, the thick-mustachioed regional head of Vatan, an international organization advocating for the repatriation of Meskhetian Turks. The 48-year-old veterinary doctor now spends most of the week in his boat-like Soviet-era car, ferrying food and goods to Meskhetian Turks in and around Semyonovka. "As a people, we are used to problems, having to live with horrors and stress," he told me from the seat of his Volga, which rattled with bags of lamb bones and plastic containers of gasoline.
According to Basadov, 300 Meskhetian Turks have fled Sloviansk and the surrounding areas for Russia and Turkey over the past six months. He pointed to the abandoned house of the Mirzayevs' former neighbors, who left for the Turkish city of Bursa in July. The shell of their home sat like a crumpled cardboard box. Meskhetian Turks around the world—their global population is thought to number 500,000—are preparing to commemorate the 70th anniversary of their deportation, on November 14. "Having to honor our people's suffering, while being traumatized ourselves, just rubs salt in our wounds," Basadov said. Vatan has managed to restore basic electricity to some of the community's homes, but is waiting to rebuild. "We'd build if we had a guarantee it would be peaceful. But it's a waiting game," said Basadov, standing by a cement garage graffitied with the letters of the rebel government: "D-N-R."
Three days earlier, a mine planted during the fighting exploded nearby, injuring a small child. Nasiba, who had slept in her long corduroy skirt and red sweater for the previous two weeks as the nights turned cold, said she is in a constant battle with her 20-year-old daughter. "She calls all the time from Russia, crying down the phone, begging me to let her come back," she told me. When I mentioned the ceasefire, Nasiba nervously drew her long braid over her mouth. "My daughter has these light, pretty eyes," she said. "Anything could happen to her. And who knows if she can ever be safe here again."
---
Reporting for this article was supported by a grant from the International Reporting Project.