The Hong Kong Protest Talks End Where They Began
Tuesday's meeting between the government and student demonstrators was "peaceful," but the two sides remain far apart on a resolution.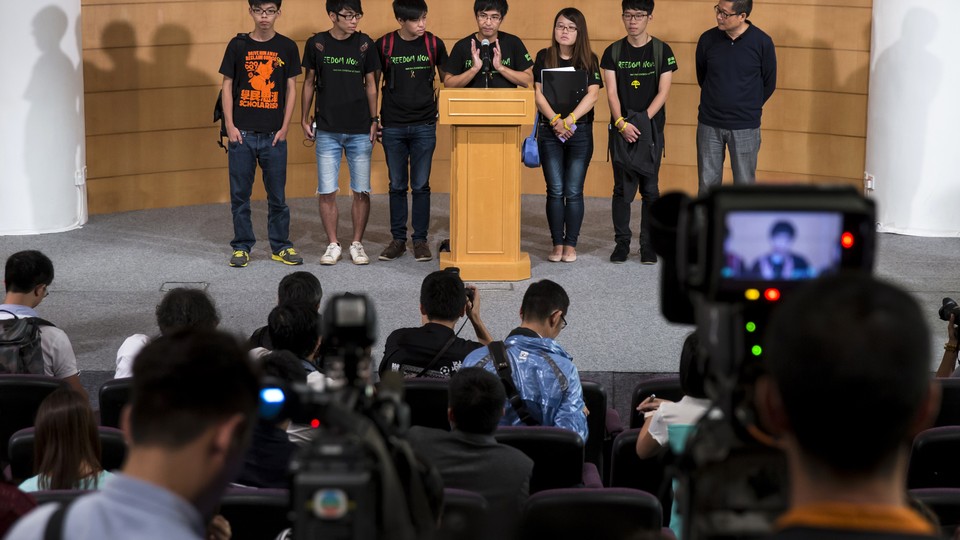 After weeks of delays and cancellations, Hong Kong's government met with student protest leaders for two hours today in an attempt to resolve a political crisis that has upended life in the territory. Student leaders described the talks—held at the Hong Kong Academy of Medicine—as "peaceful," but described the government's proposals as "kind of vague."
Hong Kong's protest leaders have called for the resignation of CY Leung, the territory's chief executive, and for the repeal of a restrictive new electoral law that limits eligibility for Hong Kong's chief executive elections to candidates vetted by China. According to the South China Morning Post, the talks focused on reforming the electoral system after 2017, the year the next chief executive is chosen.
Carrie Lam, the government's chief representative in the talks, expressed optimism that the meeting would yield progress. "I hope you feel that the two-hour conversation has been constructive," she said. "No quarrels and no confrontation. I hope this is not the only time we meet." Lam, however, added that Hong Kong's government has little leeway in determining its own political course. "Hong Kong is not an independent country," she said.
The protest leaders left the talks and encouraged the demonstrators to continue their work, occupying public squares and getting the message out. "The five speakers at the talks are not enough to convince the government to address their issues," Al Jazeera's Divya Gopalan, reporting from Hong Kong, said.
Under the provisions of the Basic Law, a constitution implemented when Hong Kong reverted to Chinese sovereignty in 1997, the territory is to retain a separate political, economic, and legal systems until 2047. In the 17 years since the handover, many Hong Kong residents have chafed at Beijing's interference in the city's political life. An "anti-subversion" law proposed by the Chinese government in 2003 brought thousands of protesters to Hong Kong's streets, while more recently opposition groups like Occupy Central for Love and Peace have staged regular demonstrations in the territory.*
Despite widespread skepticism of the "one country, two systems" regime underpinning Hong Kong's current relationship with China, not all of the territory's young population continues to support the protest. Wyman Kung, a 28-year-old Hong Kong native, told the South China Morning Post that he "admired the students' persistence."
"I think they are brave and I appreciate their courage, but I think at this stage they should comply with the law and clear the roads."
---
* This post originally stated that the anti-subversion law had been passed, rather than proposed. We regret the error.