Introducing Peacemaker Putin
On East 20th Street in Manhattan stands the Peacemaker pop-up shop, dedicated to selling T-shirts portraying Russia's president in a heroic light.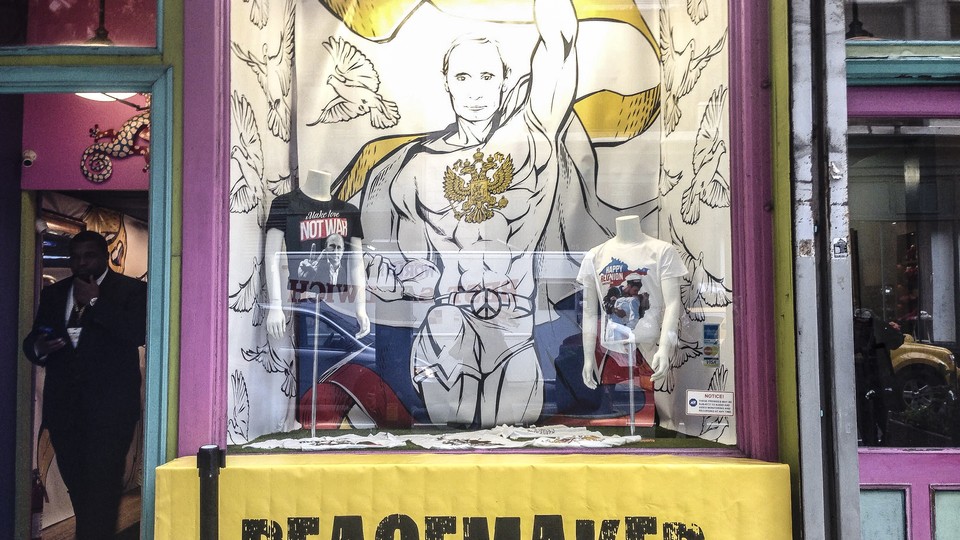 Walking down East 20th street in the Gramercy neighborhood of New York City, you may pass a tile shop or two, a delicious Thai restaurant, and starting Tuesday, a pop-up shop dedicated to Russian President Vladimir Putin.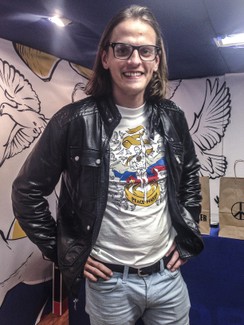 The "Peacemaker" store and brand is the brainchild of Julius Kacinskis, an American-born New Jersey resident who traces his roots back to Russia and Lithuania. He peddles T-shirts for $25 a pop and launched his collection Tuesday at 10 a.m., right in sync with Putin's 62nd birthday. By 2:30 p.m., Kacinskis had sold some 35 shirts, $875 worth.
The entrance to the store is flanked with two burly security guards, hired by Kacinskis in case his pro-Putin shop caused a disturbance among passersby. I slipped into the shop as a guard wandered down the sidewalk and found myself alone in the store, a native Ukrainian standing in a sea of Putin paraphernalia, walls lined with images of white doves. Soon, Kacinskis entered and introduced himself. I identified myself quickly as both a reporter and a western Ukrainian, and, unable to restrain myself, blurted out, "Is this serious?"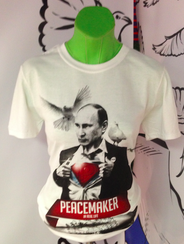 As it turns out, Peacemaker as both a concept and a pop-up are quite serious to the polite Kacinskis. He wanted to counter the West's perception of Putin. "You can look at it from two sides of the coin," he explained. Unassured, I insisted on finding out how the store was funded—was it linked to the Kremlin, or an oligarch?—only to find that Kacinskis created and funded the company himself, and produced the several thousand T-shirts he was trying to peddle on his own dime.
For Kacinskis, the concept of a positive Putin is solely educational. He cited the increased tensions between Russia and the United States as the reason he launched his line now. "I don't think this is un-American, this is educational. It is not aggressive, we know so much negative. ... I've seen more provocative things on a T-shirt, we are neutral, we are just expressing an idea of the positive of Putin."
I was still struggling to understand how Putin could be viewed in a positive light, so Kacinskis explained his view on how world war in Syria has been avoided thanks to Putin's efforts. "The most positive thing is not letting countries invade Syria," he says when asked about Putin's greatest accomplishment this term. Kacinskis seemed moderately indifferent about Russia's role in the shooting down of Malaysia Airlines Flight 17, questioning reports indicating that the Kremlin was directly involved in eastern Ukraine at all at the time of the tragedy. To avoid such realities certainly makes it easier to remove any animosity one could develop toward Putin: "Things happen at a time of conflict, we think the U.S. downs their own planes over Iraq." He didn't offer any proof for that assertion.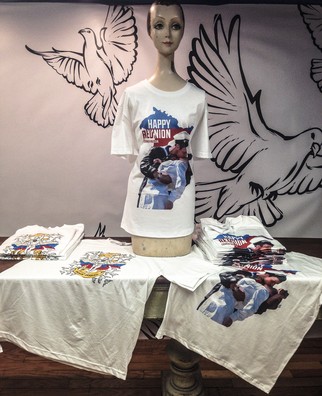 His arguments echoed those promoted in Russian media in recent months. Over the last several years, the Kremlin has
increased its media spending
on publications targeting Western readers. In the 2015-2017 budget, Russian officials upped funding for state-run media, allocating a whopping $400 million to Russia Today and $170 million to Rossiya Segodnya, which runs RIA, a publication commonly cited by Western publications.
While some of the customers in Kacinskis's shop wandered in because they had no idea who Putin was, and were attracted only by the superhero outside, others arrived in genuine support of the leader. A Russian woman browsed the T-shirts as Kacinskis and I spoke, interested in Peacemaker's take on the famous Kissing Sailor photo. (The shirts emblazoned with the words "Happy Reunion" celebrate the annexation of Crimea by Russia this spring.)
Another man, a native of Crimea, purchased six shirts, telling Kacinskis that in Ukraine, such shirts could never be sold, and that he planned on shipping all six overseas.
While much of the world is outraged at Putin's illegal annexation of Crimea, Kacinskis shrugged when I asked him about the move. "I have friends who live in Crimea who are very happy. He did invade a country and we don't know his motives, but something like 80 percent of people there have said they are happy."
Attempting to appeal to his artistic sensitivities, I asked Kacinskis about Putin's strongarming of Internet access in Russia, as social-media sites and free-thinking blogs are threatened under new Kremlin legislation. "I'm not directly affected by the Internet outage," he replied, "There are ways around it. That's his other side, that's the down side, but he has advisors. Even Obama doesn't make all his decisions himself."
Still, Kacinskis understands that not everyone is as excited about the positive glow around Putin. "Take it or leave it," he said. And so, I left.