The Sentencing of Oscar Pistorius
The Olympic sprinter gets five-years for killing his girlfriend but is expected to serve only a small portion of it in jail.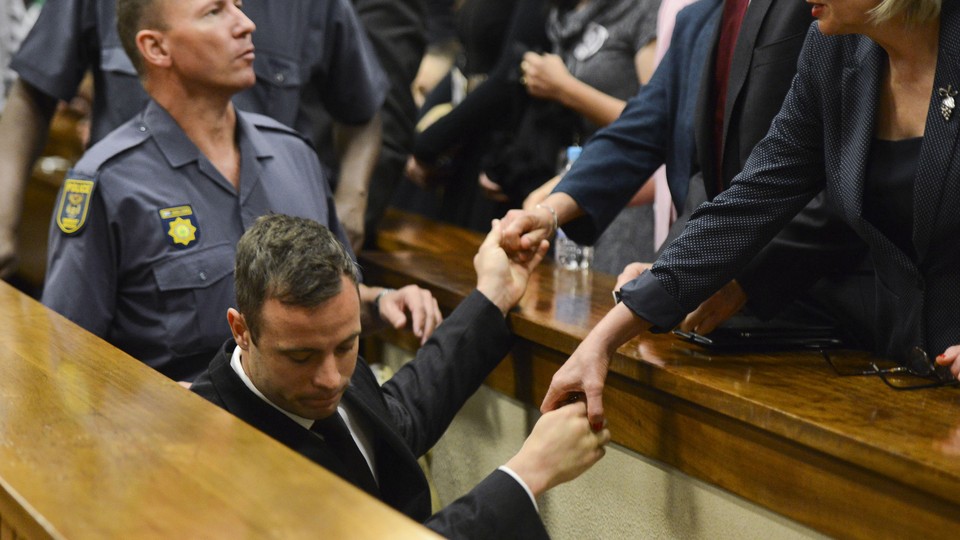 Oscar Pistorius, the South African sprinter known as the Blade Runner, was found guilty of "culpable homicide" last month, for shooting his girlfriend, Reeva Steenkamp, in his home on Valentine's Day 2013. On Tuesday, he learned that he has been given a sentence of five years in prison, but he is expected to serve just a small fraction of that before being released.
Given the time he has already served, his lawyers say he expects to be in jail for about 10 months, before being released to house arrest. The prosecution had asked for a minimum of 10 years in prison, according to BBC News. He also received a three-year suspended sentence for his conviction on a firearm charge. Neither side has indicated if they plan to appeal.
In September, Pistorius, a double amputee who has competed in both paralympic and Olympic sprint events, was cleared of the most serious charge of murder, after claiming at trial that he shot Steenkamp by accident, believing she was an intruder.
Steenkamp's mother, June, said she believed justice has been served. When asked if she was upset that he would only served one-sixth of his sentence she said, "It doesn't matter, he's going to pay something."
Judge Thokozile Matilda Masipa told the court she believed sentence to be fair, saying, "A non-custodial sentence would send the wrong message to the community. On the other hand, a long sentence would also not be appropriate either, as it would lack the element of mercy."