The Hong Kong Protesters Who Won't Negotiate
Violence erupted in densely packed Mong Kok, where a lack of leadership complicates efforts at a resolution.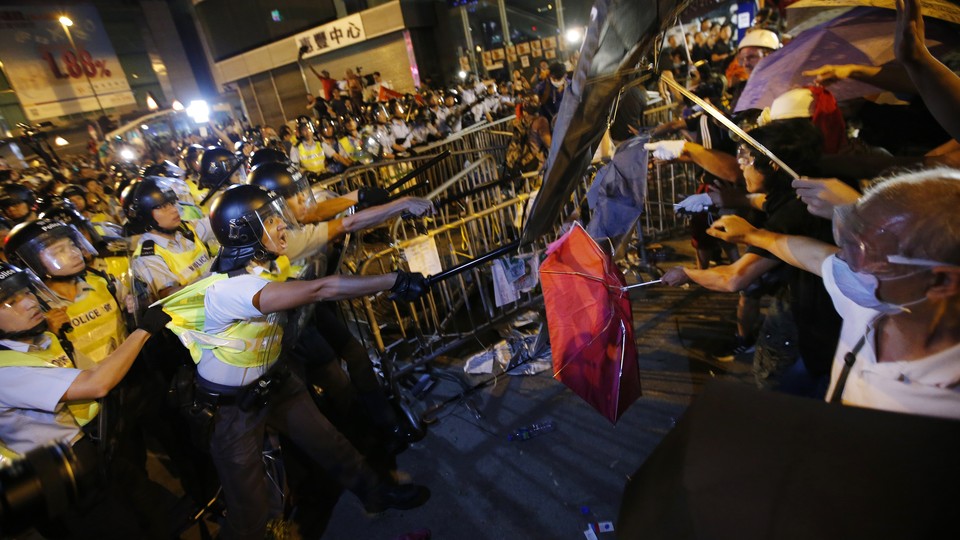 Pro-democracy protests took a violent turn in Hong Kong early Sunday morning, as police officers clashed with demonstrators in the territory's Mong Kok neighborhood. The scuffles, which caused at least three injuries, occurred amid news that Hong Kong's government plans to meet with student leaders on Tuesday in an effort to resolve the crisis.
Mong Kok's role as a separate front in the protest movement, however, will complicate efforts at a resolution. The neighborhood, located in Hong Kong's Kowloon district, is a densely populated, working-class area where residents living cheek-by-jowl mingle with shoppers drawn to Nathan Road's famous retail area.
Previous protests, by contrast, have occurred in Admiralty, a neighborhood on Hong Kong Island. Hong Kong Island encompasses the city's most elegant commercial streets and its main government buildings. Protests there, while spirited, have been more orderly than those on Mong Kok, where a lack of sophisticated crowd-control infrastructure has exacerbated the chaos. In Admiralty, groups like Occupy Central for Peace and Love and the Hong Kong Federation of Students are representatives of the students. The protests in Mong Kok, by contrast, have been more spontaneous, and appear to ebb and flow based less on political developments than on behavior by the police.
Trey Menefee, a professor at the Hong Kong Institute of Education, who described this contrast in great detail in a recent blog post, told me that "Mong Kok is very self-organized; it's a real people's movement. There isn't a representative with whom the government can negotiate."
Protesters in both Admiralty and Mong Kok share political goals. Hong Kongers in both neighborhoods want Leung Chun-ying, Hong Kong's chief executive, to resign, and they want the government to grant residents universal suffrage in choosing its leadership. Leung, while refusing to consider these demands, has vowed to work with Hong Kong's protest leadership to seek a political solution to the crisis.
Hong Kong's student leaders, however, have far less influence in Mong Kok, the site of Sunday morning's violence.
"The consensus among the Mong Kok protesters was that, even if Admiralty could be negotiated into packing up, the movement in Mong Kok would stay," said Menefee.