A Mass Grave Points to a Student Massacre in Mexico
A group of protesters have been missing for more than a week, following a violent demonstration at their school.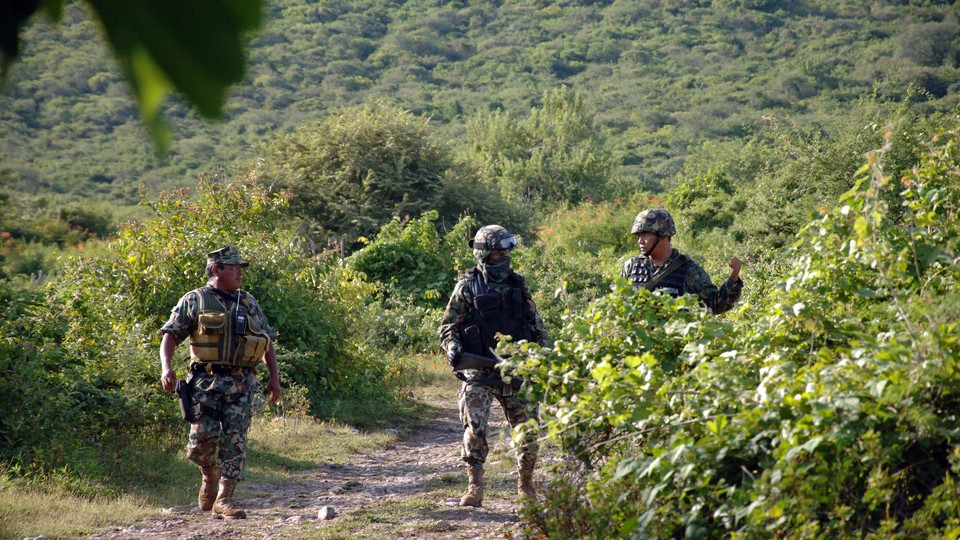 A small town sits on Federal Highway 95. Just a short two-hour drive away from Mexico City, Iguala is plagued by the tragic triangulation between gangsters, crooked cops, and beleaguered government officials. On Saturday, the burned bodies of 28 people, believed to be missing student protesters, were found in a mass grave just outside the city center.
The students went missing on September 25 after a protest over hiring practices at the Ayotzinapa Normal School turned violent. The students are known as radicals who have done battle with police in the past. This time, police officers reportedly opened fire on the protesters, killing three. However, officials and students tell very different stories of how the protests ended.
Students have said they were attempting to leave the scene of the protest by bus, only to be chased by officers who opened fire, whereas officials have said the students "commandeered the buses by force," resulting in the violence. Those investigating the mass grave found video showing the police officers arresting and taking away an undisclosed number of students.
Iguala is the door to the cartel-controlled Tierra Caliente territory, where gangs recently burned four trucks transporting Coca-Cola to the ground and the opium trade is still alive and well. The area cartels—which rival one another in both drug sales and acts of brutality—have been implicated in the deaths of the 28 students, by several mobsters-turned-police tipsters who disclosed the location of the bodies.
Police officers in Iguala have been linked to the Guerreros Unidos gang, including the mayor and chief of security, both of whom are wanted for arrest. Members of Guerreros Unidos got their start as the hitman division of the Beltran Leyva Organization and are known for extremely violent and aggressive deaths, and public displays of beheading victims.
Mexico state prosecutor Inaky Blanco told AFP that he believes "El Chucky," leader of Guerreros Unidos, ordered the students to be murdered after security chief Francisco Salgado Valladares directly asked for the assistance of El Chucky's men at the location of the buses. Thus far, authorities have charged 22 police officers with involvement in the crime, as well as seven others.
Blanco has not confirmed whether the bodies are those of the protesting students. He believes experts will need at least 15 days for the identification process, as many of the bodies have been dismembered and are charred beyond visual recognition.