Turkey's Thumbs-Up for Iraqi Kurds Joining the Fight Against ISIS
What Ankara's shift in policy—and alliances—says about the importance of saving Kobani from the Islamic State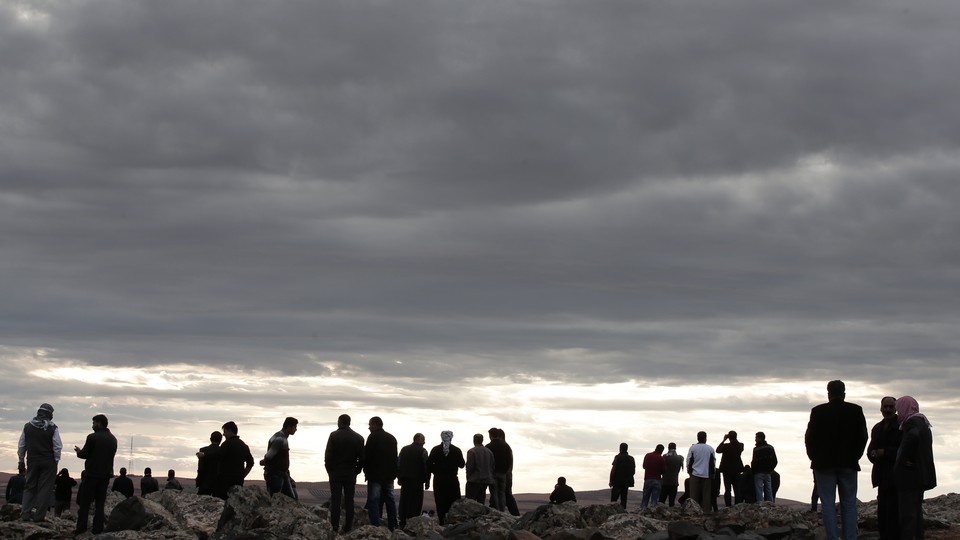 Turkish Foreign Minister Mevlut Cavusoglu announced a new development on Monday in the
fight to save Kobani
: Iraqi Kurdish fighters will be allowed to cross into Syria through the border with Turkey, to assist the Kurdish fighters already on the ground holding off the Islamic State.
No further details were announced, as the minister only
told
the BBC that Turkey would allow the passage of the fighters and discussion would be continued on the matter.
Thus far, Turkey has refused to intervene in the siege of Kobani, which sits just on the other side of its border with Syria. It has also refused to allow Kurds to cross the border to join the fight, in part because of its own conflict with the PKK, the Kurdish party in Turkey that has battled the government in Ankara for decades. The PKK, which has ties to the Syrian Kurds, is considered a terrorist group by both Turkey and the U.S.
The change in policy came, in the BBC's words, as "Turkey has come under pressure from its own Kurdish population, and more widely, to allow fighters in to help push IS out of Kobani, a town that has become highly symbolic of the wider battle against IS." The foreign minister told the BBC, "Turkey has no wish to see Kobani fall."
The United States has been aiding the Syrian Kurdish fighters, providing supplies and weapons, while also bombing ISIS targets in Syria. Overnight, just before Cavusoglu's announcement, 27 bundles of supplies were airdropped into the area. Recep Tayyip Erdogan, Turkey's president, has previously shown disapproval of this arming of Kurds by the U.S.; however, he has not spoken out against this most recent airdrop.
Kurdish forces in Kobani are asking the U.S. for more aid, as they do not believe this most recent drop will be enough to allow them to fend off Islamic State terrorists permanently. "Certainly it will not be enough to decide the battle," Redur Xelil, a spokesperson for the Kurdish YPG group told Reuters. "We do not think the battle of Kobani will end that quickly. The forces of [Islamic State] are still heavily present and determined to occupy Kobani. In addition, there is resolve [from the YPG] to repel this attack."