Iran's 'Shadow Commander' Steps Into the Light
Why is Tehran waging a public-relations campaign on behalf of the formerly secretive Qassem Suleimani?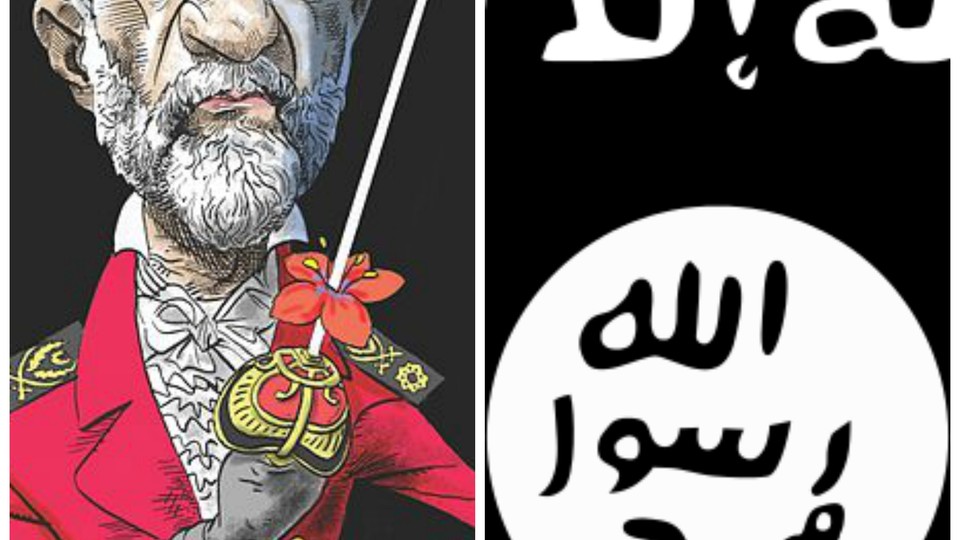 On October 16, Iran's Fars news agency proclaimed the "magnificent role of General Suleimani in the fight against the terrorists of Daesh," using an alternative acronym for ISIS.
Fars, which is affiliated with the Islamic Revolutionary Guard Corps, boasted that The Guardian had noted the role of Major General Qassem Suleimani, the leader of Iran's Quds Force—the branch of the Revolutionary Guards responsible for overseas operations—in combating Islamic State militants.
"According to this publication," Fars enthused, "General Suleimani is playing a key role in the fight against the Islamic State group."
It is no coincidence that Fars dedicated a whole news article to the fact that an "English newspaper" had commented on Suleimani's presence in Iraq. Iran has made a concerted effort in recent weeks to show the world that Suleimani—and by extension, the Quds Force—is bolstering Shiite militias against ISIS.
Numerous photographs have circulated on social media and in Iran's state press showing Suleimani in Iraq and Syria. They are notable largely because until now, Suleimani has been an elusive figure, a subject of great media interest and speculation but also great secrecy. Suleimani's name has appeared frequently in the Western press, but usually accompanied by the description "shadowy," as in "shadowy figure," or even "Shadow Commander."
Yet this month, the hitherto rarely glimpsed Suleimani has been snapped in Irbil, grinning with Iraqi Kurdish peshmerga fighters; meeting with a top Shiite commander, Mohammad Kazmi, at the Quds Force headquarters in Iraq; and hanging out with Shiite militias while wearing a reversed baseball cap and Palestinian keffiyeh:
The latest photo of Suleimani shows the Quds Force commander on an airplane with an unnamed member of Iraq's Supreme Council:
A picture of Soleimani as a young man has also emerged.
The Iranian media has also focused on Suleimani's (and therefore Iran's) role in fighting the Islamic State group. Conservative news outlet Khabar Online even called on Suleimani to help defend the besieged Syrian city of Kobani, saying that the Quds Force had helped liberate the Iraqi town of Amerli.
Portraying Iran's posture as one of "resistance"—an ideology according to which the United States created terrorist groups like ISIS and uses them to exacerbate regional conflict—Khabar said that Suleimani bears the "weight of the resistance on his shoulders," and added that the United States is not taking a "serious stance" toward ISIS in Kobani.
Tehran's promotion of Suleimani as a symbol of Quds Force presence in Iraq and Syria helps the Islamic Republic accomplish several things. It allows Iran, which has openly opposed the U.S.-led coalition's airstrikes against ISIS in Syria and Iraq, to show an alternative method for fighting Islamic State terrorists—a strategy that several prominent Iranian figures have hinted at in recent days. Iran's powerful parliament speaker, Ali Larijani, told CNN's Christiane Amanpour that Iran had aided Iraq "very early when the crisis broke out."
"Terrorists cannot be destroyed by bombing them. You cannot solve terrorism by occupation. And in order to fight them effectively, you have to choose another method. And you know that we have good experience in that, because we have actually fought against them," Larijani said.
Through the "Soleimani campaign," Iran is also able to show a domestic audience that it is actively fighting ISIS, including in Kobani, not merely heckling on the sidelines while the United States and its allies fight Islamic State.
The sudden flood of new photographs of the formerly "shadowy" Soleimani on social media resulted in some sarcastic humor from Iran watchers:
---
This post appears courtesy of Radio Free Europe/Radio Liberty.