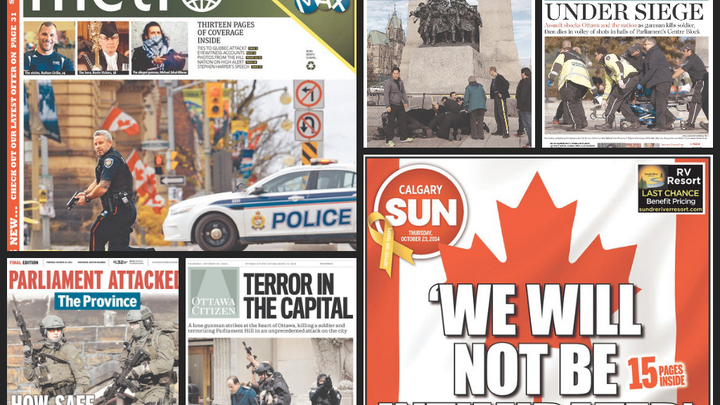 Yesterday, Canada faced a terrorist attack when a lone gunman killed a soldier who was standing guard at the Tomb of the Unknown Soldier on Parliament Hill in Ottawa. The soldier, Nathan Cirillo, was a 24-year-old reservist with the Canadian Armed Forces.
Naturally, the entire nation was stunned and saddened by the incident in their capital and the media, in Ottawa and elsewhere, devoted all its resources to covering the tragedy.
The Canadian Broadcasting Corporation (CBC) was praised for their coverage of the incident. James West at Mother Jones boldly wrote, "Canada's coverage of the Ottawa shootings put American cable news to shame," and Mediaite had similar sentiments for calm and collected reporting.
Below is a collection of front pages from across the nation, showing how Canadian newspapers handled the coverage this morning, as they crafted headlines about an attack at the very heart of their country.
The Province, British Columbia:
The Chronicle Herald, Halifax:
Despite these powerful front pages, the defining image of the event will likely be this cartoon that was drawn by Bruce MacKinnon, the long-time editorial cartoonist for The Chronicle Herald:
Possibly the most touching cartoon I have ever seen. Beautiful from @CH_Cartoon in the wake of the Ottawa shooting. pic.twitter.com/qWTy9sQbUQ

— Mhairi Fraser (@fraser_mhairi) October 23, 2014
We want to hear what you think about this article. Submit a letter to the editor or write to letters@theatlantic.com.