Hong Kong's Leader on How Democracy Would Help the Poor
CY Leung's comments illustrate how economic inequality remains a potent issue in the territory's politics.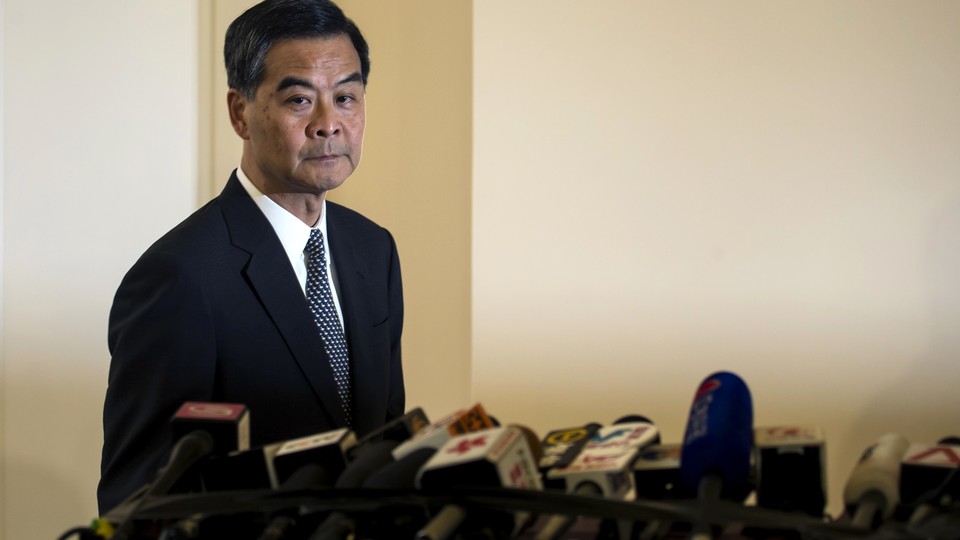 Since pro-democracy protests erupted in the territory in late September, Hong Kong chief executive CY Leung has maintained that universal suffrage, a core demand of the protesters, would not be granted. On Monday, however, Leung offered a startling justification for his intransigence: Democratic reforms would disproportionately benefit the poor.
In comments to reporters gathered at his official residence, a stately mansion built by the British, Leung said "you have to take care of all the sectors in Hong Kong as much as you can," adding that "if it's entirely a numbers game and numeric representation, then obviously you would be talking to half of the people in Hong Kong who earn less than $1,800 a month."
Despite the political nature of the protests, economic inequality has grown in Hong Kong over the years. Nearly 30 percent of Hong Kong's population lives in public housing, and 20 percent live beneath the poverty line.
One factor in the inequality has been Hong Kong's deepened relationship with mainland China, which assumed sovereignty over the city in 1997. Wealthy investors from the mainland have become major players in Hong Kong's high-end real estate market, snapping up commercial and residential developments that have caused prices to outpace wages in sectors throughout the city.
Hong Kong's protest leaders have demanded the repeal of the territory's new electoral law, which stipulates that only candidates acceptable to Beijing are eligible to run in chief executive elections. While Leung has promised to seek common ground with the protesters, his government remains unwilling to repeal the law.