The German Case That Pro-Russian Separatists Shot Down MH17
A new intelligence report says the missile launcher used to take down the airliner was stolen from the Ukrainian military.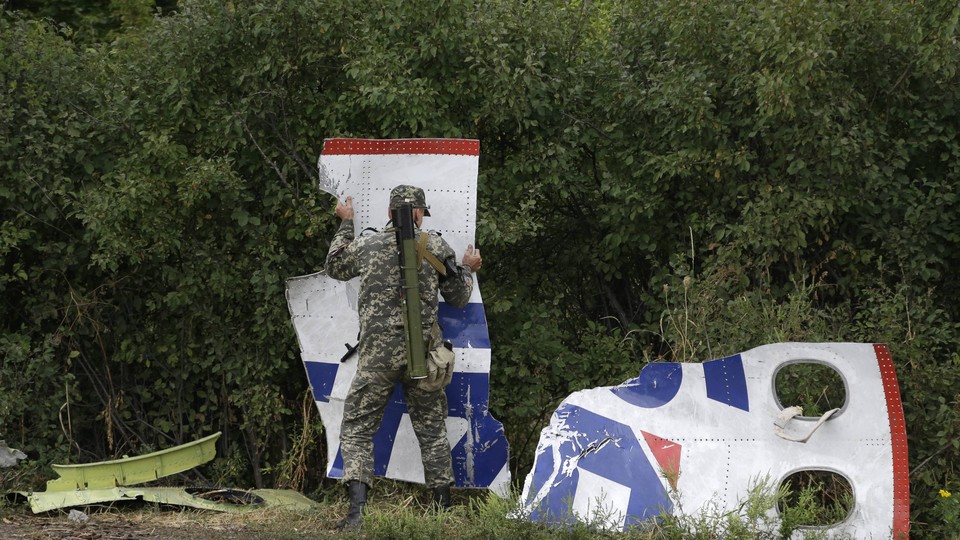 Germany's foreign intelligence agency, Bundesnachrichtendienst (BND), has determined that pro-Russian separatists in Ukraine brought down Malaysian Airlines Flight 17 this summer. The agency investigated the incident through a series of satellite images and photographs coupled with intelligence from within the pro-Russian groups and the Ukrainian military.
Thus far, it has been widely believed Russian forces provided the separatists with both the missile and the launcher, but the new report suggest the rebels actually stole the launch system. German intelligence officers believe the separatists "captured a BUK air defense missile system at a Ukrainian military base and fired a missile on July 17." Directly after the shooting occurred, but before it made global headlines, a number of separatists took responsibility for the incident.
Earlier this fall, the Dutch government determined that a "high energy object," such as a missile, took down the plane. The Dutch, however, did not directly name a party responsible. BND's president, Gerhard Schindler, was extremely direct in his accusations, simply telling Germany's Der Spiegel, "It was pro-Russian separatists."
Both the Russian and Ukrainian politicians have repeatedly denied responsibility for the tragedy, however, BND's findings took aim at both nations for their attempts to blame each other. Schindler said there was evidence that Ukrainian photos had been manipulated. (The photographs were presumably of the missile-launch site, though the exact images were not specified to the public.) His agency also determined "Russian claims the missile had been fired by Ukrainian soldiers and that a Ukrainian fighter jet had been flying close to the passenger jet were false."
As a result of BND's report, Germany's federal prosecutor has opened an investigation to determine whether those responsible, who have not been identified, committed a war crime. This news comes only days after Dutch and Australian officials pressured Russian President Vladimir Putin to sway separatists into providing investigators access to the MH17 crash site one more time before winter sets in and the crime scene is permanently ruined.