Do Quotas for Female Politicians Work?
30 percent of Brazilian candidates must be women. But far fewer actually get elected.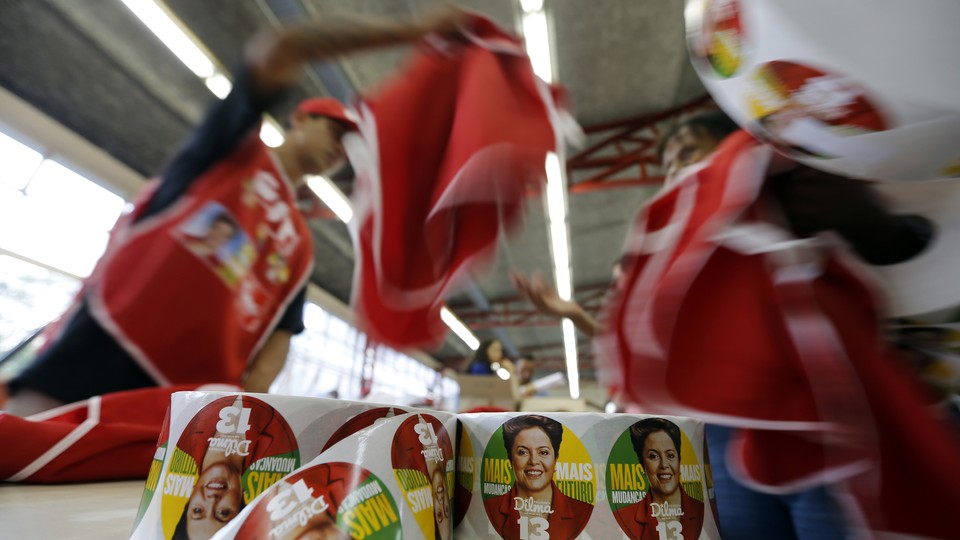 SÃO PAULO—This year, for the first time in Brazil's history, two women—incumbent President Dilma Rousseff and former environment minister Marina Silva—had a serious chance of winning the presidency. Marina, who sought the country's highest office after the death of her running mate in August, ultimately fell short, coming in third in voting this week behind Dilma and Aécio Neves, who now enter a runoff.
But the achievements of Dilma, Brazil's first female president, and Marina, who would have been Brazil's first black female president, do not reflect broader gains by women in the general election on Sunday. In this year's presidential, gubernatorial, and legislative races, the number of female candidates for the first time reached 30 percent—the level defined by a quota law, implemented in the mid-1990s, that specifies the minimum percentage of each gender who must be on party lists in legislative elections.
Still, these candidates didn't win their races in similar numbers; women will occupy only 10 percent of seats in the new National Congress, or only six more seats than the total following the last two elections. No woman was elected as a state governor, though one is competing in a second round of voting in Roraima state. In the last election in 2010, two women were elected governor. All this at a time when women voted in unprecedented numbers, representing 52 percent of the 143 million Brazilians who went to the polls this week.
What explains the gulf between female candidates and female office-holders? Some critics of the quota law argue that while it incentivizes women to enter politics and obligates political parties to invest a small portion of government-allocated funds in recruiting and designing programming for female candidates, those candidates themselves then often receive little financial support.
"Parties receive donations and choose in which candidates they will invest this money. And most of [these candidates] aren't women," said Celi Pinto, a political-science professor at Universidade Federal do Rio Grande do Sul (in Brazil, donations can go to parties or individual candidates). "The quotas have never been a threat to men's power in politics."
In fact, while women on average hold 25 percent of parliamentary seats in Latin America and the Caribbean (the highest regional average in the world), that figure hovers around 10 percent in Brazil. On the Inter-Parliamentary Union (IPU)'s ranking of 189 countries by female representation in parliament, Brazil ranks 131st, with women holding 9 percent of seats in the country's lower house as of 2010 (women held 16 percent of seats in the upper house).
The questions and challenges surrounding quotas are at the center of the debate about how best to build more democratic, representative nations. Roughly 45 countries have introduced electoral gender quotas by law, and political parties in dozens more have adopted voluntary quotas (the United States, which ranks 85th on the IPU's gender-equity list, is not one of them). But these measures—which vary from carving out a certain number of seats for female lawmakers to mandating a particular percentage of female candidates—are controversial.
In 2012, for instance, the IPU attributed an increase in women's political participation around the world to these policies. "Nine out of the top 10 countries which witnessed the highest growth in the number of women MPs in their lower house of parliament had used quotas," the organization noted. "Conversely, seven out of the nine lower houses of parliament that witnessed an actual decrease in women MPs had not used any quotas." But the IPU also recognized the limitation of quotas, writing that they need to be "accompanied by sanctions for non-compliance," and that "women candidates should be placed in winnable positions on party lists." As the Council on Foreign Relations' Isobel Coleman has written, "Quotas bring women's voices into political systems where they are otherwise excluded, short-cutting a process that can naturally take generations." Yet "other factors—like strong political will, enabling women's freedom of movement, and networks of support for female candidates—significantly strengthen" their effectiveness.
That effectiveness is very much in doubt in Brazil. The country's quota law, which initially mandated that only 20 percent of candidates be female, was instituted in 1995 and inspired by calls for quotas at the UN's Fourth World Conference on Women that same year. According to the Brazilian feminist group CFEMEA, which monitors women's issues in Congress, women constituted just over 5 percent of the chamber in 1989. Between 1945 and 1982, that figure was below 2 percent.
Luiza Erundina, 79, remembers what it was like to be the first woman elected mayor of São Paulo, Brazil's largest city, in 1988. "I was discriminated [against] even inside my party because I'm a woman, a leftist, and from the northeast [one of Brazil's poorest regions]," she told me.
Erundina, who this year served as Marina Silva's campaign coordinator and was reelected for another term in the Chamber of Deputies, said that Brazil's campaign-finance system is corrupt and beholden to special economic interests, and that its male-led parties are sexist. In 2002, she tried to pass legislation that set aside 30 percent of each party's candidate-recruitment ads and candidate-training funds for women. Ultimately, the government agreed in 2009 to a limit of 10 percent and 5 percent for these activities, respectively. Erundina has also proposed an amendment to the Constitution that would guarantee one leadership position for a woman on each major congressional committee. Seven years after it was first introduced, the measure has yet to be voted on.
One of the few women who has a top party position is Miguelina Vecchio, vice president of the leftist Democratic Labor Party. In June, she threatened to sue her own party unless it geared 10 percent of its recruitment ads toward women, in accordance with Brazilian law. "Parties choose women [candidates] with no real intention to be politicians, only to make sure that the votes will go to men," she said.
This year, Vecchio unsuccessfully ran for a seat in the Chamber of Deputies. Two days ahead of the vote, I spoke with her by phone while she was traveling to a rally in a city that was almost 190 miles from her hometown, the capital of Rio Grande do Sul state, in southern Brazil. "How would I pay for the gas I'm using for this trip if I didn't have the party's support?" she asked. "When I ran for the first time, in 1992, for city council, I didn't even have a car and did the campaign using public transportation."
"It's an electoral crime what parties do to women here—including my party," she added. In her opinion, 30 percent of legislative posts, not ballot lists, should be reserved for women.
Female candidates who are recruited merely to fulfill the quota rather than run a serious campaign are known in Brazil as "orange candidates"—a term with murky origins—and in March Marco Aurélio Mello, the president of the Superior Electoral Court, publicly acknowledged their existence. He requested that regulatory bodies be empowered to sue and sanction parties that don't abide by the quota law. The Court also put out a TV ad to encourage women to register as candidates. The narrator's voice switches from male to female midway through the ad to emphasize that women's voices should be heard.
Women aren't the only underrepresented demographic group in Brazilian politics. There are no legally mandated quotas, for instance, for black or indigenous candidates. This year, Brazilians of African descent—which includes those who identify as black or mixed-race, and who make up 51 percent of the population—accounted for 55 percent of all voters. The election marked the first time that the Superior Electoral Court asked candidates to disclose their race, and 41 percent of candidates declared that they were of African descent.
But, like women, these candidates are unlikely to be represented in government to the same degree. Official data on the number of self-declared black candidates elected in this year's election has yet to be released, but in 2012 only two of 81 senators and 43 of 513 deputies considered themselves of African descent. That translates to just under 8 percent of lawmakers in Congress.
Brazil, which imported some 4 million Africans as slaves and was the last country in the Americas to outlaw slavery, has instituted quotas for blacks in realms other than politics. In 2004, for example, universities began pursuing affirmative-action policies; now quotas for black, indigenous, and poor Brazilians at public universities add up to 50 percent of the student body. Starting this year, 20 percent of all new federal jobs in government or government-affiliated companies will be designated for Brazilians of African descent.
Last year, Congressman Luiz Alberto dos Santos of the governing Workers' Party, who is black, presented a constitutional amendment to reserve a number of lower-house seats for black Brazilians that would be equivalent to two-thirds of the population of African descent. The bill has passed the Justice and Constitution Committee and now has to be voted on by the lower and upper houses of parliament. "I have no illusion the vote will be fast," said dos Santos. But he added that discussions of racial inequalities have increased in Brazil since the UN's World Conference Against Racism in 2001 and the introduction of quotas at universities.
If getting elected as a black Brazilian is hard, life as a lawmaker isn't easy either. "I need to prove I am a deputy when I go to government [buildings] and always prove I am qualified among other congressmen," he said. One time, a security guard barred him from entering the main gate of a cabinet ministry, even after he showed his credentials. The minister himself had to come sort things out. "This is racism, a crime we are fighting against," dos Santos observed. "But what could I do if the security guard was also black?"
Ultimately, making the Brazilian government more representative of its people will be a slow process—the feminist group Instituto Patrícia Galvão estimates that it will take 150 years to achieve gender equity in politics. When Dilma and Aécio face off in the presidential runoff later this month, the matchup will seem fitting for a country where half the population is male and half is female. But look further down the ticket, and the story is starkly different.