The Familiar, Deadly Landslides in Sri Lanka
At least 100 were buried alive in the latest natural disaster to hit the South Asian country.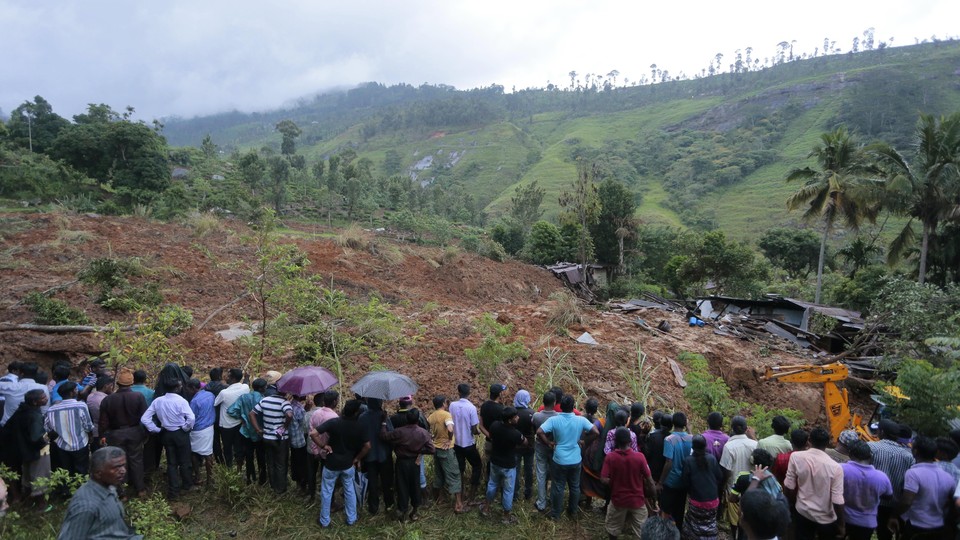 A mudslide in central Sri Lanka buried more than 140 homes on Wednesday, killing at least 10 while more than 300 others remain missing. The disaster followed a sustained period of heavy monsoon rains in the South Asian country, where flooding and landslides are an annual occurrence.
The victims were employed at tea plantations located 120 miles inland from Colombo, Sri Lanka's capital. The workers and their families lived in homes built on a mountain side, and had not heeded previous warnings to relocate.
"In 2009, we had a discussion with the people in that area, but they were not willing to move from their houses," R. M. S. Bandara, an official with the landslide-research division of the National Building Research Organization, told The New York Times. "We gave the instructions to the people that if you don't go, you will have problems. They didn't listen."
Sri Lanka's government dispatched the country's air force and elite police commanders to lead the rescue effort, but were hampered by poor visibility and damage to nearby roads. Major General Mano Perera, the top military official dispatched to the scene, claimed that rescuers had located some survivors.
"We have already rescued some people and they have been sent to hospital," he said, without giving exact figures.
Landslides are a fact of life in Sri Lanka, a tropical nation lashed by regular monsoon rains and heavy winds. Flash floods and landslides killed 17 people and displaced at least 4,000 others in December 2012, while northeastern and central Sri Lanka experienced devastating floods the year before.
Man-made disasters have also plagued the country. A 26-year civil war between the country's dominant Sinhalese majority and an ethnic Tamil insurgency claimed an estimated 80,000 to 100,000 lives before the Tamil surrender in 2009. The United Nations Human Rights commission drafted a resolution in March to investigate human-rights abuses committed during the war, but Sri Lanka's government has refused to cooperate.