What Country Takes a Whole Week Off to Celebrate Its Birthday?
China. But "Golden Week" is more complicated than it first appears.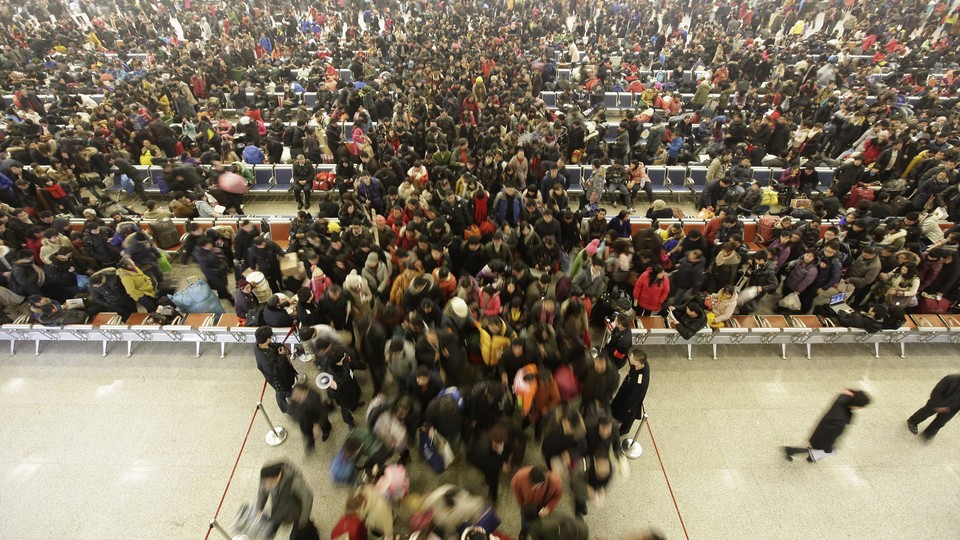 Today marks the 65th anniversary of the People's Republic of China. Known as "National Day," the commemoration kicks off one of two so-called "Golden Weeks," which were implemented by the Chinese government in 1999 as a way to promote domestic tourism. (The other Golden Week follows Chinese New Year and typically falls during January or February, in accordance with the lunar calendar.) While China is surely not unique in celebrating its founding—America's Fourth of July and France's Bastille Day rank among the world's best-known birthday parties—few countries take an entire, government-sanctioned week off to do so. This year's festival comes at an especially fraught time for China—as unprecedented pro-democracy protests spread in Hong Kong, a "special administration region" (SAR) of the mainland since July 1997.
The week-long holiday is expected to produce an additional 270 billion yuan in consumer spending—nearly $44 billion, or roughly half of Bill Gates's net worth (an estimate that may prove high if, as predicted, Chinese tourists avoid restive Hong Kong, normally a top destination). In the past two years, moreover, retail sales during the holiday season have grown by an average of 16 percent, with more than 600 million people traveling by air, road, or waterway during the 2013 holiday alone. By comparison, U.S. residents took 1.6 billion trips for leisure across the 52 weeks of 2013, according to data from the U.S. Travel Association.
Globally, Golden Week is a bit of an anomaly. Public holidays are common across countries (there are 10 federal holidays in the U.S., for example), but the length of China's Golden Weeks seems to have more in common with religious festivals. Still, in absolute terms, Chinese citizens don't actually get that many official days off from work. The consulting firm Mercer reports that China has fewer public holidays (11) than countries such as Colombia and India (both 18). When it comes to government-mandated paid time off, China trails far behind many European countries. According to a holiday schedule adopted by the Chinese government in 2008, only three of the seven consecutive days that mark National Day Golden Week are official days off. Many workers have to make up the four "gifted days" by going to the office on the weekends before and after the holiday.
---
---
National Day Golden Week, then, is less a boon to work-life balance and more an economic gambit (and a controversial one at that, given its logistical headaches and questionable benefits for the Chinese economy). It's also an opportunity to remind Chinese citizens of their communist roots. Tiananmen Square is now covered with celebratory flowers that, in the words of Beijing's Bureau of Landscape and Forestry, are meant to represent China's "core socialist values" and the "Chinese Dream." But, as Hong Kong's ongoing protests reveal, the definition of that dream is still very much in dispute.