'Children Are Not Children Anymore'
A look inside recruitment of kid soldiers in the Syrian war and the Islamic State's 'School of Jihad.'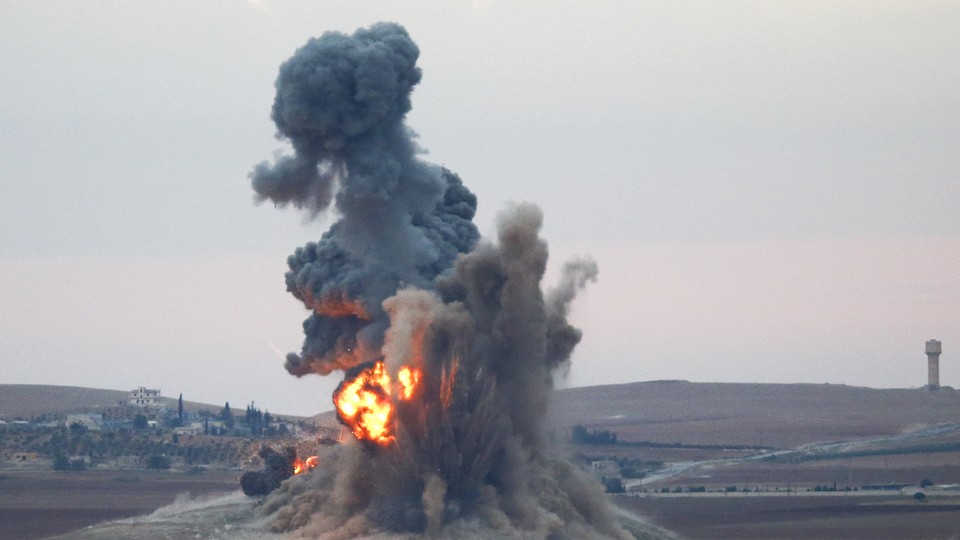 Since the beheading of American journalist James Foley this past summer, the Islamic State has managed to successfully recruit young people from around the world to join their cause, including three American teenage girls, who attempted to travel to Turkey and cross into Syria. (Their efforts were quickly thwarted by the FBI and their parents.) Though the terrorist group proudly boasts about its Western members on social media, most of its recruitment remains focused on locals, particularly young boys, in the areas it has taken over.
ISIS has created, quite literally, a "School of Jihad," a phrase commonly found under the hashtag الدولة_الإسلامية on Twitter ('Islamic State' in Arabic). The concept was around long before ISIS executed Foley, with some tweets on the topic dating back several years.
As The Independent's Adam Withnall noted, "Forced viewings of beheadings and torture, training with weapons almost as big as they are and daily lessons in extremist theology: if you're a boy growing up in ISIS-controlled territory across Syria and Iraq, the word education means something very different to the rest of the world."
Much of the training of young boys focuses on normalizing extreme violence, such as exposing them to public beheadings and automatic weapons from a very early age, and on a regular basis. A recent United Nations report on the war in Syria noted, "Executions in public spaces have become a common spectacle on Fridays in Ar Raqqah and ISIS-controlled areas of Aleppo governorate. ISIS informs residents beforehand and encourages them to attend. In some cases, ISIS forces passers-by to attend. Children have been present at the executions, which take the form of beheading or shooting in the head at close range." In a number of execution videos posted to LiveLeaks, children are often seen playing near the deceased, attempting to be kids in an environment that is anything but childlike.
Just like children anywhere, those in combat regions also want to earn pocket money. However, paid positions for children in Syria come with life-threatening consequences. The UN found that young children are frequently used by various committees in Syria as "messengers, spies and guards," as well as informants—a position that they are paid for, but "which exposes them to retaliation and punishment."
Kids have these jobs because they are often unable to spend the day in class. The UN found that in Aleppo, Damascus, and Dara'a, military forces regularly occupy schools and use them as bases. This has led to some schools becoming military targets, others being shut down, and a general deprivation of education for young people in those areas.
As more and more children roam away from schools that are no longer operational, or not safe to attend, fighters offer increasing responsibility to young boys under the guise of a new educational system. In the past, fighters frowned upon to give a boy under 15 a rifle, but now, boys much younger than this carry automatic weapons. One fighter in Aleppo explained in the UN report that, "Often young boys are braver and cleverer than adult fighters." The boys are trained to use the weapons in makeshift educational programs: recruitment masquerading as a replacement for their schools-turned-military bases.
The kids, some under the age of 8, but most commonly 14 to 15 years old, are sent to training camps where recruitment officers offer religious education alongside weapons training. The children, in turn, are paid for attending. However, when class is over and the camp ends, the children are not allowed to return home. Instead, they are sent into active combat zones and in some cases, on suicide bombing missions.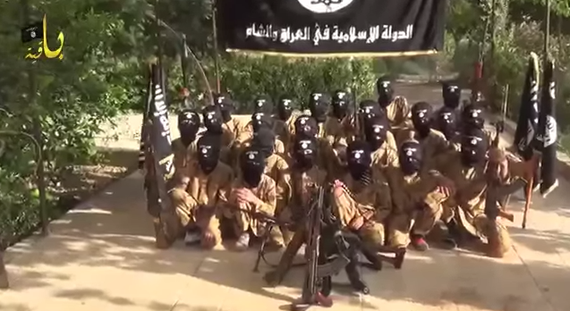 The religious education paints a very harsh and violent picture for the children, a process that is likened to brainwashing. "The sight of armed and masked men on stage 'educating' young boys is obviously a distressing one," Kristyan Benedict, Amnesty International UK's campaign manager for Syria, told The Independent. "These supposedly 'inspirational' videos are actually fresh evidence that Isis is cruelly robbing an untold number of young people of their childhood, brainwashing them and almost certainly exposing them to terrible dangers."
Benedict refers to a recent push by ISIS-controlled media to promote happy young male recruits through a series of videos, such as the "Cubs of the Islamic State" video. The children are dressed like mini-adult fighters, with their faces covered like any high-ranking ISIS official, and holding very adult, heavy-duty weapons. They often sing in their high-pitched, childish voices, or are shown listening to their "teachers;"other ISIS adults preaching to the crowd.
Though the UN has called the act of child recruitment a war crime, it seems ISIS is only ramping up efforts to increase its numbers of pint-sized soldiers. As one Syrian fighter put it, "children are not children anymore."