In Brazil's Presidential Runoff, It's Business-Led Growth vs. Poverty Reduction
Dilma Rousseff led Sunday's polls but faces a surprise challenger in the next round.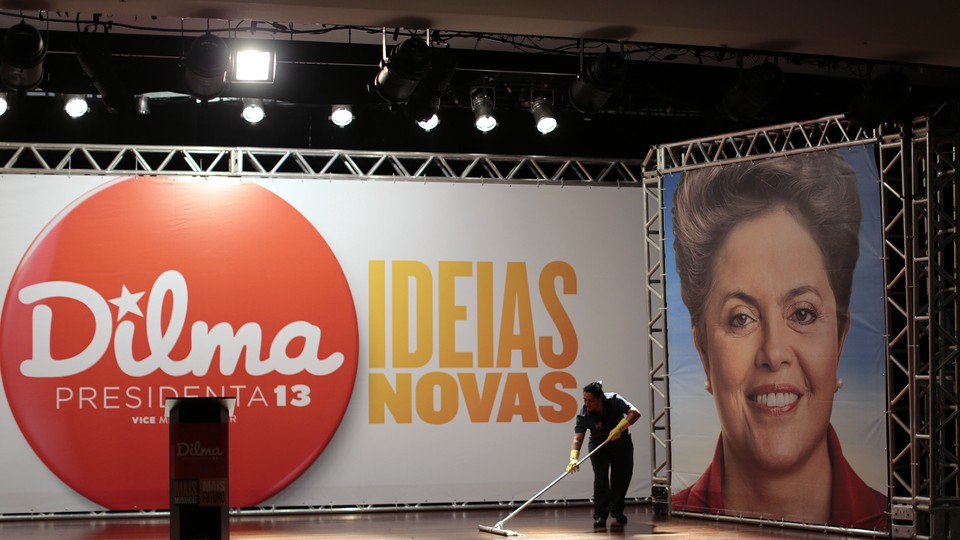 Brazil's left-leaning President Dilma Rousseff placed first in Sunday's election, but failed to secure an outright majority of votes and avoid an October 26 runoff, setting up a clash against center-right, pro-business candidate Aécio Neves.
With 99 percent of the ballots counted on Sunday night, Rousseff had 41 percent of the votes, followed by Neves with 34 percent and Marina Silva with 21 percent, according to Brazil's Superior Electoral Court. A late surge by Neves, and a barrage of attack ads against Silva—who had until recently been polling in second place against Rousseff—catapulted Neves past Silva and into the runoff.
​At the center of the struggle between the two parties that have traded leadership of Brazil since 1995—Rousseff's Worker's Party (PT) and Neves's Brazilian Social Democracy Party (PSDB)—is whether business or government will improve the struggling Brazilian economy.
Neves is expected to continue attacks on Rousseff's redistributionist policies, which he says have led to the country's economic slump, while Rousseff is likely to emphasize her party's claim to have brought 35 million Brazilians out of poverty over the past decade. One Rousseff aide told Reuters that the PT will try to cast the campaign as "the elite versus the people."
The two remaining candidates will receive equal amounts of free airtime in the second round, under Brazilian law. In the first round, advertising minutes were allocated based on party representation in government, favoring Rousseff's governing PT. But political analysts in Brazil say the election will now be on a more even playing field—a situation that is expected to favor Neves. "It is now a new election where everything is wide open," Carlos Pereira, a political analyst from Brazil's Gertulio Vargas Foundation, told the Associated Press. "Aécio, who until recently no one believed had a chance, has emerged as a very strong candidate."
That also seems to be the sentiment in the Rousseff camp, according to one aide who said, "The second round is going to be much harder for us. The result is narrower than we expected."