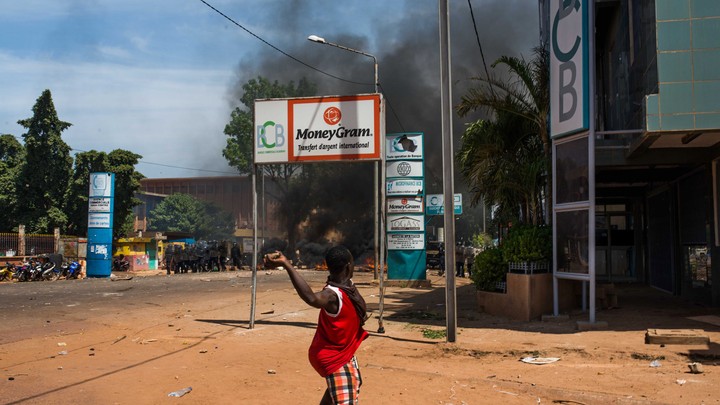 Updated 3:24 p.m.
Ouagadougou, Burkina Faso, is the scene of mass protests, flames, and tear gas after citizens organized in the capital to show their disdain for President Blaise Compaore, who has been the leader of his country for the last 27 years. Despite this lengthy reign, parliament is considering a constitutional amendment in order to lift the term limits that prohibit him from running for office or holding the presidency in 2015. The vote on the amendment has been suspended temporarily, but the citizens of Burkina Faso have nevertheless set both city hall and the ruling party headquarters on fire.
Compaore first became president in 1987 through a coup and has been reelected four times since. However, all of the elections have been disputed. The United States, France, and European Union "have called on him to scrap the proposed constitutional amendment," the BBC reported. The United States and France are close allies of Burkina Faso's and have established military bases in the region to combat Islamic terrorism in the greater Sahel area of Africa. The allies believe changing the constitution "could jeopardise Burkina Faso's stability." As Al Jazeera notes, Burkina Faso has been "typically known for relative stability and economic growth in a volatile region."
While Western powers hope to calm the situation, protesters seem to have other plans. Emile Pargui, an official with the opposition Movement of People for Progress, told AFP, "October 30 is Burkina Faso's Black Spring, like the Arab Spring." Activists have called for a continued campaign of civil disobedience until Compaore steps down, according to the BBC.
The military, meanwhile, clashed with protesters who attempted to take over parliament buildings, dispersing the crowd with tear gas fired from a helicopter, though the protesters eventually succeeded in their mission. According to AFP reporters on the ground, "About 1,500 people managed to break through the security cordon and ransacked parliamentary offices, set fire to documents, stole computer equipment, and set fire to cars outside." State television has gone off the air as a result. Just after 3 p.m. ET, the Burkina Faso military announced the dissolution of government and parliament.
The protesters, for their part, have vowed to keep fighting and plan to march into other government buildings.
We want to hear what you think about this article. Submit a letter to the editor or write to letters@theatlantic.com.