The Vatican's Still-Tepid Support for Gays and Divorcees
A much-discussed report from the Catholic Church's synod on the family turned out to be very different in its final form.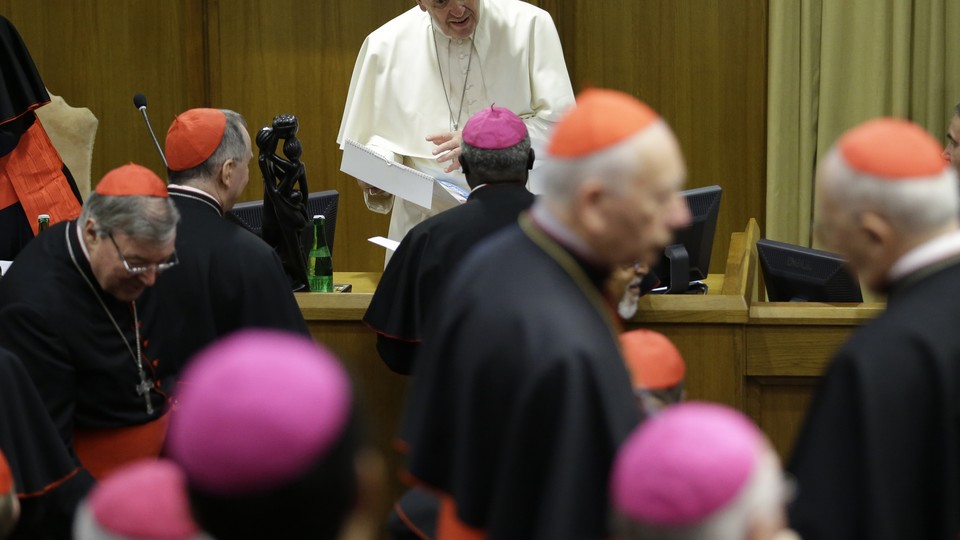 As a Vatican assembly on the family came to a close on Saturday, bishops ditched a document believed to signal a major shift in how the Church views gays and remarried Catholics, thus rejecting the vision of Pope Francis to chart a more ecumenical approach to ministering to Catholics around the globe. So sharply divided were the bishops that they could not even approve a watered-down version of the text that would provide ministering to homosexuals.
That's a sharp difference from where observers thought the bishops were headed earlier this week. Although the previous version of the document said that "Homosexuals have gifts and qualities to offer to the Christian community," the final version of "people with homosexual tendencies must be welcomed with respect and delicacy" could not be approved by a two-thirds majority.
Conservatives complained early on that the preliminary document only reflected a minority of progressive bishops—and blamed the media for perpetuating the problem. Cardinal Wilfrid Fox Napier of South Africa told Vatican Radio the final document showed a "common vision" that was absent in the earlier draft, saying that "presenting homosexual unions as if they were a very positive thing" was the vision of only "one or two people."
Francis decided to release the paragraph-by-paragraph voting totals for the document to highlight the divisiveness on the two issues, but he also struck a tone of unity.
Ending the session with a 10-minute speech, Francis told the bishops that the Church needs to chart a middle course between  "hostile rigidity" by "so-called traditionalists" and "progressives" who would "bandage a wound before treating it."
His remarks were met with a standing ovation.