The Terrible Pollution Marring Beijing's Marathon
On a day when the government urged people to remain inside, several thousand runners braved a 26-mile course through China's smog-choked capital.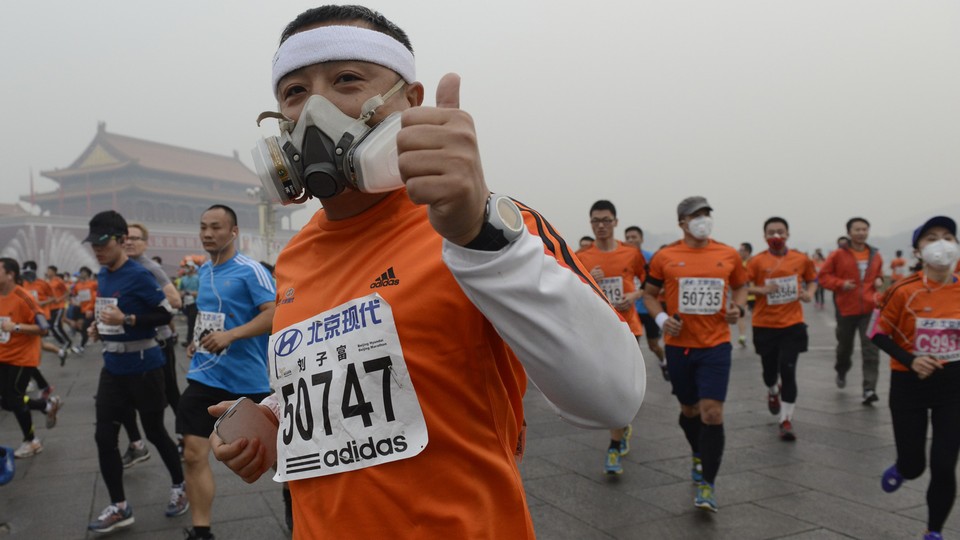 Even by the city's standards, Beijing was very polluted on Sunday. The PM2.5 scale, which measures the number of micrograms of "particulate matter" per cubic meter, came up to a whopping 344. (To put that figure in perspective, the World Health Organization considers 25 micrograms to be healthy.)  The pollution was so bad that the Beijing Municipal Environmental Monitoring Center warned the elderly, the sick, and children to stay indoors, and everyone else to avoid outdoor activity.
To say the least, these weren't ideal conditions for a marathon. But that race is precisely what took place on Sunday, as tens of thousands of runners braved the conditions to complete the 34th annual Beijing International Marathon.
Event organizers were aware that the air wouldn't be good on Sunday, but determined it was too late to postpone the race, which had attracted participants from throughout China and around the world. To help runners clean detritus from their skin, organizers supplied over 140,000 sponges placed at stations throughout the course.
Girhay Birhanu Gebru of Ethiopia won the men's competition for the second consecutive year, finishing in 2 hours, 10 minutes, and 42 seconds. His compatriot Fatuma Sado Dergo, meanwhile, captured the women's title at 2 hours, 30 minutes, and 3 seconds.
But these accomplishments were overshadowed by the sight of thousands of runners, many wearing face masks, streaking through a city so polluted that many nearby buildings could not be seen from the course.
Gong Lihua, a participant from China's Inner Mongolia region who finished third in the women's race, shrugged off the bad air.
"Today the smog did have a little impact on my performance, but not a major one," she said.
The Chinese government has struggled to balance environmental concerns with economic activity, and periodically closes factories located near the capital in order to reduce air pollution. But despite Beijing's ever-improving living standards, the city still endures a reputation as being uninhabitable. The Shanghai Academy of Social Sciences, a prominent government think tank, found in February that only Moscow had worse environmental credentials than Beijing.