Beheadings as Terror Marketing
Beheading videos, especially those with the most graphic content removed, are used to recruit new soldiers to terrorist organizations.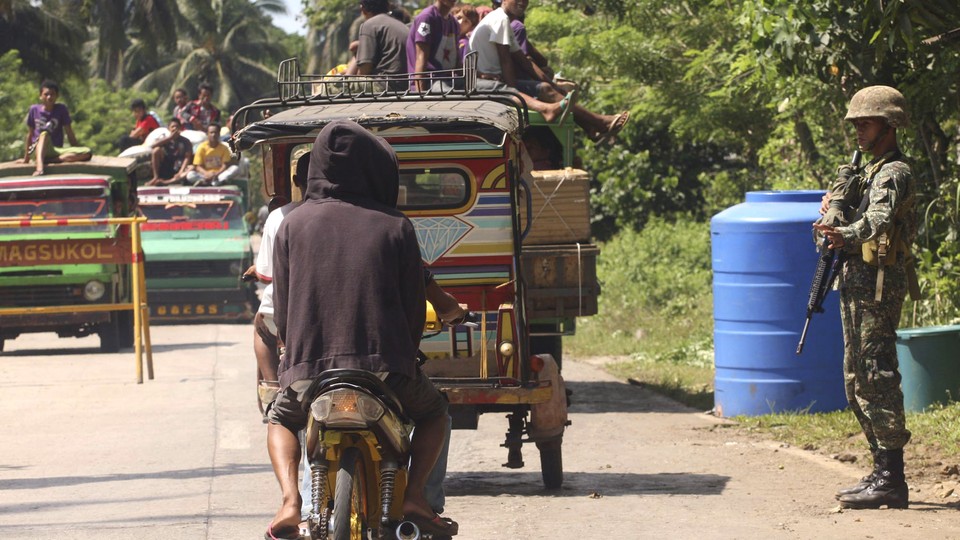 Two more lives are at risk in the Philippines after Abu Sayyaf, an al Qaeda-linked terrorist organization, threatened to behead hostages captured earlier this year. The captives, two Germans who were sailing in the South China Sea from the Palawan Island to Sabah, Malaysia, are to be executed by beheading on October 17 if the terrorists' demands are not met.
Several days ago, the Taliban beheaded 12 civilians in Afghanistan and the beheading of American journalist James Foley by the Islamic State shocked the world. ISIS has also executed journalist Steven Sotloff and aid worker David Haines, and most recently threatened the life of aid volunteer Alan Henning. Last week in Algeria the Caliphate Soldiers executed an innocent French mountaineer by beheading, publicly distributing the video, after demanding airstrikes be stopped.
Any death by beheading related to terrorism draws parallels to the killing of reporter Daniel Pearl, who was murdered by al-Qaeda in 2002. However, beheading in the name of Islam is certainly not a new development in the terrorist world. Islamic experts have long debated if the Koran alludes to an acceptance of beheading, as some organizations like the Tawhid wal Jihad have pointed to one particular passage to justify this act:
When you encounter the unbelievers on the battlefield, strike off their heads until you have crushed them completely; then bind the prisoners tightly.
While terrorist organizations pull from ancient texts and events, modern Muslim leaders have widely denounced the act. Ulema and mushaikh (high-level Islamic leaders) in Pakistan came to the conclusion that both beheadings and suicide attacks are "un-Islamic." The American Muslim Organization has repeatedly condemned the act and Canadian Imam Syed Soharwardy has said, "Any attack by foreign elements should also be considered a direct affront to the 10 million Muslims who call either Canada or the United States home."
Nonetheless, the attacks continue. When threatening a captive with beheading, terrorists generally demand an impossible ransom. In return for its two German hostages, Abu Sayyaf has demanded $5.6 million and for Germany to cease support of airstrikes against ISIS in Syria. (The German military is not directly involved in these strikes.) ISIS demanded $132.5 million for James Foley. The Caliphate Soldiers demanded France cease military motions against ISIS immediately.
"That's a tactic on their part, to ask for a ridiculous amount of money so they can look like they tried to negotiate, but our side was unreasonable," explained former FBI hostage negotiator Christopher Voss, "It is a ruse. It is an intentionally nonsubstantive demand. It's a bit of the equivalent of al-Qaeda in Iraq asking for all U.S. forces to get out. They intentionally ask for something that won't happen."
Voss notes that the increase in hostage-taking itself, not just beheading, stems from how terrorist organizations have splintered over time. Former FBI hostage negotiator Gary Noesner believes this splintering explains the spread and evolution of beheading through different organizations. Smaller, greener groups like ISIS, the Caliphate Soldiers, and this Philippine division of Abu Sayyaf are looking to build an army, turning instead to the graphic death and accompanying video to prove themselves in the terrorist world.
Paul Cruickshank, a terrorism analyst, believes beheading videos, especially those with the most graphic content removed, are used to recruit new soldiers to terror groups. The terrorists distribute the videos through their media and various online message boards, "energizing" potential recruits, according to Cruickshank. Social media in particular, the CNN journalist says, has only enabled communication between extremists and would-be jihadis to join the caliphate. "You can interact with ISIS fighters in Syria in real time and that can serve as a sort of radical virtual echo chamber," he said. "Some of these men almost have a pornographic attraction to these violent scenes, these violent beheading videos. It really sort of energizes them."