Anti-Semitism's Resurgence in Iran
Is Hassan Rouhani's charm offensive over?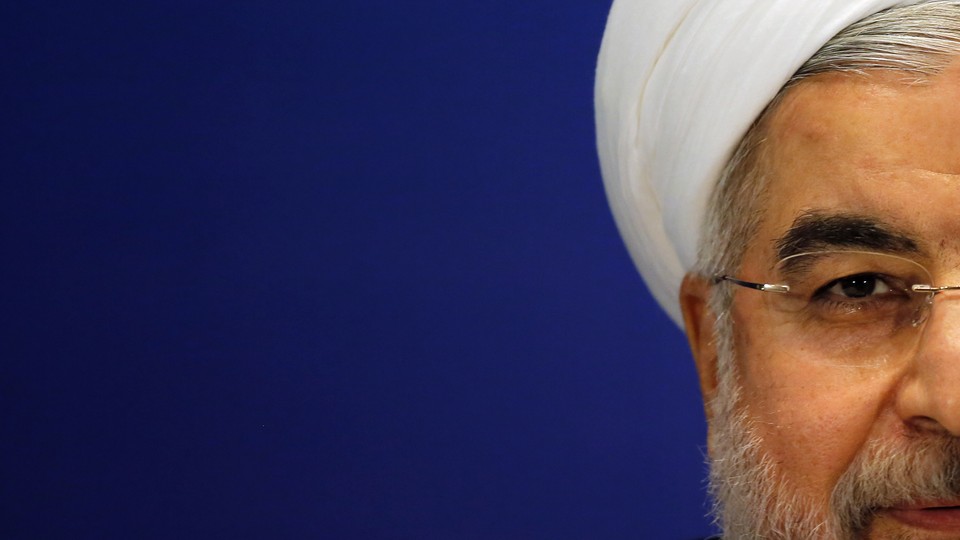 In the fall of 2013, Iranian President Hassan Rouhani sent a promising signal of reconciliation to the Western world. Under Rouhani's immediate predecessor, Mahmoud Ahmadinejad, Iran had hosted a global conference of Holocaust deniers, Mossad-did-9/11 conspiracy theorists, anti-Semites of the far right and far left, and other all-around kooks and haters. The newly elected Rouhani not only canceled the conference, but even publicly acknowledged that the Holocaust had in fact happened and was a bad thing. He iced the cake in September 2013 with a tweet wishing Jews worldwide a Happy Rosh Hashanah.
This year, however, the conference was reinstated—and then some.
A report from the Anti-Defamation League:
[T]he conference's official website published the names of several American and international anti-Semites, anti-Israel activists and Holocaust deniers that are expected to be in attendance, including Maria Poumier, a French conspiracy theorist and Holocaust denier; Claudio Moffa, an Italian Holocaust denier; Kevin Barrett, an anti-Semitic conspiracy theorist and frequent contributor to Iran's English language propaganda news network …

Iranian news agencies have reported the expected participation of … Dieudonne M'bala M'bala, the French anti-Semitic comedian and the creator of the anti-Semitic "quenelle" gesture …

The conference was opened with remarks by the personal advisor to Supreme Leader Ayatollah Ali Khamenei, Mohsen Ghomi, who boasted that the conference itself is "the biggest threat to Zionists," and that "American officials are puppets of the Zionist lobby who are taking advantage of American ignorance."
Two former Iranian nuclear negotiators, Saeed Jalili and Ali Asghar Soltanieh, will also reportedly attend—a disturbing detail highlighted by U.S. Senator Mark Kirk. Jalili placed third in the Iranian presidential election of 2013.
What's changed since last year, when the conference was scrapped as part of Rouhani's charm offensive?
Some questions suggest themselves:
1) Do Iranian leaders worry less about Western and U.S. opinion in 2014 than they did in 2013? Do they think that with Washington already committed to a military campaign against their enemy ISIS, they have less need to turn a smiling face to Western governments? Winston Churchill once jokingly explained why he was less politic about the United States after it entered World War II than he had been before: "Oh! That is the way we talked to her while we were wooing her; now that she is in the harem, we talk to her quite differently!" Is Iran revealing a ruder version of the same attitude?
2) Has some internal equilibration of power in Iran enhanced the clout of the regime's confrontation-seekers and anti-Semites? Is the recurrence of state-sponsored Holocaust denial and anti-Semitism a sign that the less-bad guys are losing power; the more-bad guys gaining? Has the defeat of Iran's on-again, off-again Hamas client in this summer's Gaza war jolted Iran into demonstrating its continuing commitment to the annihilation of Israel? The real message of Holocaust deniers, after all, is both "It never happened" and "We should try it again."
3) Or was Rouhani always a fake? Were his overtures in 2013 stage-managed just like former Soviet leader Yuri Andropov's self-presentation as a liberal-minded enthusiast of jazz music and bourbon whiskey back in the 1980s?  Remember, Rouhani literally ran Iran's nuclear program for 16 years. How likely is it that he ever sincerely intended to dismantle a weapons infrastructure to which he had dedicated so much of his life? The former deputy director general of the International Atomic Energy Agency claims that Rouhani boasted to him that he viewed nuclear negotiations as a way to "buy time to advance Iran's program." Maybe the tiger was willing to conceal his stripes for a short time for similar strategic purposes. It might be a very grave mistake to believe that he's changed them, in the face of so much and so rapidly accumulating evidence to the contrary.