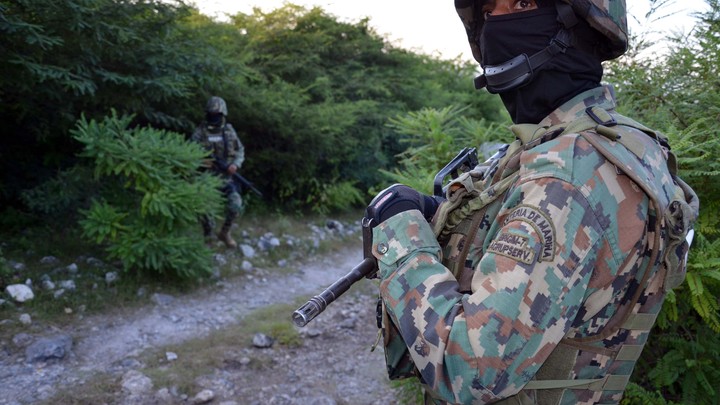 Mexico has faced a trying fall since 43 student protestors disappeared. A mass grave found in the country earlier this month was initially thought to contain the students' remains, but genetic testing proved otherwise. Soon after, more bodies were unearthed in a canal outside of Mexico City. Now, another mass grave has been found in Mexico, and this time, authorities believe they may have found the missing students' remains, though the bodies are still being tested.
When the first mass grave was found, a number of authority figures in Iguala, the town in southern Mexico near where the students disappeared, were linked to Guerreros Unidos, a local cartel, including the security chief, mayor, and his wife. One gang member who has been arrested has accused the mayor's wife, María de los Angeles Piñeda, of being "the main operator of criminal activities" in the area.
The newly found grave is in Cocula, Mexico, within 10 miles of where the students were last seen alive. A group of police officers has confessed to leaving the students with the cartel, and two of the gang members eventually led authorities to the grave site. Fifty-six people have been arrested thus far in connection to the case.
Attorney General Jesus Murillo Karam may have put some minds at ease when he announced to reporters: "We have the people who carried out the abduction of these individuals." Mexican citizens have been protesting government corruption as authorities continue to work on the case: Demonstrators burned down Iguala's City Hall, marched through Mexico City, and pushed Angel Aguirre, governor of Guerrero, to resign.
This is the 12th mass grave found in the Pueblo Viejo area of Iguala, known for its particularly high murder rate and connection to drug trafficking, according to Adam Isacson, a security policy expert at the Washington Office on Latin America, a nongovernmental organization. He told Fox News Latino, "It's been one of those places where horrible things are going on, but you never know what it is."
We want to hear what you think about this article. Submit a letter to the editor or write to letters@theatlantic.com.