When Presidential Candidates Have to Please Priests
Brazil's third election debate was hosted by the Brazilian Conference of Bishops, showing just how much influence religion can have on politics even when "church" and "state" are separate.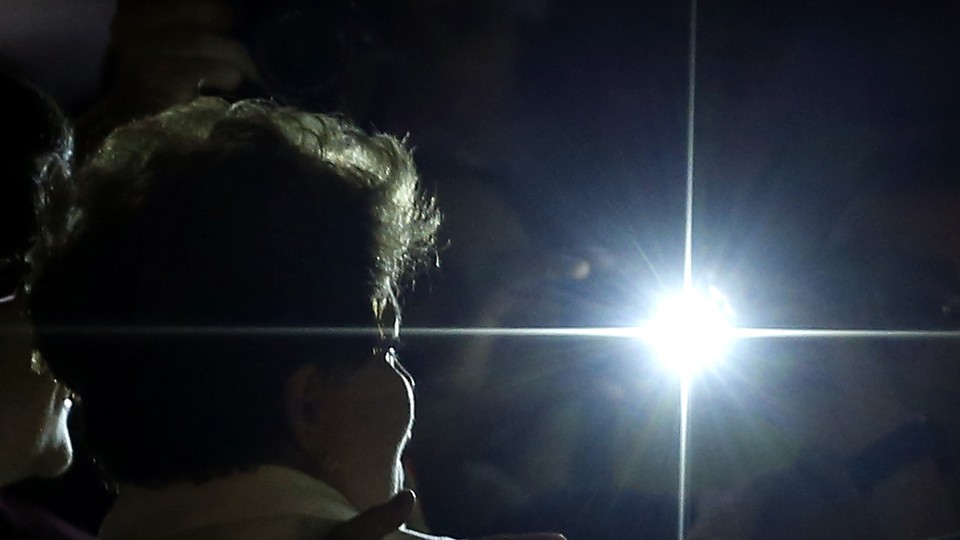 On Tuesday night, the eight candidates for the Brazilian presidency faced off in a 190,000-square-foot basilica for the third debate in the lead-up to the country's October 5 election.
But the venue wasn't the most remarkable thing about the evening: It was hosted by the Catholic Bishops' Conference of Brazil, which represents all bishops who live in the country. Priests got to ask the first round of questions on topics like health, political corruption, and the economy, which was followed by questions from Catholic journalists. This was the second time the organization has hosted a presidential debate; the first was in 2010.
The only time God shows up in Brazil's current Constitution is in the preamble: "We, the representatives of the Brazilian People ... promulgate, under the protection of God, this Constitution of the Federative Republic of Brazil." But though the government has been secular since 1891, the Roman Catholic Church has long been influential in the country's culture and politics: Until the early 1990s, more than 80 percent of the population identified as Catholic.
In recent years, though, that has changed dramatically. As of 2010, only 65 percent of Brazilians identified as Catholic; the number of Protestants, and particularly evangelicals, has grown sharply in the last two decades. According to Pew, this is largely due to conversions, not birth rates and death rates. Protestantism has grown most among younger generations, especially those who live in cities.
And this may influence Brazil's upcoming election. Dilma Rousseff, the current president and a lapsed Catholic, is facing an unexpectedly strong challenge from Marina Silva, an evangelical convert who represents the Brazilian Socialist Party. Silva has tried to use her religious identity to appeal to Brazil's fast-growing Protestant population, a strategy which might have motivated her to retract her support for gay marriage. She changed her official position on same-sex unions in late August when she became the Party's presidential candidate following a plane crash that killed her running mate and the Party's original nominee, Eduardo Campos.
In other news, there was apparently a bloody scuffle between reporters and the politicians' security guards outside the basilica before the debate. The fight doesn't appear to have had anything to do with God.