The Scattering of Ukraine's Jews
War threatens a community that has survived the Holocaust and the Soviet era.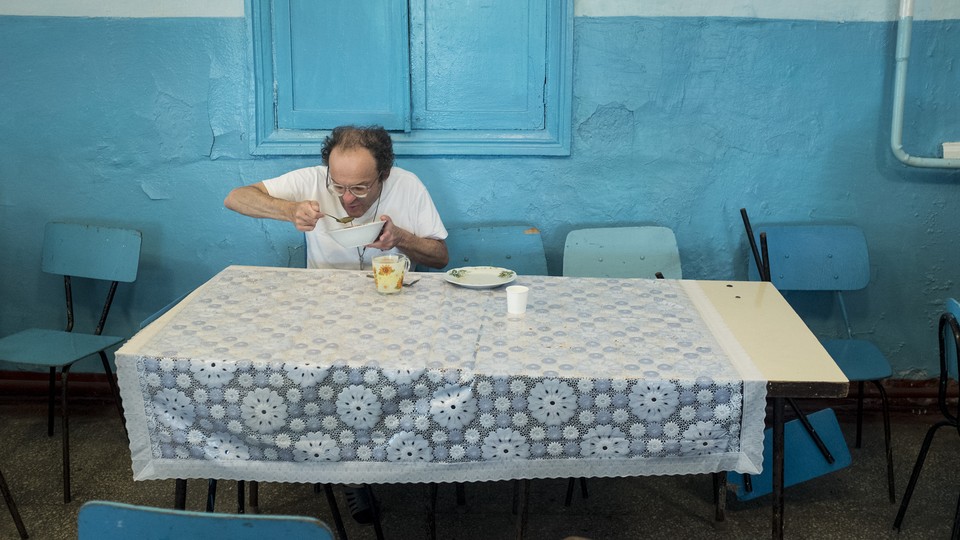 Aleksandr Zadov recalls the last time war forced him out of his home in Donetsk. The year was 1941, and Nazi troops were occupying the eastern Ukrainian city. He and his parents escaped under the cover of darkness to Kazakhstan. "We lived in savage, barbaric conditions. But we survived and came back," the 77-year-old says. He reaches out to hold his wife Bella's hand. "I would never have guessed that at our age we would have to deal with this again."
The Jewish couple fled war-torn Donetsk in mid-July, living first in a ramshackle house in Lviv in the west of the country before relocating to Kiev in early August. We speak in a guesthouse beside the elaborately restored Great Choral Synagogue in the capital's historic Jewish quarter, Podil. Dozens of Jewish internally displaced people (IDPs) from eastern Ukraine have come through the guesthouse in recent weeks. I ask the Zadovs what they plan to do next. "To go home of course," Bella says, a slight waver in her voice. She points to the diaphanous floral blouse she is wearing. "We didn't bring anything with us. We left in our summer clothes."
But going home looks increasingly unlikely as the carnage continues in eastern Ukraine, despite the signing earlier this month of a ceasefire between Ukrainian government forces and pro-Russian separatists. The death toll from the conflict has now reached 3,000, the United Nations says. Donetsk, a once-thriving industrial city with a population of 1 million, is eerily empty, while the city of Luhansk remains besieged, with tens of thousands living in basements, without working phones, electricity, or running water. Lawlessness abounds in both eastern regions.
Ukraine's 70,000-strong Jewish community, the world's 11th-largest, is undergoing what members describe as its biggest upheaval since the Second World War. While most of the country's Jews live in Kiev, up to a fifth reside (at least until recently) in the conflict-hit east. Convinced they would return home after the fighting ended, many now face the brutal reality of all-out war on Europe's fringes. Some are resettling elsewhere in Ukraine, while others are immigrating to Israel (an act known as aliyah). The International Fellowship of Christians and Jews (IFCJ) estimates that more Ukrainian Jews will make aliyah this year than in the last three years combined. Through September 1 of 2014, 3,252 Jews had relocated to Israel from Ukraine, compared with 1,982 in 2013, according to the IFCJ, which helps foot the bill for the move. In 2012, that number was 2,030. The IFCJ expects to spend some $2 million this year on securing plane tickets to Israel and predicts the number of immigrants could hit 7,000, Yechiel Eckstein, the organization's founder, told me by telephone from Jerusalem. Under Israel's Law of Return, any Jew in the world is entitled to Israeli citizenship.
The war in eastern Ukraine has displaced 1 million people, the United Nations reports. Moscow claims the vast majority—some 814,000—have gone to Russia, where they have family and friends. An additional 260,000 are displaced within their own country. The consequences of this displacement, António Guterres, the UN's high commissioner for refugees, recently warned, "has the potential to destabilize the whole region."
Jews in particular have a long and complicated history with Ukraine, having first arrived in the medieval state of Kievan Rus as traders. They were later pushed into the Pale of Settlement, a chunk of Imperial Russia that Catherine the Great carved out in 1791, and which encompassed most of present-day Ukraine. Despite repeated persecution in subsequent centuries, Jews generally prospered. They made up a third of Ukraine's urban population before the Second World War and the Holocaust, when 900,000 Ukrainian Jews were killed.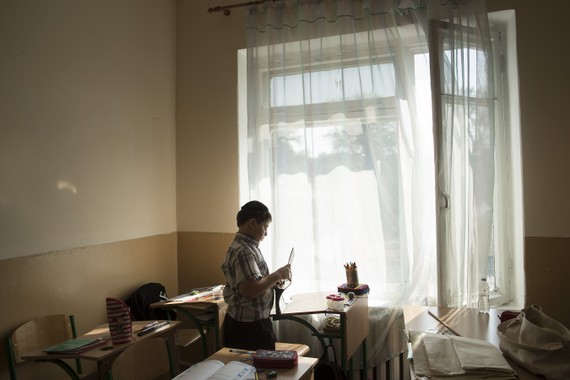 Such history partly explains why the recent upheaval is so harrowing for Ukraine's Jewish community, much of which was painstakingly revived in the 1990s after the fall of Communism. "After the Soviet Union broke up [in 1991], all that had been underground suddenly sprung upwards," says Dmitry Spivakovsky, director of the Jewish humanitarian agency Chesed Dorot in Cherkassy, 120 miles southeast of Kiev. The central Ukrainian city sits on the right bank of the Dnieper River, separated from Kiev by a long stretch of black earth that has been plowed with acrid-smelling compost. "We had what you'd call a renaissance, and it came through the children, who were suddenly going to Jewish schools and learning about Jewish holidays and traditions," says Spivakovsky, whose eyes light up when he boasts that he can trace his Jewish roots in Cherkassy back to the 1850s. Curiously, the cultural rebirth of the early 1990s coexisted with the mass exodus to Israel and the United States of hundreds of thousands of Soviet Jews who were fleeing the poverty and chaos that followed the superpower's breakup. In the words of Spivakovsky, "That's why this war is a personal tragedy for everyone." Hundreds of displaced Jews from eastern Ukraine have come through the Cherkassy region in recent months. The city's Jewish school is setting up a boarding program for IDPs from the Luhansk region.
The chief rabbi of Donetsk, a jovial Israeli who presides over a community of 11,000, says only 1,000 Jews remain in the city. "It is total anarchy," Pinchas Vishedsky tells me in central Kiev's Gulliver shopping mall, where he has a makeshift office. He managed to flee Donetsk only six days before our conversation. "You can't think straight when your alarm clock is a bomb and when you hear another one before going to bed at night. You go mad." Vishedsky, who was dispatched to Donetsk 20 years ago and tasked with reviving the local Jewish community, says that it's mostly the elderly and disabled who remain in the city. He lets out a long sigh of frustration. "Usually during this time of year we'd be discussing plans for our children's camps. Instead, we were talking about refugee camps!" Vishedsky's wife and children left for the United States two months ago. When asked what it was like to be one of the last members of his community to leave, his anxious expression eases into a grin: "My wife wanted to get me checked out at a psychologist."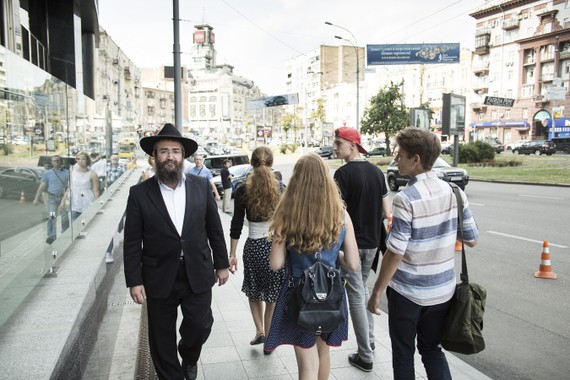 For 27-year-old Galina Kaplanskaya, who worked as an X-ray technician at Donetsk's main hospital, it is just a matter of time before her family leaves for Israel. "We're waiting on my grandma to get the right documents, and then we're off," she tells me. Kaplanskaya has not seen her parents for a month; they left for the northeastern city of Kharkiv in early August after a bomb struck her mother's office. Kaplanskaya herself left Donetsk a few weeks later, taking Olya, a beloved 18-year-old cat, with her. Like the Zadovs, she stays in a room at the Kiev guesthouse near the synagogue. It is run by the Open Heart, Open Door Lifesaving Project, which is funded by the United Jewish Communities of Eastern Europe and Asia. From there, the organization hopes to send IDPs to apartments around Ukraine or help them move to Israel. Through sobs and nervous laughter, Kaplanskaya describes the moment she realized she had to leave Donetsk. "Eleven armed men burst into my room at work and demanded I give an X-ray for one of them with TB. That was the final straw," she said.
Roughly 60 IDPs from Luhansk, meanwhile, have found temporary refuge at an IFCJ-funded settlement in Shpola, a townlet steeped in Jewish history and 50 miles southwest of Cherkassy. (The revered Soviet poet Itzik Feffer, who wrote in Yiddish, was born there in 1900; five decades later, Josef Stalin had him killed in Moscow's notorious Lubyanka Prison.) Their residence is a former Soviet camp for young pioneers that consists of a collection of pastel-colored brick huts, nestled between narrow lakes and flat cornfields. The bucolic setting seems out of sync with the lives of the camp-dwellers, who are grappling with dead loved ones, uncertain futures, and indelible images of violence and war.
On a recent sun-drenched afternoon, some Luhansk natives while away their time on the camp's dilapidated benches, chatting about home. Others, like 63-year-old Ira Ostrovskaya, spend their time indoors, anxiously awaiting news. "I haven't spoken to my husband since August 3," notes Ostrovskaya, the former head of finance at a Luhansk clothing factory, as she sits on the edge of her bed. "He needed to keep working, so I left without him." She says she's grateful for being able to use the camp washing machine, implying that she's managed to preserve some dignity. She is primly dressed, and her stud earrings sparkle beneath a head of cropped brown curls. As we speak, a camp volunteer arrives with a message scrawled on a square of paper; someone has tried to contact her. Ostrovskaya's eyes soften as she looks up hopefully. She scans the note before folding it in half, shaking her head from side to side. "No," she murmurs.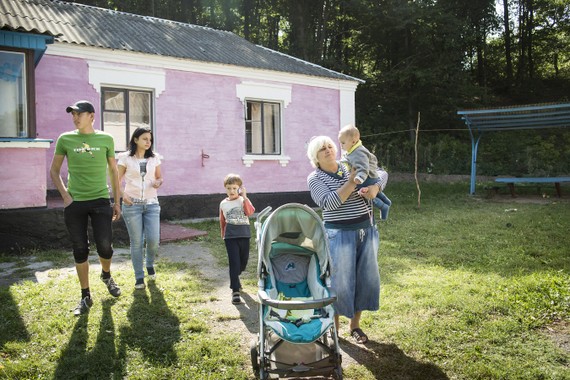 The families in Shpola are all too aware of their relative good fortune in getting out of Luhansk. "We're happy we're Jews," says Lida Rabbieva, 43, who came to the camp with three of her six children on the first of August, leaving their home in the Luhansk town of Brianka. "We're in a better situation than the Ukrainians, than those we left behind." She tells me this as her family sits down to eat in the camp's cobalt blue-painted canteen. The residents have gathered for lunch, and the pungent smell of boiled cabbage wafts from the kitchen. There, families mingle silently as they prepare chicken soup and stewed mincemeat. A large photograph of the coast of Crimea—the Black Sea peninsula seized by Russia in March—stretches across the back wall, ominously. Rabbieva says making aliyah is the only option for the four of them. She and her three children, who range in age from 17 to nine months old, sleep crammed into one of the camp's cabins, with their two cats and her daughter's non-Jewish husband. "Our apartment in Brianka is on the eighth floor. Who knows if it's still standing," she says. "One of my sons is already in Israel, and we will follow him."
---
Reporting for this article was supported by a grant from the International Reporting Project.