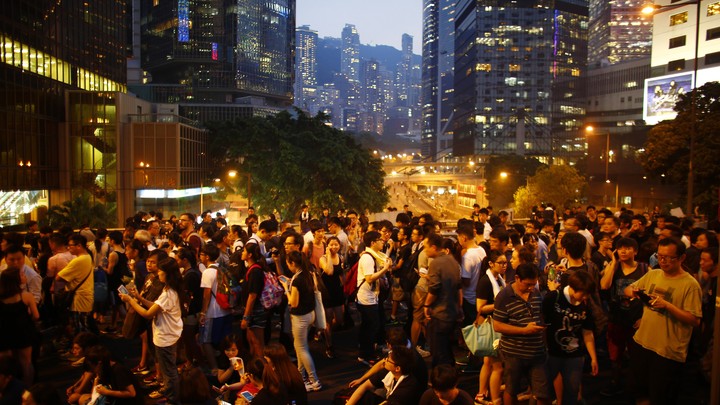 Hong Kong's "umbrella revolution"—an anticipated protest movement with unanticipated mass turnout—is currently spreading across an island slightly bigger than Manhattan.
The Occupy Central with Love and Peace (OCLP) campaign, whose main demands are the resignation of Chief Executive CY Leung and true democracy for Hong Kong, announced months ago that it planned to shut down Hong Kong's Central District—the city's financial hub, which also houses government offices (including the Legislative Council's buildings and the chief executive's residence) and a luxury-shopping strip featuring a city block-wide Louis Vuitton store (by night it's where tourist and locals go drinking and clubbing, especially in the Lan Kwai Fong area). Beginning with British colonial rule in 1841, the district has gradually become the main artery of Hong Kong's business and social life.
But the protest movement, of which the OCLP is now just one part, has expanded in the last few days to the districts of Admiralty, Causeway Bay, and Mongkok—some of the city's most bustling commercial sectors. On Tuesday, the protests encompassed the areas of Tsim Sha Tsui and Wan Chai. And, in a twist on the 'Occupy' movement in the United States, the demonstrations haven't been confined to public squares; they've also spread to intersections, forcing road closures. Protesters, for instance, are currently holding their positions on Connaught Road Central, a major six-lane throughway that connects four districts on the island.
The significance of the protests, which have brought tens of thousands into the streets, lies not only in what protesters are demanding but also in where they're demanding it—and where they're not. Consider that pro-democracy demonstrations in Hong Kong typically happen in Victoria Park, which is about two and a half miles from Central District and which hosts the annual June 4 candlelight vigil commemorating the 1989 Tiananmen Square crackdown in Beijing. This time around, however, few police or protesters have ventured there.
The unpredictable, spontaneous geography of the protests is important precisely because it transcends the status quo. It is a testament to how serious these demonstrations are that they refuse to be contained. Protesters are staying in their camps overnight and even braving rainstorms. The size, duration, and determination of the movement is unprecedented in Hong Kong.
Mapping Hong Kong's Protests
It's not entirely clear why protesters have gravitated toward intersections; the current strategy seems primarily concerned with holding locations where rallies have organically gained strength in numbers. Since it's unclear who's in charge of the movement, a number of organizing parties—from Joshua Wong's Scholarism to the Hong Kong Federation of Students to Benny Tai's Occupy Central—are tweeting out information about where they are gathering.
Since the U.K. handed over Hong Kong to China in 1997, the region's most visible democratic activity has been the annual July 1 march for democracy. The march wends its way from Victoria Park to the government buildings in Central, but this week's sit-ins in some of the city's busiest intersections are unprecedented sights for young generations of Hong Kongers (add tear gas to that list too). They're also visually stunning: The time-lapse video from the South China Morning Post shows how one protest camp swelled on Sunday night in Causeway Bay, an area boasting the world's highest retail rent:
The demonstrations beyond Central may in part represent a pragmatic choice by protesters driven eastward by tear gas-spraying police over the weekend. Admiralty is directly east of Central, and has become a stronghold for the protest movement. It's also where many Hong Kongers working in Central change trains; two major lines meet at the Admiralty MTR station, whose services were disrupted on Sunday night because of protest activity. These frustrating disruptions to daily life are what authorities are counting on to sour public opinion on the protests.
The appearance of demonstrations in Mongkok on the Kowloon side, the peninsular part of Hong Kong across the harbor from Hong Kong island, is also surprising. The district is famous for touristy street markets and triad movies, not political protests. The development speaks to the demographic shifts underway in recent days within the protest movement, which took shape last week as a student boycott miles away from Central District at the Chinese University of Hong Kong. Mongkok and Causeway Bay are residential areas, but they are also places where young people spend their time. Now pro-democracy activists and college and secondary-school students are participating in rallies alongside Kowloon residents, including teachers and other young professionals who want to preserve Hong Kong's right to peaceful protest in the face of heavy-handed police tactics. In a sign of these trends, one Apple Daily video shows a middle-aged woman on a loudspeaker in Mongkok saying, "I'm a housewife, and I am here protesting!" to a cheering crowd that is mostly half her age. Still, the movement is unlikely to ever gain the support of Hong Kong's pro-Beijing tycoons, nor those citizens who feel that economic stability is more important than universal suffrage.
​
The diffusion of Hong Kong's protests may also stem from the fact that the territory—unlike, say, Arab Spring countries—lacks a public square big enough to accommodate the current swell of protesters. And perhaps that's for the better, insofar as it discourages comparisons to the Tiananmen Square protests. Protesters in Hong Kong have mixed feelings about the analogy. On the one hand, it raises the stakes of the standoff and demands international intervention; on the other, many of those involved insist that the demonstrations stay peaceful (on social media, protesters have urged each other to scatter upon seeing police signs that read, "Disperse or We Fire"). Many protesters are interested not in staging Tiananmen Square II or completely overthrowing the local government, but rather in ensuring a fair vote based on Hong Kong's distinct system of governance.
It's difficult to say where demonstrations will crop up next. On Wednesday, China's National Day, CY Leung admitted that the protest movement will likely "last for quite a long while." Its future will be decided, in part, in the city's teeming intersections.
We want to hear what you think about this article. Submit a letter to the editor or write to letters@theatlantic.com.
Bourree Lam
is a former staff writer at
The Atlantic
. She was previously the editor of Freakonomics.com.