Syria's Generation in Waiting
For many young Syrians displaced by war, there's no going back to school.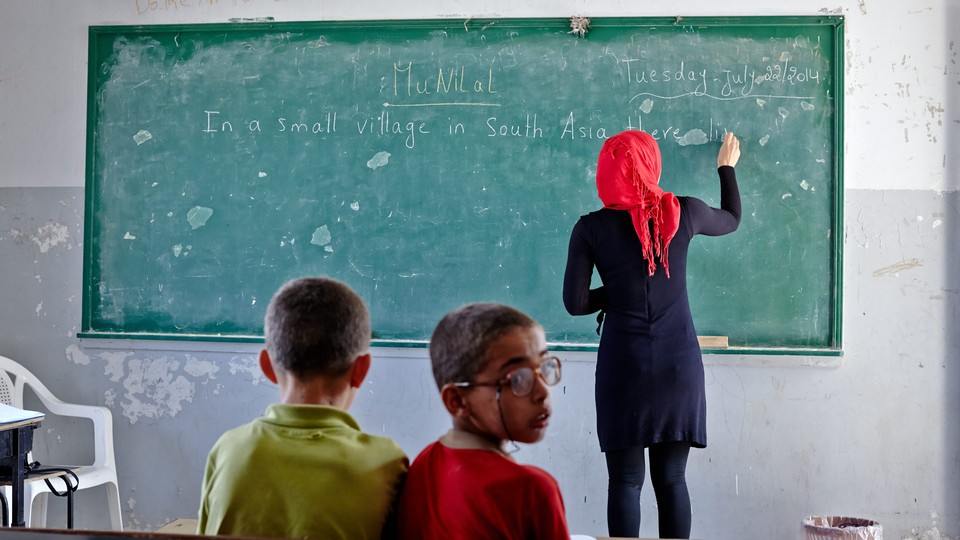 Syria's protracted political crisis— more than three years of debilitating ruin and elusive compromise —has ripped families from their homes, their country, and each other. There are now more than 3 million Syrian refugees registered in the region, with around 100,000 more added each month. The number of refugees in neighboring Lebanon, more than 1.1 million, exceeds a quarter of the country's own pre-war population. Lebanon now has the highest per-capita concentration of refugees worldwide, many of them having fled their homes with little more than the clothes on their backs.
For Syria's displaced youth, often described as a "
lost generation
," education has become a pipe dream. Public schools in already choked host countries often lack the capacity and resources to accommodate the teeming refugee population, around
half of which
is under the age of 18.
According to UNICEF,
two-thirds of Syrian refugee children are out of school. Many who had been enrolled in a Syrian university when they left the country fall behind and can't find the means to catch up.
"Each day out of Syria gets both easier and harder," says Hani, a gifted 21-year-old Syrian refugee living in Lebanon's Bekaa Valley, whom I spoke to along with a number of other young Syrian refugees in July. "Easier because you get used to living outside of Syria ... but harder because you don't want to accept that."
In the midst of one of modern history's worst humanitarian disasters, one that has turned people into numbers, meet Syria's generation in waiting—waiting for normalcy, waiting for a green light, waiting for any light.
They're not a lost generation; they know where they are. They just can't go home.
* * *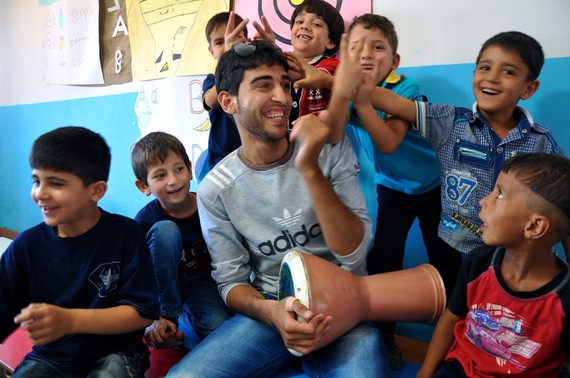 When shrapnel tore through Mostafa's home in the city of Homs two years ago, he couldn't move for minutes, he says, maybe even hours. Time froze. Before even opening his eyes, he knew life would never be the same.
"I didn't want to see what I knew had happened," he says, blinking anxiously as he recounts a living nightmare.
When he finally opened them, he saw what can never be unseen: the bodies of his mother and young brother lying lifeless, almost unrecognizable. He and his father, along with his younger brother, had survived the shelling.
With barely any time to arrange a proper burial, the family fled to Lebanon. Once a promising engineering student at Aleppo University, Mostafa now works odd jobs ("I've cleaned, I've cooked, I've played music, I've taught ... everything and anything"), struggling to find a way to continue his education. Most engineering programs at Lebanese universities are simply too expensive.
His father, still enveloped in grief, is barely able to get up some mornings. Mostafa has become a second father to his younger brother, nudging him to do his homework and scolding him when he watches too much SpongeBob SquarePants on a small television set they got second-hand from a Lebanese neighbor.
To "make better use" of his time—the only thing Mostafa really has—he began volunteering at a school run by Jusoor, a non-governmental organization started by Syrian expatriates to educate the country's displaced youth. He sings and dances with the children, who follow him around with perma-smiles. On his breaks, he practices his English through an app he downloaded on his Droid, a device he long saved up for and calls his "best friend."
Spending time with the children has served as a kind of therapy for Mostafa, exposing him to a world outside his own of unbearable loss.
"These are my people," he says, walking into a room of young Syrian refugees, all huddled in a circle, vibrating with energy even before Mostafa picks up his drum.
"When I look into their eyes, I see my pain," he says, grabbing the hand of a five-year-old boy who lost his father in Syria last year. "But I also see my country."
* * *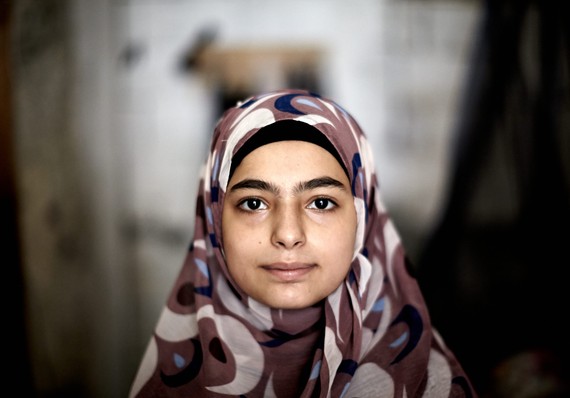 In what she describes as a "dark flash," Bayan fled the city of Aleppo with her family two years ago. She still remembers the gray, foggy morning they left. They were woken up at 5 a.m. by neighbors notifying them of a ceasefire in their restive neighborhood—a chance to escape after being under siege for weeks with barely enough to eat. They quickly packed some belongings—a few days' worth of clothes, some books, and an old family Koran—and fled. On their way out of Aleppo, the Syrian army held them for two hours at a checkpoint and took all their suitcases.
Bayan's face folds into tears when she recalls how the soldiers took her schoolbooks. "They were just books," she says. "I'm just a student."
Adjusting to life in Lebanon has been impossible, she says. She and her younger sister Rawan complain of harassment from Lebanese teachers and students; one of her schoolmates, she says, taunts her by repeating "Bashar," the name of the embattled Syrian president. Bayan's new home, a small two-room apartment in northern Lebanon, is caked in dust and squalor, lit by a single blade of sun peeking in through the apartment's only window. Her father, once a successful tailor in Syria, can barely find enough work to pay their monthly rent, the equivalent of around $200.
"We're hanging on by a thread," her mother says, nursing Rawan's baby brother. Before she's able to set the baby down for a nap, the apartment goes black. They weren't able to pay the electricity bill this month. It's not the first time and it probably won't be the last. As she does most months, Rawan rushes outside to lift the lock that the electricity company has placed on their fuse box to prevent them from switching the power back on. The tactic has worked in the past, but this time the lock is too tight.
Rawan gives up and hurries back upstairs to flip through her journal, adorned with images of flowers and rainbows, the stuff childhood is supposed to be made of. On the first page, she has sketched out verses from a song she says she heard long ago, but only now understands: "To live through the pain of alienation that no one knows until they've lived through it."
* * *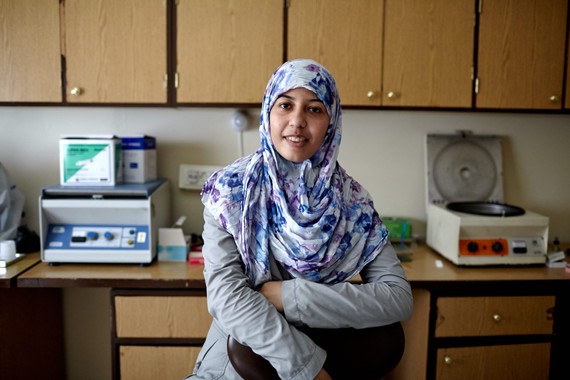 Almost every day, and often in the same powder-blue trench coat, Manal takes a 20-minute bus ride to a small community center for Syrian refugees in southern Lebanon. She brings nothing but two journals. In their pages are crushed flower petals, now browned, from her favorite garden back in Damascus. "It's quiet here ... I can think," she says, sitting in a corner of the center. "There's too much noise at home, too much noise everywhere."
Manal and her family fled their Damascus suburb two years ago after two of her relatives were thrown into prison and brutally beaten. She had planned to enter university and study business, but like most young Syrian refugees, she's been struggling to find a way to finance her studies in Lebanon. She and her family work as grocers at a local market, living paycheck to paycheck.
People at the center say she's mysterious. She lingers around the doorway before she enters a room. And when she talks, she pauses between sentences as if she's traversing dim corridors in her mind.
"She's sensitive, very childlike," says an English teacher at the center. "She has experienced a world of trauma."
But it's not only a brutal war that has worn her down. In the midst of adapting to an undersized life in Lebanon, Manal says she decided it was finally time to lift "the dark cloud that has always been over my eyes."
A few months ago, she disclosed to her mother and a psychologist at the center that for most of her childhood, male relatives raped her. She and her mother have been undergoing therapy, but her father still doesn't know. Her dream is to write a book about her experience and to counsel other women around the region.
"I want to be a bridge of hope over a sea of desperation," she says, reciting poetry she's written in her journals. "I want to help other women who've been through the same horror. They need to know it's not their fault ... please tell them I said it's not their fault."
Staffers at the center say she's progressed dramatically, but it's a wound that's slow to heal and is compounded by displacement from war. Manal says she has sought solace through writings by Gandhi and Mandela, learning that everyone has a power inside of them, and that life is ultimately about sharing that power.
"I've learned that no situation is permanent ... the sexual abuse, even the war, none of it is permanent," she says. "After every darkness, there is a sun."
But even in the darkness, she quickly clarifies, "There's a moon. And sometimes there are even stars."
* * *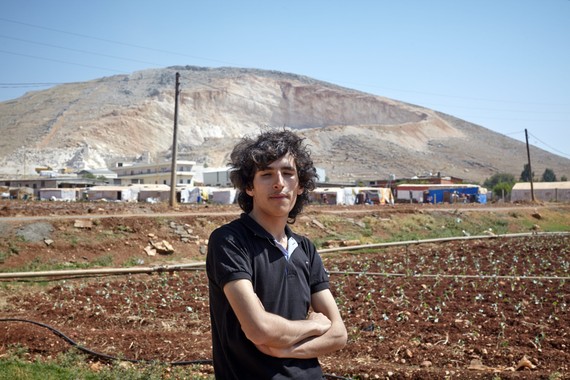 Hani is something of a rock-star refugee. His near-perfect English (which he taught himself in part with translated Paulo Coehlo books) and unflappable charisma have made him a go-to for humanitarian aid agencies. The UN High Commissioner for Refugees even visited his family's makeshift home, barely more than tarp draped across a wooden frame, in Lebanon's Bekaa Valley last spring.
"I don't mind the attention ... it's good for me to remind people that I'm here, I still exist ... I still dream," he says, squinting uncomfortably. He suffers from a congenital cornea defect and is barely able to open his eyes outdoors. "But there's only so much you can talk about your past. I'm no longer Syria Hani ... I'm figuring-it-out Hani."
Back in Homs, Hani was a star student whom his teachers and classmates affectionately called "the robot" for his ability to answer questions quickly and almost always correctly. He won several writing and chess competitions, and played in a band called The Dreamers. A voracious reader, he's read almost all of Da Vinci Code author Dan Brown's books ("I could eat them") and has even incorporated the word "code" into his email address and online user names. He had plans to study engineering at a top Syrian university on a full scholarship. That was before his home was looted and burned, and before his cousins were murdered, their throats slit.
"Hani was and is our dream child," his father says, covering his face in his hands. "His destiny is so much more than this." Hani's parents are desperately trying to procure enough funding, through either their salaries or scholarships, for him to study engineering at a private Lebanese university, but they can barely afford to maintain their home in a tented settlement. Still, the boundlessly jovial 21-year-old refuses to wallow in the widening gap between himself and the person he was meant to be.
"I have so much energy, so much life ... I know I'm a star," he says. "Even if my light is dim right now, I'm still in the sky."
* * *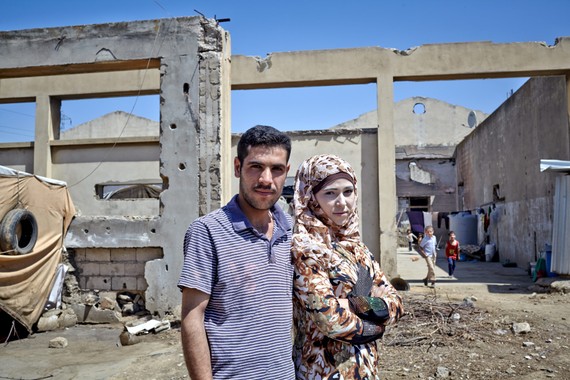 In an abandoned onion-processing plant in Lebanon's Bekaa Valley, newlyweds Mohammed and Hanaa sit on the floor of what they jokingly call the "best mansion in the land." Their two-room makeshift apartment in what is now an impromptu garlic-storage and sales facility is a source of pride for the couple. Before their marriage last month, Mohammed gathered his life-savings, the equivalent of some $300, to rent the best accommodation for them. Most of their friends and relatives live in tents.
Mohammed and Hanaa arrived last year from Raqaa, Syria, now a stronghold of the Islamic State of Iraq and Syria. "They stole our country," says Hanaa. "But none of the sides are thinking about the Syrian people, so none of them will win what's left of it."
Mohammed had been studying social sciences at Aleppo University, where he was on track to begin his Ph.D. Hanaa had been studying humanities at Raqaa University, with plans to become a history teacher.
"I want to teach young people about Syria's rich past," she says. "The present is so ugly, but the past ... the past has beauty."
The couple hopes to open an informal school in their settlement, but for now their days are filled with often-failed attempts to find well-paid day labor to maintain their home and save up for something better.
"Every day, we die a hundred deaths here. Just look at my face," Hanaa exclaims, before heading out to work the potato fields with a gaggle of refugee women. "I didn't always look so tired. I'm only 18!"
Her older sister, Zainab, lovingly pokes her. "You're so dramatic," she teases. "Don't be lazy."
"I never thought I'd spend my days picking potatoes," Hanaa retorts, laughing uneasily. "This is my new life ... the Syrian Queen of Potatoes."
She covers her hair, squeezes Mohammed's hand, and sets off into the fields.
* * *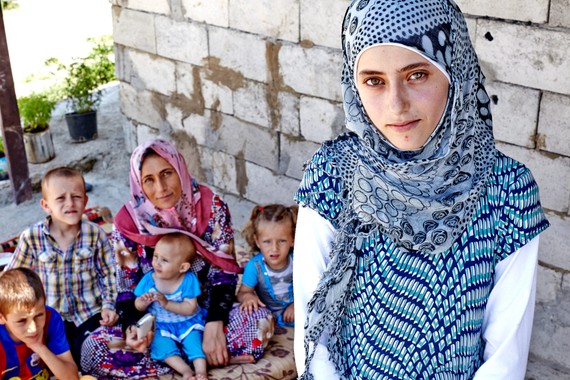 "Four," Asma answers, staring blankly into the dusty distance. Since fleeing to Lebanon from the city of Idlib two years ago, Asma and her family of eight have lived in four different locations. She can't even bring herself to call them homes. The family is currently nestled in northern Lebanon in a tiny three-room shed where her father has found semi-consistent work at a small cement business.
She has settled into her corner of the musty space as best she can, arranging the few belongings she owns—a pink brush, a red-beaded bracelet, and a few neon notebooks. But settling in is something to be avoided. Her father just received word from his boss that the family must move again by the end of the year. They have no idea where they'll go.
Asma has always been a top student. Back in Idlib, her uncles and cousins were engineers and doctors. Many of them have died in the fighting.
"If I continue my studies, I can find a way to help rebuild my country," she says. "That's why I stay up late ... to practice my writing, to practice anything."
But since fleeing to Lebanon, she's barely been able to stay in school. For the past five months she's been enrolled in a UNHCR-funded school, but she fears the education won't be enough to get her back to where she was: "able to think normally, to dream normally."
For a recent homework assignment, her teacher asked her to write about a favorite film or friend. She says she wrote instead about the only thing she really knows—her home on a hill back in Syria, surrounded by white flowers and tall trees.
"Our home in Syria is an abandoned castle," she says in a near whisper, reciting lines from memory. "We lived in it like kings. Now we're abandoned and humiliated. We have no crowns, but our hearts still wear them."
---
This reporting was made possible in part through support from UNHCR.