Scottish Independence: What?
What's Happening?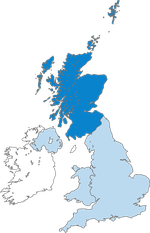 This Thursday, September 18, Scots will vote on whether Scotland should be an independent country. On September 6, for the first time, a poll showed a slight majority of referendum voters in favor of seceding from the United Kingdom, the three-century-old union between Scotland, England, and Wales (Northern Ireland is a more recent addition). The result threw the race into a statistical dead heat that had seemed all but impossible only a month ago, when the pro-independence camp trailed in the polls by more than 20 percentage points. The latest polls have been less favorable to the Yes Scotland campaign pushing secession, but the race is now considered too tight to call.
This means Scottish independence is closer to a reality now than at any point since 1707, when Scotland—which by then had spent most of a millennium as an independent kingdom but was growing short on funds—signed the Act of Union with England.
---
Should Scotland Be an Independent Country?

---
What's the Background?
The Scottish National Party (SNP) formed 80 years ago to advance Scottish independence. Beginning in the late 1990s, in response to votes in Scotland, Wales, and Northern Ireland, the U.K. government devolved some powers to newly created governing bodies in those countries. For example, the freshly minted Scottish Parliament was empowered to pass laws concerning education, the environment, and health, among other issues. Scotland also continued sending lawmakers to the British Parliament in London, whose members come from all parts of the union, and which retained authority over matters such as defense, foreign policy, and economic policy.
But it wasn't until the SNP's 2011 landslide victory in Scottish parliamentary elections that it had the seats in the legislature to advance a referendum on secession. Back then, polls showed Scots disapproving of independence by a two-to-one margin. SNP leader Alex Salmond nevertheless vowed to hold the vote, and last winter—by agreement with British Prime Minister David Cameron, who vowed to respect the results—the date was set for this week. Voters will be asked a simple yes or no question: "Should Scotland be an independent country?"
---
---
There are a number of issues, some longstanding and others more recent, that might motivate voters to check 'yes.' For one thing, many Scottish voters have different priorities than do voters elsewhere in the U.K. The Conservative Party under David Cameron, for example, is currently the lead party in the U.K.'s coalition government, though the Scots themselves sent just one Conservative lawmaker to the British Parliament in Westminster, out of 59 total MPs from Scotland, in the latest elections in 2010. Scotland's public spending is higher than the U.K. average, and the Scottish Parliament opposed austerity measures that the Conservative-led government imposed during the eurozone's economic crisis. The 'Yes' campaign has argued that Scotland needs "the full range of fiscal powers" to deliver a "fairer, more empowered and just country"—in part through revenue from oil off Scotland's North Sea coast, which Salmond argues the U.K. has misspent. Indeed, the 'Yes' campaign is particularly popular among working-class voters. These divisions were on display during two debates between Salmond and Alistair Darling, the Scottish politician and former chancellor who is leading the pro-union Better Together campaign. Salmond's strong performance in the second debate may have contributed to the 'Yes' campaign's recent surge in the polls.
Who's Involved?
Scottish nationalists: The 'Yes' campaign argues, in essence, that Scotland doesn't need the rest of the U.K. Its leaders point to estimates that 90 percent of the revenues from North Sea oil would accrue to an independent Scotland, making the per-capita GDP of a hypothetical independent Scotland higher than that of Italy. Salmond has argued that the decisions of the U.K.'s Conservative-led government have exacerbated Scotland's inequality and that, as a matter of principle and practicality, "Decisions about Scotland should be taken by the people who care most about Scotland: those who live and work here."
U.K. party leaders: The September 6 poll appeared to spook the top politicians of Westminster's top three parties, including the Conservative leader David Cameron, Ed Miliband of the Labour Party, and Nick Clegg of the Liberal Democrats, all of whom subsequently traveled to Scotland to make the case for the union. They have repeatedly pledged vaguely defined "new powers" to Scots if they remain in the U.K.. It's clear why they're concerned: If Scotland secedes, by one estimate it would take 8.3 percent of the U.K.'s population and 9.2 percent of its GDP with it. As a symbolic gesture of solidarity, Cameron and company also ordered that the Scottish flag be raised over the prime minister's office at No. 10 Downing Street. It fell down on its way up the flagpole.
Voters: Some 4.2 million people are registered to vote in the referendum—a record 97 percent of those eligible—and thousands have already cast votes by mail. Those eligible include EU citizens who reside in Scotland and are over the age of 16. But with some exceptions, Scots who live outside Scotland aren't eligible. This means there are hundreds of thousands of non-Scots in the country who can vote, and hundreds of thousands of expat Scots who can't.
Markets: The pound sterling, the U.K.-wide currency whose future is now very much in doubt, slipped to a 10-month low following the September 6 poll that showed the independence vote pulling ahead. Some Scottish businesses have vowed to move to England if the independence referendum passes; Salmond has recruited other business leaders to endorse a 'yes' vote.
The Media: Newspapers in Scotland and across the U.K. have taken sides. Scotland's Sunday Herald staked its claim early, becoming the first Scottish newspaper to endorse Scottish independence back in May. The Mail on Sunday, which has its headquarters in London, wrote to Scots this weekend: "Please stay."
---

---
What Now?
Will the world wake up to a new country on Friday? No matter how the vote goes, not exactly. If Scots vote 'yes' to independence, it signals the start of a long series of negotiations that Salmond says will end in Scotland's Independence Day on March 24, 2016. Implementing independence will involve hammering out issues such as what currency Scotland will use—the British pound? the euro? a Scottish pound?—where to put the nuclear weapons currently based in Scotland, and how to divide revenues from North Sea oil. If Scots vote 'no' and the U.K.'s leaders keep their promises, Scotland may still end up with more power than it started with in the run-up to the referendum.
Whatever the outcome, the vote has already left one enduring legacy: a video of Salmond, Darling, and Cameron "singing," respectively, Queen's "I Want to Break Free," Rick Astley's "Never Gonna Give You Up," and Taylor Swift's "We Are Never, Ever Getting Back Together." Auto-tuning never served so high a purpose.