The United States of Great Britain?
Scotland said 'no' to independence. But U.K. leaders are now scrambling to build a more perfect Union.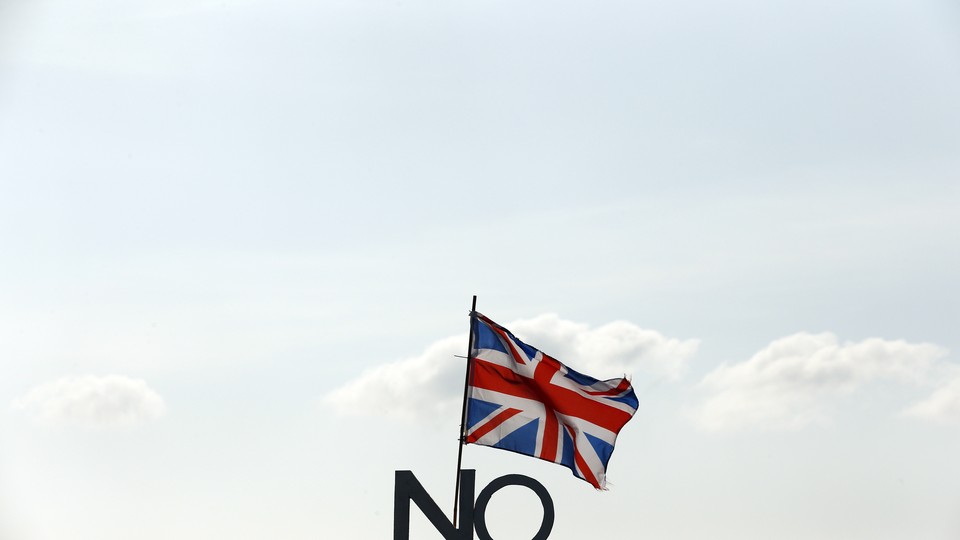 There will be no Scottish Olympic team at the 2016 Games in Rio. James Bond can keep his passport. Hogwarts will remain under the British Ministry of Magic's control. The Union Jack will fly unchanged. After two years of debating the promise and pitfalls that independence could bring, 3.6 million Scottish voters cast their ballots on Thursday—and 55 percent of them decided to stay in the United Kingdom.
Although the 'No' campaign won in the end, British Prime Minister David Cameron's all-or-nothing strategy on Scottish independence failed. During referendum negotiations with Scottish First Minister Alex Salmond two years ago, Cameron pushed for a yes-or-no vote in the hopes of spooking voters into choosing the latter. But when a YouGov poll two weeks ago showed the 'Yes' campaign in the lead for the first time, he and other U.K. leaders suddenly reversed course and pledged far greater powers to Scottish voters if they remained in the union. They decided to do so. The prime minister had wanted a choice between independence or the status quo. Instead, he had to offer independence or devolution of powers to save the United Kingdom. Now he has to deliver the latter.
So what are those powers? First, the three major U.K. party leaders pledged to make the Scottish Parliament a permanent and irrevocable institution. They also agreed not to dismantle the Barnett formula, which allocates extra annual public spending to Scotland, Wales, and Northern Ireland. New powers on taxation and welfare policy for Holyrood, as the Scottish Parliament is known, will also be coming, according to Gordon Brown, the Scottish-born former British prime minister who played a crucial role in saving the union. His timetable for a "modern form of home rule" envisions a new Scotland Act for the U.K. Parliament to debate by the end of January in consultation with its Scottish counterpart.
Not everyone is on board with these measures, however, and the 'English Question'—shorthand for the lack of an English equivalent to the Scottish, Northern Irish, and Welsh parliaments, and the imbalances that attend such a setup—could greatly complicate potential reforms. Already there are rumblings of displeasure among English Conservative politicians with what Rail Minister Claire Perry called a "whole raft of goodies on offer for Scotland that will be paid for by us south of the border." Other right-wing parties are eager to capitalize on English resistance to further Scottish devolution. "The English are 86% by population of this union. They've been left out of all of this for the last 18 years," said Nigel Farage, leader of the U.K. Independence Party. "We still have a situation where Scottish MPs can vote in the House of Commons on English-only issues. I think what most English people want is a fair settlement." His party won a series of victories in the U.K.'s local elections in May, in many cases by taking Conservative seats.
Left-wing parties, meanwhile, are eager for even deeper reforms. Ed Miliband, the opposition leader, wants to convene a U.K.-wide constitutional convention after the next election in the spring of 2015. His Labour Party is currently ahead in the polls for the coming race, and a clear victory would give him a decisive mandate to act on these ideas. Perhaps his most dramatic suggestion is replacing the House of Lords with a "Senate of the Nation and Regions," which would act as a geographically representative counterweight to the House of Commons—a similar role to that played by the U.S. Senate. Gordon Brown endorsed a similar idea this summer.
At this stage, all of these proposals are just that—proposals. But with Cameron calling for a "devolution revolution" and Miliband inching toward a written constitution, the future of the U.K. looks increasingly like a United States of Great Britain. Scotland may not have achieved independence this week. All the same, it managed to transform the debate over the future of the United Kingdom.