'On the Other Side of the Shenzhen River'
A man born in Kunming reflects on Hong Kong, and cries.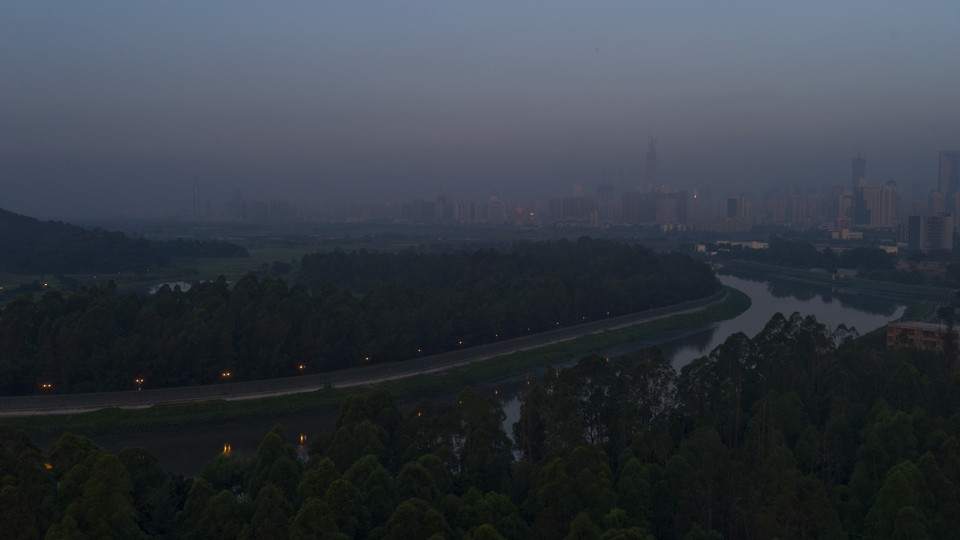 My friend Hai Zhang, who is originally from Kunming and whose writings and photos you can see more about here, sends this picture just now from across the Shenzhen River that separates Guangdong Province, in mainland China, from Hong Kong. He writes:
On the other side of the Shenzhen River, I feel shamed, I cry and cry.  I think you know what I am crying for and what I am shamed of.
For now, as the National Day Holiday dawns in Hong Kong and across China, three reading suggestions:
1) "Against My Fear, I See That You Hope," a message from a professor at the Chinese University of Hong Kong to her students who have taken to the streets in protest. This post, by Denise Ho, conveys how unusual it is for this movement to arise in Hong Kong, and the mixture of admiration and foreboding in many people's minds:
As I listened to you, I was and am fearful. During the rally on Monday my eyes followed one of you, my own student, as he spoke on the stage. Was it less than two years ago that he was one of the silent ones in class? When had he grown so tall, so articulate? And where had that beard come from? As I watched you tremble with the rightness of your words, with the fury of the wronged—when you shouted that you would make the Chinese state come to its knees—something clutched my heart with fear. At that moment I suddenly felt old, in a way that wrinkles and grey hair have not chilled me. When I was young, I too had many dreams.

I am afraid for you, and as I told my friends on Saturday it is less a fear for your arrest, or bodily injury—although events since Sunday have shown that perhaps I should fear this too. More than this, I am afraid of what happens if and when the world you hope to create does not come to be.
2) "China Strikes Back," by Orville Schell for the New York Review and China File, gives more reason for the foreboding. Orville Schell is a longtime close friend, and he has known more about China, for a longer time, than I ever will. (He and John Delury also recently wrote a very good book about China's rise, Wealth and Power, which is newly relevant.) His conclusion is darker than I'm willing fully to embrace now. But this article is important background to what you see unfolding in Hong Kong.
3) Henry Farrell on the limits of "explanatory" journalism, on Monday in The Washington Post. I'm all for explanatory journalism, which is part of what The Atlantic has always been for. But in its latest incarnation it's both highly valuable, when writers can add new data—or reporting-based interpretations—and suspect, when writers feel the need to "explain" events in which they're mainly working at second-hand remove. It's an adjustment each wave of journalistic improvement goes through.
All the more reason to pay attention to those explaining, from on the scene. Including Gady Epstein in The Economist, Emily Rauhala in Time, the WSJ's Real Time Blog, the NYT and WaPo on-scene coverage, and more.
---
I'm not on-scene, but an observation from having been there over the years:
It would be wonderful to think that the PRC leadership would take the soft-power, high-road route out of this confrontation. It could recognize the maturity and responsibility of the newly politically aware Hong Kong populace. It could cannily assess the advantages to China of "controlling" Hong Kong while letting it continue to operate with rule of law, uncensored Internet, untrammeled media, free universities, transparent financial markets, and all the other attributes of a first-world center. With a light hand, the PRC government could have it both ways.
But that's not likely. Any more than it's likely that the current leaders will throw the doors to China open to the world's journalists—which would be the best way to advance the country's image, given that more interesting/good is underway there than depressing/bad—or that they'll uncensor the Internet or realize that they're magnifying their problems in the long run by jailing, for life, a moderate, intellectual leader of the Uighur cause. This is why it is hard to imagine a pleasant ending to the currently inspiring movement in Hong Kong.
I could say that the Chinese leadership is on a self-destructive course—but, hell, I have said that about America at countless stages. For now, thanks to Hai Zhang; consider reading these items; and most sincere admiration and best wishes to the people of Hong Kong.