Catalonia Wants to Pull a Scotland Too
Catalans stormed the streets of Barcelona today as the northwest Spanish region looks to splinter off.
This article is from the archive of our partner
.
As Scotland prepares for a much anticipated vote on whether or not to leave the United Kingdom next week, Catalonia is asking Spain for a chance to do the same.
Hundreds of thousands of residents of the northeastern region took to the streets of Barcelona Thursday asking the government to authorize a referendum for their independence. While Catalonia's leader, Artur Mas, has said he plans to hold a vote on November 9, Spanish Prime Minister Mariano Rajoy has said such a vote is unconstitutional.  Polling shows a split among Catalans as to whether or not they favor independence.
According to analysis from the BBC, Spain's economic crisis, which many Catalans blame on poor management in Madrid, has spurred their calls for a referendum vote. Unlike the sputtering Spanish economy, Catalonia is a wealthy industrial region, which many believe is being held back by the major economic struggles in Spain.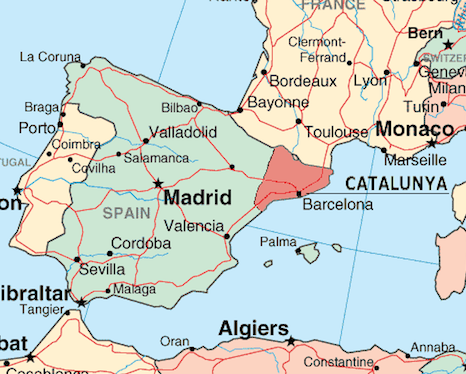 With a population of 7.5 million, Catalans have a strong ethnic culture distinct from the rest of Spain, including their own language. Unlike Scotland, where just 1 percent of the population are able to speak Gaelic, almost 50 percent of Catalan population use Catalan as their main language.
In an interview with The Financial Times on Tuesday Artur Mas said that an independent Scotland would be "very important" for the future of Catalonia.
The Scottish referendum is in a dead heat ahead of the September 18 election.
This article is from the archive of our partner The Wire.