Beyond ISIS and Ukraine: What Else Happened This Summer
5 overlooked stories that could reshape world affairs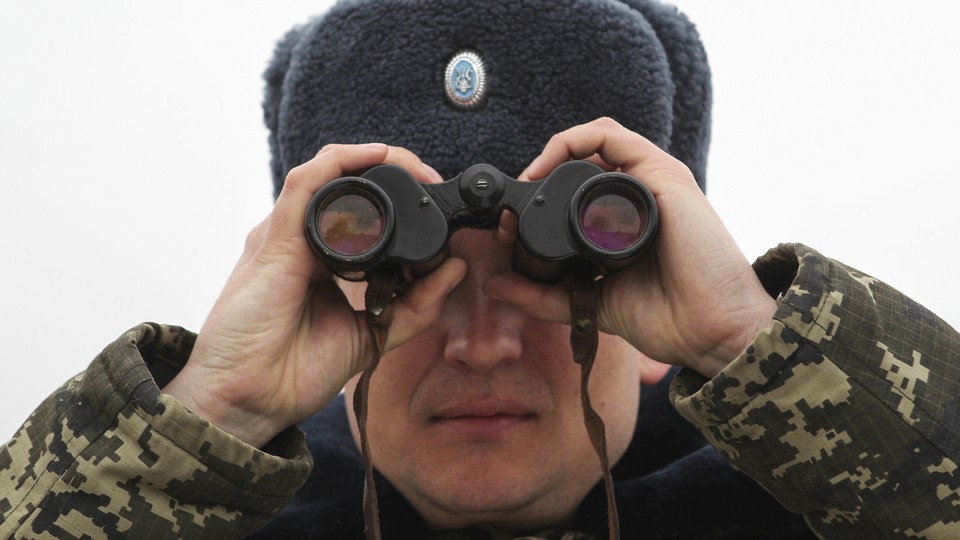 Syria, Ukraine, Gaza, Iraq, ISIS, Ebola—the list of this past summer's disasters is long. But buried among the tragic headlines and breaking news are other events that attracted less attention but could be just as consequential for global affairs. Here are five to watch.
1)  The fall of oil prices. Over the summer oil prices dropped to the lowest level in  a year. The fluctuation alone is nothing special. What is remarkable, however, is that this drop occurred amid severe sanctions against Russia and wars in the Middle East and Ukraine—in other words, at a time when crude-oil prices should be soaring. What's going on? The energy revolution taking place in the United States has reached sufficient scale where it is beginning to alter international dynamics. The U.S. has overtaken Saudi Arabia and Russia to become the world's main oil-producing nation. In August, U.S. monthly oil production was at its highest level since 1986. Meanwhile, the anemic global economy is not generating as much demand for energy as it did during the booming years that preceded the Great Recession that started in 2008. The combination of greater supply and weaker demand is pulling prices down and having a much larger effect than the upward push created by the current geopolitical instability. This summer we witnessed a clear manifestation of an incipient and potentially transformative energy order.
2)  The worst American drought in more than a century. The western United States, Mexico, and Central America have gone three years with very little rainfall, and the situation grew dire this summer. Sixty percent of California is now experiencing "exceptional drought," the most extreme category according to the U.S. Drought Monitor. The volume of water lost by lack of rain and snow could cover the entire area stretching from the Rocky Mountains to the Pacific Coast with four inches of water. California's three largest reservoirs are at roughly 30-percent capacity and a new study from the University of California, Davis estimates that the current drought will cost the state $2.2 billion in damages and 17,000 jobs. The west's severe drought wasn't this summer's only climatic surprise. "2014 has not been typical," reports the National Oceanic and Atmospheric Administration. "Never before have such large areas of the country experienced such radically different temperature extremes as they have so far this year. (The map below shows just how divergent temperature patterns were across the contiguous United States between January and July 2014.)
---
January - July 2014 Minimum Temperature Rankings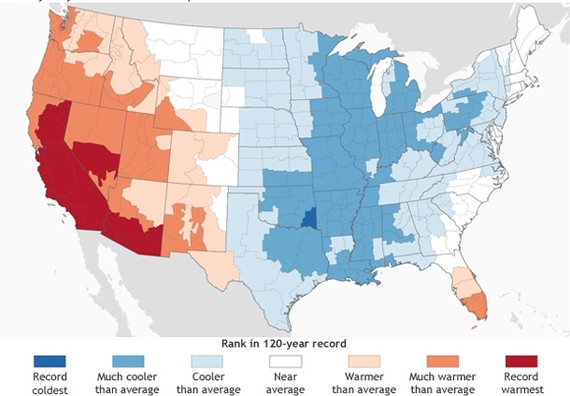 ---
The summer brought extreme climatic events in other countries as well: India and Pakistan, for instance, were ravaged by the heaviest torrential rains in half a century, which left at least 420 people dead and forced 47,000 to evacuate their homes.
3)  The slowdown of Europe's economy . This summer confirmed that the sluggish recovery of Europe's economies has stalled. During the first half of the year, we learned that economic activity had stagnated in France and declined in Germany and Italy. There have been some bright spots: The Spanish economy is growing and the European Central Bank is adopting a policy that its chief, Mario Draghi, has dubbed "Whatever It Takes"—meaning that he is willing to use all the monetary tools at his disposal to stimulate eurozone economies. But he cannot accomplish this goal by himself, and monetary policy alone won't revive Europe's faltering economies. Structural reforms and fiscal policies that energize consumers and investors are needed, much talked about, and, so far, not adopted. Meanwhile, the all-important German economy is sputtering and analysts are divided about which large European economy—France or Italy—is more likely to implode first. This summer, the specter of deflation also arose in Europe, as a chronic fall in prices mixed dangerously with high levels of debt. Deflation is a difficult trap to escape: Japan has been struggling to break free from it for more than two decades. The summer of 2014 could be remembered as the time when deflation first gripped Europe.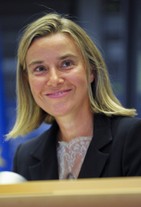 4)  The rise of Federica Mogherini. In November, Mogherini will replace Catherine Ashton as the European Union's high representative for foreign affairs and security policy, the continent's top foreign-policy job. In that position, the 41-year old Mogherini, who was appointed in August, will negotiate the perilous situations in Russia, Ukraine, Iran, North Africa, the Middle East, and China. She will also preside over the Foreign Affairs Council, which is comprised of Europe's 27 foreign ministers, and direct the European External Action Service, a fiendishly complicated bureaucracy of 3,500 diplomats scattered throughout the world. And what is Mogherini's main qualification? Six months as Italy's foreign minister. Most experts agree that she is woefully unprepared for such an important post. For example, Paola Subacchi of London's Chatham House writes:
No one doubts that Mogherini will try her best to learn the nitty-gritty of her new job, but it will be like learning to fly by piloting a jumbo jet. Most of the time, an inexperienced pilot can avoid serious problems by relying on her more experienced crew and various technologies. But in the event of severe turbulence, only a pilot with sufficient skill and practice will be able to maintain control of the aircraft and keep the passengers calm.

So it is disturbing, to say the least, that with Ukraine at war with Russia, and the Middle East in a spiraling crisis of fanaticism, Europe's leaders did not seek a candidate with a proven ability to forge an effective foreign policy from different—and often opposite—positions. EU foreign policy is now being piloted by an apprentice.
Most observers also agree that by tapping Mogherini for this role, Europe has sent a clear message that it's not really interested in having a common foreign policy and instead prefers a weak official who will let each foreign minister pursue his or her country's own agenda. European leaders, it seems, do not take seriously the idea that their continent's weight in the world depends on the ability of its member nations to act together.
5)  The other airplane accident. Malaysia Airlines Flight MH17 wasn't this summer's only geopolitically significant aviation tragedy. On August 13, the Brazilian presidential candidate Eduardo Campos was flying in a private jet when it crashed in poor weather conditions as it was landing at an airport near São Paulo. Up until then, the reelection of President Dilma Rousseff in October elections seemed a near certainty that would guarantee four more years in office for the political elite that has governed Brazil since 2003. But the polls have tightened since Marina Silva, who had been Campos's vice-presidential candidate, replaced him in the race. She now has a real chance of beating Dilma. If that happens, it could bring about many changes in Brazil, including the reflexive solidarity that its leaders have offered Latin American governments with awful human-rights records. Democracy may have a better chance in countries like Bolivia, Ecuador, Nicaragua, and Venezuela, where for the past decade human rights, freedom of expression, and political liberties have been severely and systematically curtailed with the silent acquiescence of the region's largest country.