Behold: Britain's Ugliest Building
Who's responsible for bad architecture?
Thirty years ago, the prince of Wales launched a blistering assault on a proposed addition to the National Gallery in London. The extension is "like a monstrous carbuncle on the face of a much-loved, elegant friend," Charles declared, disgusting his audience. A staunch enemy of modern architecture, Prince Charles was trying to prevent his country from disappearing "under a welter of ugliness." And so was born the notion that "carbuncles" could refer not just to skin boils but also to architectural monstrosities that debase city living and blight the urban landscape.
Enter the Carbuncle Cup, an annual award given by Building Design for Britain's ugliest new building. This week, the magazine bestowed the dubious honor on Woolwich Central, a mixed-use structure in the gentrifying district of Woolwich in southeast London. The building, developed by the Tesco subsidiary Spenhill and designed by the architectural firm Sheppard Robson, consists of 189 apartments spread across six intertwined blocks, all above a mammoth Tesco supermarket.
Building Design's assessment of Woolwich Central is withering. But it also raises a larger question: Who is to blame for ugly architecture? Who's ultimately responsible for the world's carbuncles?
"A classic case of gross overdevelopment, the scheme is lumpen and oppressive and towers over its predominantly low-rise neighbours," Building Design's Thomas Lane wrote of Woolwich Central. "It even manages to make its immediate neighbour, Greenwich council's none-too-insubstantial town hall, and former Carbuncle Cup nominee, look like a pimple on the face of a morbidly obese bully. ... But the building's worst crime is it diminishes the efforts of those who have worked hard to regenerate this run-down, deprived part of London."
Here's that lumpen bully, from several angles: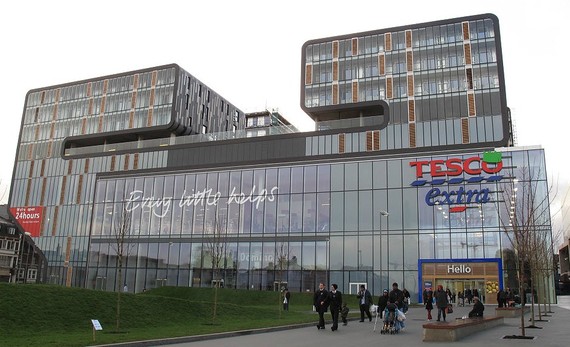 This year's award has prompted some soul-searching among those with connections to Woolwich Central. The architects and developers behind the project have defended the complex, arguing that they've created jobs, provided much-needed investment to Woolwich, and already sold many apartment units.
But Alex Grant, who was also involved in the construction as chair of the local council's planning board, has issued a mea culpa. Woolwich Central "is not universally disliked," he pointed out, and it initially showed great potential as a site for a downtown supermarket and commercial hub, a magnet for homeowners who could revitalize the local economy, a revenue source for the local council, and a "model of sustainable, high-density urban living." But a series of seemingly small changes and unfulfilled promises following the building's approval in 2007—including cost-cutting measures in response to the 2008 recession—resulted in "a type of development completely alien to London town centres":
The design segregated the private homes from the affordable ones, with all of the affordable homes put in the least attractive blocks facing the busy Grand Depot Road. ... Where a row of "independent retailers" was envisaged, a storage area for dustbins was built: of the five small shops that remain, three are vacant and the others are a Subway and Domino's Pizza. ... A 26-storey tower, clad in brass "sails" as an "abstract reference to the long seafaring and military tradition of Woolwich", remains unbuilt. "Build it high and build it quick," was the verdict of one of my Labour colleagues, but today, Tellytubby-style triangular "sculpted grass mounds" fill the space.
He apportions blame to various parties who all, in his telling, had good intentions:
What lessons can be learnt from this fiasco? Firstly, local politicians are still depressingly likely to fall for any glitzy promise of "regeneration" that developers offer up. Secondly, well-intentioned planning policies can result in monsters just as alienating, and unlikely to improve with age. ... Thirdly, details matter; and seemingly minor design changes can have devastating consequences.
Ike Ijeh, one of Building Design's Carbuncle Cup judges, is far more damning in his analysis of the situation, calling out architects and especially city planners for conceiving of buildings like Woolwich Central:
Architects are keen to proselytise that good architecture needs good clients. But it is not the client's responsibility to pick cladding, distribute massing, assign proportions or integrate with urban context. ...

And yet, damaging as all these aesthetic defects are, it is ultimately the responsibility of the planning system to impose the checks and balances that modulate gross architectural excess of this kind. It is planners who are the self-professed protectors of urban character and public realm. That they have failed so grievously in their mandate provides yet another wretched example of how regeneration in London in particular is increasingly cynically manipulated as a vehicle for the most appalling kind of development.
Whichever party bears ultimate responsibility, these decisions have real consequences for city-dwellers. In his new book Unruly Places, Alastair Bonnett visits the Italian town of Giarre, which is full of ambitious, partially completed construction projects. It's a condition common to many cities around the world, Bonnett says.
"Provisional and incomplete hometowns inspire provisional and incomplete loyalty," he writes. "In tumbling together half-realized projects at an ever greater speed, the city of incompletion disrupts the possibility of people building up a relationship of care, knowledge, and trust with the place they live in."