Luis Suarez Loses Appeal on Biting Ban
Suarez bit Chiellini and FIFA bit back. He'll miss four months worth of games.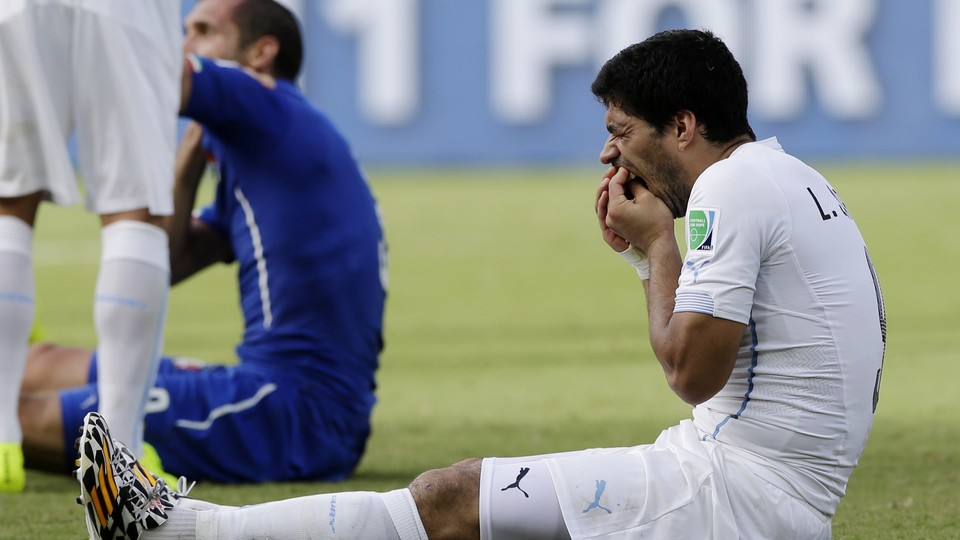 This article is from the archive of our partner
.
Luis Suarez's four-month ban for biting Italian defender Giorgio Chiellini during the 2014 World Cup was upheld by Court of Arbitration for Sport (CAS) on Thursday. In case you don't remember the bite heard 'round Brazil, here's how it happened. 
While Suarez's ban and nine-game international suspension will be upheld, the CAS ruled that the former Liverpool striker will be allowed to train with his new club, Barcelona, in preparation for his return to the field in October.
The soccer star spent five hours in front of a three-person CAS committee at the organization's headquarters in Lausanne, Switzerland, on Thursday, CNN reported. FIFA suggested Suarez appeal to the CAS after they rejected a similar appeal in July.
According to 
The Guardian,
Suarez's lawyers were arguing that the ban should only apply to international competition since the incident occurred at the World Cup. However, t
his is not the first time that Suarez has been suspended for biting another player. He
 was sidelined 10 matches for biting Chelsea's Branislav Ivanovic during a Premier League match in 2013.
Back in 2010, Suarez bit Otman Bakkal while playing for AFC Ajax in Amsterdam.
The Uruguayan striker transferred to Barcelona in a £75 million deal in weeks after the World Cup. The La Liga season starts on August 24, which means Suarez will miss nine matches.
This article is from the archive of our partner The Wire.