Is Femen Dying?
The radical feminist movement struggles to survive in France.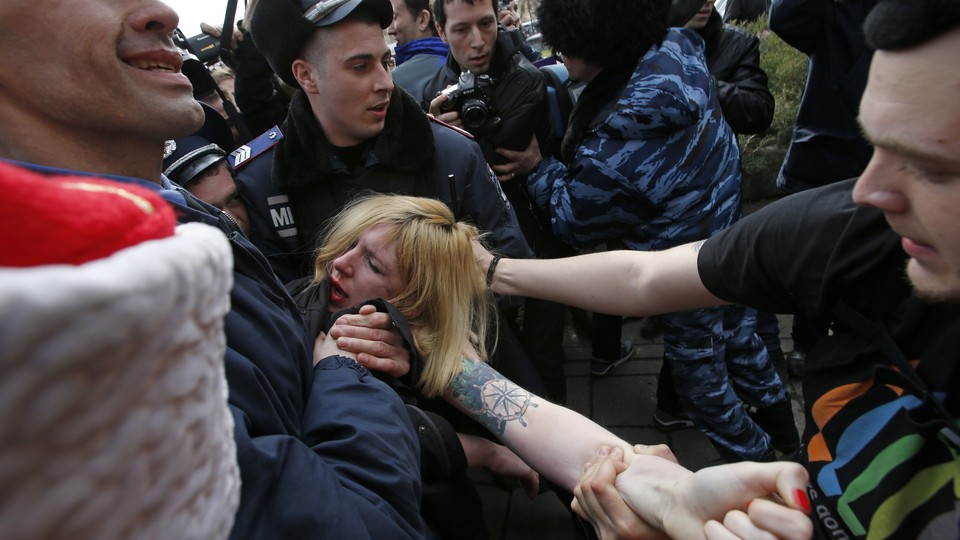 Inna Shevchenko, the 24-year-old leader of Femen in France and de-facto commander of the movement as a whole, scrolled through her iPhone messages several weeks ago, as we sat at a sidewalk table outside a café in central Paris. She studied one new message and smiled.
"The National Assembly has just invited Femen to come discuss women's rights in France on September 4!"
Earlier in the afternoon, four of her movement's topless activists had broken into the French National Assembly and interrupted a session. From the balcony above the deputies, they had raised their fists and chanted their slogan, "Êtes-vous macs ou sénateurs? Êtes-vous macs ou sénateurs?" (Are you pimps or senators?). They were protesting the legislative body's recent rejection of a law that would have criminalized the clients of prostitutes (and thereby armed sex workers with a means of taking legal action against abusive johns).
The startled deputies on the floor looked up and watched as security guards rushed to restrain the women, who continued chanting their slogan in strident unison as they latched onto the gold-painted balustrade and columns, from which they had to be pried free.
"Voilà! Les Femen!" announced the session's chairman shortly before the guards dragged the demonstrators away.
The group needed no further introduction. Just as France's political class was preparing to disband for the summer's grandes vacances, Shevchenko's activists—the "shock-troops of feminism," the "watch-bitches of democracy," as they style themselves—had sent the country a message: Femen is back.
There was reason to wonder about the fate of the movement. After making headlines in Europe, and especially in France, for months after Shevchenko established its headquarters in Paris in August 2012, Femen largely disappeared from the news last fall. Things were going so badly for the activists that on July 8 their first biographer, the French journalist Galia Ackerman, all but declared the group dead.
When they were in the news, it was for their mounting legal troubles. Earlier this summer, a Paris court ordered Femen fined and evicted "without delay" from the disused suburban utilities property that its members had occupied as squatters since being turned out of their previous residence and headquarters, a dilapidated theater called the Lavoir Moderne Parisien, in November. Notre Dame Cathedral is suing the group for reportedly damaging a bronze bell during a raucous February 2013 protest-celebration there of Pope Benedict XVI's resignation; each activist has already been fined €1,500 (nearly $2,000). During Vladimir Putin's June visit to Paris, veteran Ukrainian activist Yana Zhdanova—topless, with "KILL PUTIN" scrawled in red on her chest—invaded the famed Grévin wax museum and, wielding a wooden pick, stabbed the Russian leader's effigy. She faces trial in September and fines totaling almost €50,000. Another Femen militant, the singer Éloïse Bouton, will be tried in October for "sexual exhibitionism" after simulating, topless, an abortion in the landmark 19th-century Church of the Madeleine.
Femen's repeated targeting of the Catholic Church has prompted condemnation from the French minister of the interior and the mayor of Paris, not to mention lawmakers. Georges Fenech, a deputy of the center-right UMP party, even led an unsuccessful campaign to ban Femen as a "satanic sect" dedicated to "profaning the domain of the sacred and degrading the authority of religion." And this is just a summary of Femen's legal troubles in France. Activists in Turkey, for instance, are also facing jail time.
Will fines and prison sentences, or the threat of them, kill off the controversial protest movement, which, if nothing else, has done much (at least in Europe) to counter images of women as sex objects, or as weak and submissive? From almost the beginning of the movement, Femen members have been in and out of courtrooms and police stations for their protests, which have included daring physical attacks on the men—among them, Putin, former Italian Prime Minister Silvio Berlusconi, and the head of the Russian Orthodox Church, Patriarch Kirill—whom they regard as enemies of women and of human rights in general.
But this time, they confront their cascading judicial tribulations without the support of their longtime, well-connected media champion, the prominent French journalist Caroline Fourest, who earlier this year published an unflattering memoir about her relationship with Shevchenko and has distanced herself from the movement. Charges of Islamophobia have also dogged the group, souring some in the French media on providing it coverage. A documentary released at the Venice International Film Festival last year exposed the role a male "mastermind" played during the organization's early days in Ukraine in 2008, delegitimizing the feminist group in the eyes of many. To make matters worse, three of the movement's key Ukrainians, Zhdanova, Sasha Shevchenko (no relation to Inna), and the artist Oksana Shachko, announced in May via the men's magazine LUI that they were splitting from Femen in France. Zhdanova told me in July, "All Femen women have the same ideology. But we got tired of the petty intrigues and personal rivalries we found among the activists in France. We never had this problem when we were just in Ukraine."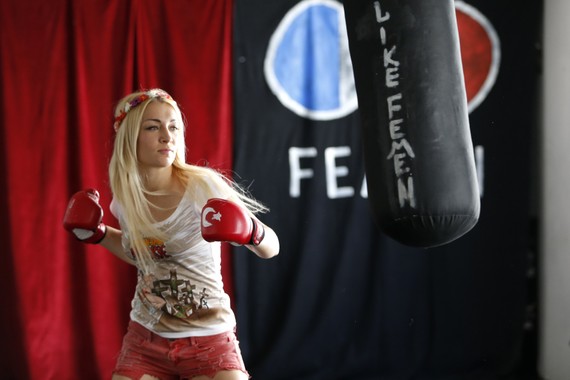 "Doesn't the split in your ranks bother you?" I asked Inna Shevchenko.
"'Split' isn't the right word," she told me when we met in Paris. "People are always coming and going from Femen. [Sasha Shevchenko, Zhdanova, and Shachko] are only three members. We have 370 members in France and 25 regular activists in Paris, so how can three leaving be called a split?"
What does Shevchenko make of reports of her movement's demise?
"Everyone's so eager to say we're dead or dying," she said. "They're trying to drive us into a corner and minimize our role. We're used to it. It's a strategy, a way of shutting doors in our faces. But now look: We've just protested in the National Assembly and have been invited to speak there."
Shevchenko believes predictions of doom stem from resentment against her movement and a desire, on the part of the French government, to shut down Femen and drive her out of the country. Though the government granted her political asylum in 2013, it has inexplicably refused to pay her the modest financial aid usually accorded refugees. (Two other Ukrainian Femen members say they have received both asylum and the subsidy.) Femen has operated under none-too-subtle surveillance from the French authorities, and Shevchenko finds herself subject to hour-long interrogations by airport security officers whenever she takes flights leaving Europe's Schengen visa zone. Yet despite the surveillance, in July 2013, a fire erupted in her room at the Lavoir, incinerating the few belongings she had taken with her when she fled Ukraine. The blaze came after a day of death threats ("Burn!" read one message delivered via text message to her cell phone). The police have declined to confirm the fire's cause, but it looks suspiciously like arson. This March, a man asking for Shevchenko entered the Lavoir and knifed two people, apparently mistaking them for Femen members, and almost wounding Shachko, who escaped spattered with blood. "[The assailant] rented a hotel room across from the Lavoir and was asking the staff where I was, but the police decided he wasn't attacking Femen, he was just crazy," Shevchenko told me. It's more evidence, in her eyes, of official, if underhanded, disregard for her movement.
The French government surely has cause to regret its decision to shelter Shevchenko and even put a likeness of her face on the national postage stamp— an honor she shares with movie-star icons Brigitte Bardo and Catherine Deneuve. Outside the government, Femen's enemies include the French far-right and French nationalists, but the country's Muslims in particular (who account for up to 10 percent of the population) have reason to find the group problematic, even threatening.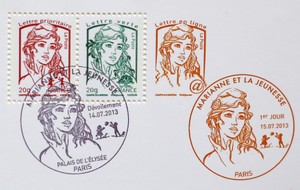 Femen angered Muslims across the globe when, in April 2013, they burned a Salafist flag in front of the Great Mosque of Paris. Afterward, the group launched a "Topless Jihad Day" during which it dispatched half-naked activists to besiege Tunisian embassies in Europe and demand the release of its first Tunisian member, Amina Sboui. Sboui had opened a "Femen in Tunisia" page on Facebook and uploaded to it topless photos of herself, with the words "MY BODY BELONGS TO ME AND IS NOT THE SOURCE OF ANYONE'S HONOR" written across her chest in Arabic. For this, she had been drugged, beaten, and kidnapped by her own family. In response to Topless Jihad, offended Muslim women put up a still-popular "Muslim Women Against Femen" page on Facebook. And then Sboui herself, freed from prison in Tunisia last summer after having written "Femen" on a cemetery wall in the city of Kairouan, denounced the movement as Islamophobic and parted ways with Shevchenko.
Shevchenko seemed to deliberately invite charges of Islamophobia when, during Sboui's detention, she tweeted her outrage at the prison authorities' forced imposition of the Ramadan fast on inmates: "What can be more stupid than Ramadan? What can be more uglier [sic] then this religion?" The tweet led to vehement denunciations of Femen from the once-favorable French press and calls for the postage stamp bearing Shevchenko's image to be withdrawn. But, scornful of the constraints of political correctness, she only doubled down with more invective against Islam and its treatment of women. A recent tweet, issued with the URL of a BBC report on ISIS's rumored, and since debunked, decree mandating female genital mutilation, contains the declaration, "Islam is ugly and disgusting. Islam oppresses, cripples and kills."
I asked her whether the outrage her anti-Islamic tweets had elicited had given her pause.
"Call me an Islamophobe, but I hate Islam! The masses cannot tolerate bold political announcements. If you say what you really think and ignore the rules of political correctness, people reject you. But such 'tolerance' is not for us. Repression against women always comes back in some way to religion, whether it's Catholicism or Islam." She turned contemplative. "Wherever I am," she declared, "I always feel resistance from people. I'm always an outsider."
I asked her how she judged Femen's success since her arrival in Paris in 2012.
"We have aimed to encourage the Left and irritate the Right and point out problems women are suffering from. We have done that." (Indeed, the persecution that drove her and Femen's other senior members from Kiev to Paris exposed the repressive nature of the Yanukovych government in Ukraine long before the Euromaidan protests erupted.) "We were very happy to have outraged Marine Le Pen"—the leader of France's far-right National Front—"with our 'Fascist's Epidemic' protest." That demonstration, which took place in April 2014 as it became apparent that the National Front was headed to victory in elections to the European parliament, involved more than 20 Femen activists with Hitler-style mustaches painted beneath their noses marching on the National Front's headquarters in Paris. Le Pen had earlier characterized Femen as a "sect of hysterical leftist women."
Despite her bravado, Shevchenko had changed since I first met her in December 2012. Notes of melancholy occasionally crept into her voice. She had often spoken to me and tweeted about feeling tired; and now and then, her face betrayed fatigue.
She is studying French intensively and may enroll in the Sorbonne next year. But she would not elaborate on her future plans. "I am searching for something new," she said. "I have dreams but it makes no sense to talk about them now."
Could she really make the transition from her chaotic existence as a prominent activist to the quiet life of a student?
Possibly not.
"Almost 60 percent of the French didn't vote in the last elections [to the European Parliament] because they believed there was no one to vote for. I'm thinking of getting French citizenship and founding a political party here—one for women," she told me.
This would jibe with the aspiration voiced to me by one of the movement's founders, Anna Hutsol, who hoped that Femen would eventually be "the sinful past of future female politicians." Femen's protest in France's National Assembly may well be the first step in the movement's transformation to something more influential in the political life of the country that, if only grudgingly, has adopted it.