Humans of the World
Humans of New York photographer Brandon Stanton takes his craft global, starting with Iraq.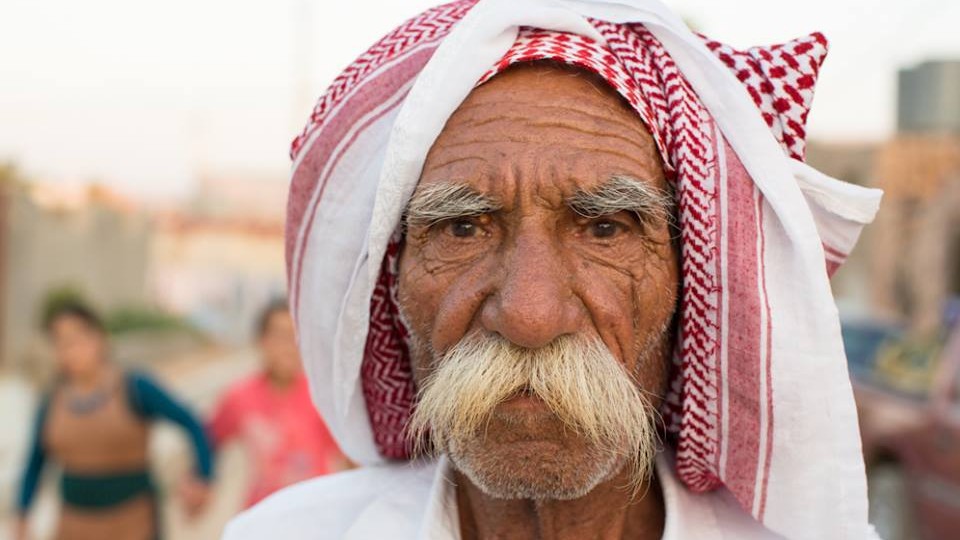 On August 6, photographer Brandon Stanton, of the popular photo blog Humans of New York, posted a picture of a grinning blonde in aviators and a black dress, toting three Maltese dogs. The caption was a quote explaining the differences between the virtually identical pups: "This one is the anxious Mama's girl, this one is the independent hippie, and this one is the boss."
By the next day, the scenery had dramatically changed. An August 7 photo carried the dateline of Erbil, the capital of Iraq's Kurdistan region, and featured a young girl sitting on the floor in a hallway. This caption, too, was a quote, perhaps from one of her parents: "She speaks more languages than anyone else in the family. Because she plays with all the children in the street."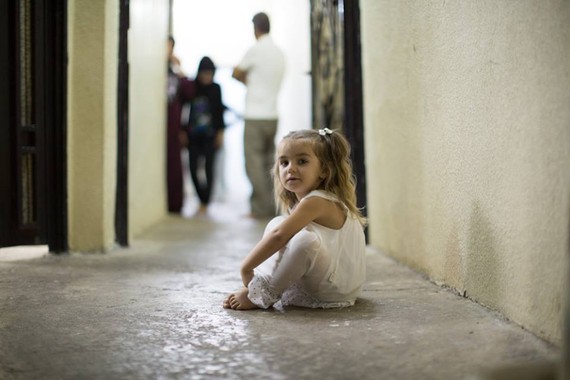 Iraq was the first stop on Humans of New York's "world tour," a 50-day trip through some 10 countries that Stanton is taking under the auspices of the United Nations. As of August 12, he's in Jordan; he'll soon head to the Democratic Republic of Congo and eventually India and Vietnam; he might also swing through the Ecuadorian Amazon, and Haiti's definitely on the agenda.
The purpose of the trip is to raise awareness about the Millennium Development Goals (MDGs)—eight objectives, like eradicating extreme poverty and reducing child mortality, that UN member states in 2000 committed to accomplish by 2015. (With about a year left until the deadline, it appears they won't get all the way there.) The UN tracks progress toward the goals through more than 60 statistical indicators that show, for example, that 22 percent of people in developing regions lived on less than $1.25 a day in 2010, down from 50 percent in 1990. But Gabo Arora, senior adviser to the secretary-general's MDG advocacy group, worried the statistics didn't tell the whole story. "We are very much in a world that's obsessed with quantification," Arora tells me. "[T]here's a face behind these statistics."
Arora contacted Stanton months ago to ask for advice on how to show that human face. Stanton's blog, which started in 2010 and catalogues ordinary New Yorkers' lives through photos, quotes, and short stories, now has millions of followers, is the basis of a best-selling book, and played a role in a successful campaign to get the New York Public Library to ditch controversial renovation plans. "I've always been a fan of HONY," says Arora. "I'm a native New Yorker myself." Stanton and Arora batted around some increasingly ambitious ideas before conceiving of the global tour.
"It hasn't been easy because we really wanted to start out of course hitting every region," says Arora. With the Middle East first on the agenda, "we wanted to send him somewhere where he'd be safe." They picked Iraqi Kurdistan. But that itinerary was set before the Sunni militant group ISIS advanced last week into what had been an oasis of relative security in Iraq, briefly seizing two towns within a half-hour drive of Erbil. In the same offensive, the group took over Iraq's largest dam and laid siege to nearby communities inhabited by Yazidis, a Kurdish-speaking religious minority. U.S. airstrikes followed. "[I]t just so happened that ISIS captured the Mosul Dam the day that I landed, as well as took over the Yazidi villages," which led to an influx of Yazidi refugees into Kurdistan, Stanton writes in an email from Jordan. "I knew that I would be finding stories of refugees in Erbil and the surrounding areas, because there was fighting throughout so much of the country, but I certainly didn't anticipate it pushing so close while I was there."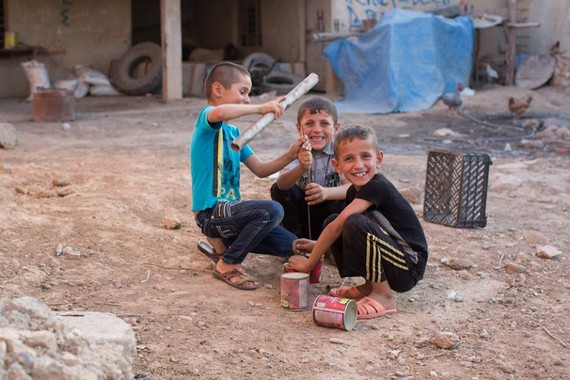 In Dohuk, Kurdistan, Stanton photographed some Yazidi children whose families were, he wrote in the caption, "lucky enough to escape." The caption continued:
While their parents were panicking about their relatives trapped in the mountains, these kids found a quiet place to play. I found them banging on some cans. I asked them what they were doing. "We're building a car," they said. "Isn't that cute," I thought. "They're imagining the cans are cars." When I came back 5 minutes later, they had punctured holes in all four cans. Using two metal wires as axles, they turned the cans into wheels, and attached them to the plastic crate lying nearby. They'd built a car.
This is the kind of vignette that for years has made Humans of New York more than just a photo blog, and its captions more than just captions. In combination, they're an effort not just to look, but to listen. "The point of the trip is not to 'say' anything about the world," Stanton wrote on his blog. "But rather to visit some faraway places, and listen to as many people as possible."