How to Make a Hit Song About Ebola
"Ebola Is Real" is now one of the most popular tracks in Liberia. It didn't happen by accident.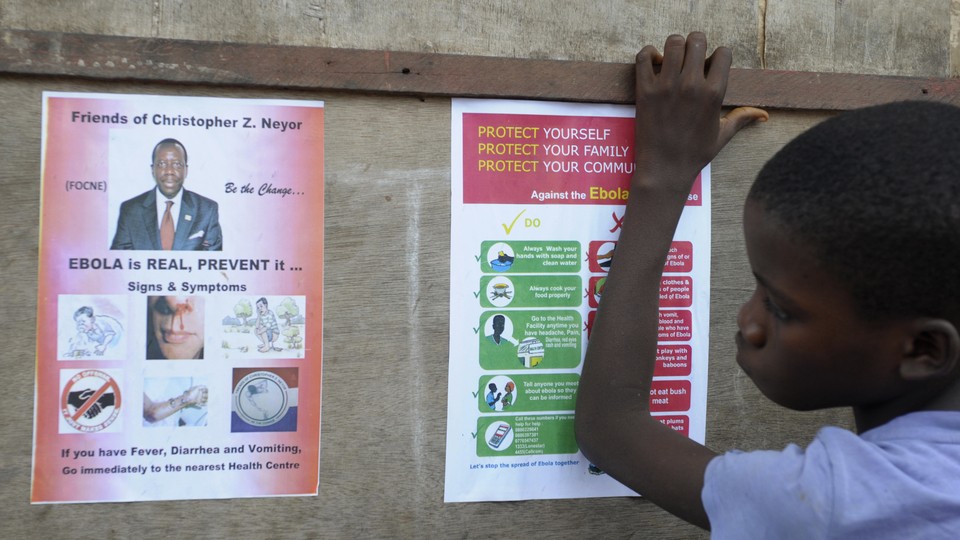 I've had a song about Ebola stuck in my head for a couple days now.
The first time I heard it, I was struck not only by how catchy it was, but also by how seamlessly it blended the soothing sounds of Hip Co (a Liberian take on hip-hop) with ominous warnings ("It's real / It's time to protect yourself / Ebola is here"), homespun advice ("When your monkey want play, don't play with him"), and granular guidance ("The only way you can get Ebola is to get in direct contact with the blood, saliva, urine, stool, sweat, semen of an infected person or infected animal").
The purpose of the song, a collaboration between the Liberian artists F.A., Soul Fresh, and DenG, is to publicize ways to protect against and prevent the spread of Ebola, which has already killed more than 1,400 people in West Africa, and over 600 in Liberia alone since March. As a Hip Co tune sung in the kind of colloquial English you hear on the street, the music is specifically designed to appeal to young Liberians (roughly half the population is under 18). And it's working—at least by the metric of visibility. The track is appearing daily on Liberian television and around 20 radio stations.
"It's the most-played song right now," says Adolphus Scott, a Liberian communications specialist for UNICEF who created the song in partnership with Liberia's Ministry of Health & Social Welfare and the radio station Hott FM, and recruited the artists to compose the lyrics and music. (The song shares airtime with other popular Ebola tracks like "State of Emergency" and "Ebola in Town," which have been produced by local musicians without government involvement.)
To reach older generations, Scott also worked with Julie Endee, Liberia's cultural ambassador, to develop a version of the song in the style of the patriotic, 1980s hit "Sweet Liberia." As one marketing specialist recently put it, this rendition sounds more like a fact sheet set to music.
The obstacles to educating Liberians about Ebola are numerous. This is the first outbreak of the hemorrhagic fever in West Africa. People are bound to fear a poorly understood, often-fatal disease—particularly one where patients, families, and sometimes entire communities are brusquely quarantined and treated by health workers in full-body protective suits. That fear is compounded by deep distrust of Liberian officials stemming from more than a decade of civil war between 1989 and 2003, and the government's more recent failures to deliver basic services and root out corruption. Some see the country's anti-Ebola drive as a government conspiracy to secure foreign aid or marginalize certain sectors of society—a view that has produced raids on treatment centers and violent protests in the quarantined slum of West Point in the capital, Monrovia. Hence the need to title a song not "How to Stop Ebola" or "How to Spot Ebola," but something much more fundamental: "Ebola Is Real."
Halting the spread of Ebola also involves upending longstanding cultural practices like washing corpses before burial and choosing traditional healing practices over modern medicine. The country's feeble healthcare system is under severe strain; even when Liberians heed official PSAs, they often confront acute shortages of everything from physicians to rubber gloves, and find that their calls to advertised Ebola hotlines go unanswered. Only 43 percent of the adult population is literate, which limits the utility of distributing literature on the disease (there are 16 local vernacular languages in Liberia in addition to English). And 84 percent of the population lives below the international poverty line of $1.25 per day, which, among other things, means people rarely have access to the Internet or television (radio is more widespread). They're also resistant to, say, calls to stop eating bush meat, which may help transmit Ebola from animals to humans but often serves as a critical source of protein.
Presented with these challenges, the Liberian government and aid organizations have not only experimented with the content of their public-awareness campaigns, but also with the contours of their messages.
"We're facing the same issues that Coca-Cola faces. Different messages are more effective with different audiences, and different routes of delivering the message are more effective with different audiences," Sheldon Yett, UNICEF's country representative in Liberia, tells me.
Consider the poster below. It contains roughly the same points as the songs on the radio. But, despite the pictures, it may convey those points to illiterate Liberians less effectively than the music.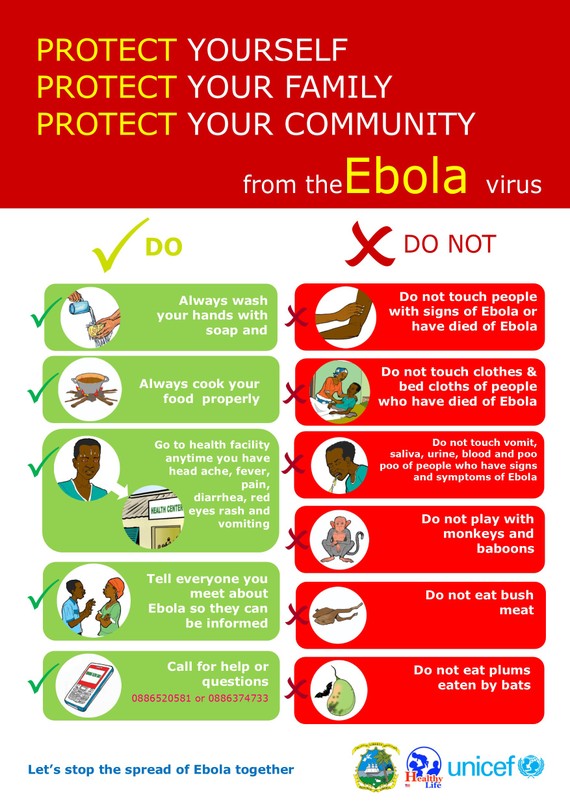 UNICEF has opened communication channels beyond music and posters. The UN agency has dispatched local partners, or "animators," to educate affected communities in person, and asked DJs to read scripts aloud on local radio stations. Inspired by "Demand a Plan"—a fast-paced ad featuring celebrities such as Jamie Foxx and Beyonce standing in front of a simple, somber background and looking into the camera, as they make the case for gun control in the U.S.—Scott worked with the American filmmaker and photographer Morgana Wingard on a similar PSA. They recruited participants from a broad swath of society—the Liberian president, an archbishop, a Muslim sheikh, a Hip Co icon, a county chief—to counter suspicion of the government and health officials.
The team carefully crafted the script, constructing lines like "Don't wait to get Ebola before you believe it" and "Together, Liberia will win the fight against Ebola."
Ebola "is like a marauding army," Scott tells me, in explaining the rationale behind framing the response to the disease as a 'fight.' "It's like a guerrilla army that is more or less stuck to the country like barnacles on a sunken ship. ... We've been in a war before and we know a lot about warfare here in Liberia."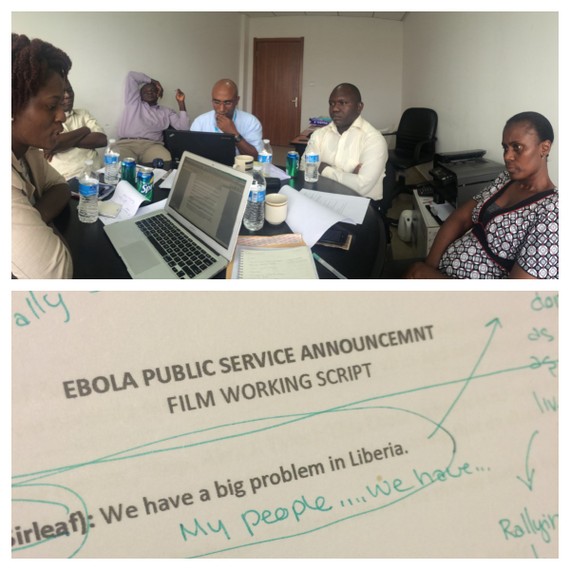 Even the length of the clip was hotly debated. Some suggested that the video be less than two minutes, like the "Demand a Plan" PSA on gun control. But others disagreed, Scott says, arguing that Liberians were more tolerant of long clips than Westerners, and that "asking someone to disengage from a particular cultural practice"—like preparing the dead for burial—"takes time." That time, they eventually decided, would be 5 minutes and 53 seconds.
Scott estimates that Liberian TV stations are now playing the video five times a day, and he's ordered 10,000 DVDs of it to distribute in video clubs, where Liberians gather to watch soccer and Nollywood movies from Nigeria, and in vans that will drive around communities broadcasting the message over a PA system and organizing viewings. He's working on a second video that will feature survivors of Ebola to emphasize that people can triumph over the disease if they take the proper precautions.
"It's not like we're delivering a positive message ... it's not like the benefits of going back to school," Yett says. "We're delivering messages where there are no easy answers. We're delivering messages when the case fatality rate is over 90 percent. How do you tell people to get aggressive treatment when aggressive treatment is hard to come by? How do you have the dialogue and the sort of face-to-face communication that's necessary to deliver a message when the communities which need to hear the message most are insecure?"
Yett's comments hint at a sobering reality: All this creative energy has yet to stop the spread of Ebola in Liberia. It's one thing to design and deliver a message; another to have it followed by the public and honored by officials. The country remains the hardest-hit by the current outbreak. Jingles can only do so much in a nation with the second-fewest doctors per person in the world. The disease hasn't just spawned a health crisis; it's also shuttered schools, undermined security, and overwhelmed the government as a whole.
"The situation seems to be getting worse by the day right now," Yett reports. "I don't think we have turned the corner."
"In fact," he adds, "I don't think we can even see the corner just yet."