Dogs: The Best Kid You Could Ask For
In Taiwan, people are choosing to have pets instead of children.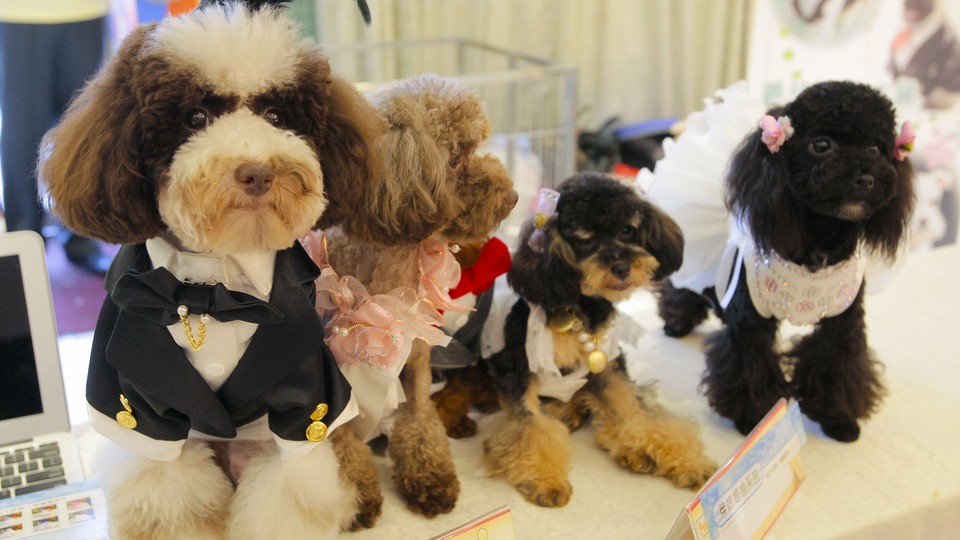 Walking into the 2013 Taichung Pet Show in Taichung City, Taiwan, the first thing I notice is the strollers. These are the high-end SUVs of strollerdom—large, canvas contraptions, some of the double-decker variety, with enormous rubber wheels and mesh shades. People whisk dogs, cats, and bunnies to and fro in the vehicles, sometimes opting for Babybjörn-like carriers and tote bags instead. "People have more pets due to the low birth rate," a stroller salesman tells me. "It's not easy to raise kids—you just have to feed dogs and don't have to get them an education." You do, apparently, have to get them a stroller.
The strollers are only the start. At the Ronger Design Studio, pet outfits include not just the sweaters on display in the U.S., but also two-part ensembles involving a hat and underwear (the "Physiological Pants" section of the Ronger catalog features everything from bumblebee-themed undergarments to French maid-esque pink-and-black-lace panties). "We originally started making outfits to make the animals look prettier, and then we needed to create a diaper, and then we needed to make the diaper look prettier," the woman at the booth explains. The Dog and Royal Food stand serves up artfully arranged salads with julienned carrots, flaked salmon, and yellow sushi rolls—for dogs with discriminating tastes. During a wedding ceremony of sorts, pet owners ascend a platform and pledge, before a crowd of spectators, to always care for their animals, whom they refer to as "family members." At one point, a human couple takes the stage holding a white terrier, only for the man to surprise his girlfriend with a marriage proposal after swearing fealty to the dog (stunned, and suddenly surrounded by other white-terrier owners, she says 'yes').
Beside a collection of stylish cat-climbing furniture—pieces that resemble Ss folded over several times—Joanne Wu Young and her friend Chelsea, who are both involved in animal rescue in Taiwan, discuss mayors and their pet policies; the Taichung mayor is deemed insufficiently animal-friendly relative to his counterpart in Taipei, the capital of Taiwan.
"In Chinese-speaking countries such as China or Taiwan, pets are called chongwu—or 'pet object,' showing that the owner has money," Wu Young laments. For her, and for many others at the event, these animals are far more than material things. Is what I'm witnessing at the pet show love? What is?
The Taichung Pet Show was taking place in a country with one of the lowest birth rates in the world. In 2010, Taiwan's fertility rate (the average number of children women have during their childbearing years) dropped to 0.9—the lowest rate in the world, and a steep decline from a rate of five as recently as the 1960s. The country now has the planet's third-lowest rate, which has hovered around one child per family for the last decade. Many couples are choosing not to have children at all.
Several factors have contributed to Taiwan's shrinking fertility rate—and expanding demand for pets. Euromonitor International, for instance, cites "Low birth rates, low marriage rates, aging population, later marriage, increased women's independence, and smaller household size." In 2013, the Taiwanese government reported that the average age for men to get married for the first time was 31.9, and the average age for women 29.5—an increase of 0.9 years for men and 2.7 years for women from 10 years earlier. "Combined with Taiwan's higher standard of living, the costly health care system, high educational standards and soaring divorce rate, experts predict that children will account for only 9 percent of the population by 2060, while people over 65 years old will account for 42 percent," The China Post recently observed. These developments, the paper noted, are gravely threatening the island's economy and the very concept of the traditional Taiwanese family.
Arranged marriages, so common in Taiwan 50 years ago, have now "almost disappeared," says Ruey-Ming Tsay, a professor of sociology at Tunghai University in Taichung City. Since married couples often face societal pressure to have children, many couples these days are choosing to not get married altogether. "The reason there is a low birth rate," he argues, "is because people don't get married."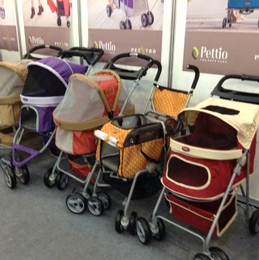 Wei-Tse Lee, the 23-year-old editor of a Taipei-based magazine for pet owners called About Animals, estimates that "50 percent of younger people don't want to get married, ever. If they are under 30, they want to have a career, to build their own life, and have fun. … But a single woman or man may want a pet because people do need company." Women who get married often have to live with their in-laws, and some women don't want to do that, he adds. "Women want women's rights … and they can do more things than before; they can have a job and become a supervisor."
With the economy sluggish and wages stagnating, the economics of raising a child in Taiwan are also daunting, Tsay says. "In Taiwanese culture, parents have full responsibility to raise kids to maturity, maybe 30 years old. … Parents think they need to invest a lot in the kids—the best kindergartens, cram schools"—a reference to the private schools students attend after regular school to improve their English and prepare for high-school and college-entrance exams. In 10 years, as a result of Taiwan's low fertility rate, "one-third of [Taiwanese] universities will be at risk of closing because of lack of students."
These trends have made pets ever more popular. According to Lee, pet ownership has increased by 20 percent in Taiwan over the past decade. The Taiwanese pet-products market has been growing by 5 percent or more in recent years, while the country's cat population has swelled—rising by 22 percent between 2003 and 2011 to more than 300,000. The number of dogs on the island has held steady at just over 1 million over the same period.
With this surge in pet ownership has come a new position for pets in the family. Wu Young, the animal-rescue activist, wants to stop referring to pets as chongwu and instead call them doungwu banlu, or "pet companions."
***
In February, I paid a visit to Rachel Waller, 37, and her cats Mei Mei (in Chinese, "Little Sister") and Wa Wa ("Baby"). Waller was born in Taipei and attended college in New Zealand before returning to Taiwan, where she lives in a fifth-floor walkup in Taichung with her husband, Jonathan. When I entered her bright, tranquil apartment, the cats were curled up on a table and breakfast nook. Waller, who studied architecture, said that she lay out her home with her cats in mind. "When I designed this breakfast bar, I thought they would like to sit in this window, in the sun," she explained.
Waller and her husband both teach at cram schools. They discussed having kids when they were dating, but ultimately decided against it. "My husband said, 'At one point, you may want to have babies. … Then we'll get another cat.'"
Waller found Mei Mei shivering in the cold outside a restaurant during a trip to the mountains near Taichung. She came upon Wa Wa by the side of a road a couple years later, when she was concerned about Mei Mei growing lonely. Both cats were strays.
Her parents ask her about having children. "Especially with a cross-culture marriage"—Waller is Taiwanese and her husband is Australian—"they think kids would be so cute. But I'm pretty independent, I'm not pressured into changing my mind." Plus, she said, her cram-school students range in age from three to 16, and "they are like my kids."
Pets are easier emotionally as well. "The world is getting worse, there's bullying at school, I don't want my kid to bully or be bullied," she reflected. "We have more control over our pets." Waller paused, then added that she also got a cat because she sometimes gets depressed. "My doctor said a pet would be good therapy. I thought I wouldn't be a good mom if I was depressed." Her husband doesn't like getting clothes for the cats and they don't give their pets baths.
She held up her hands, palms flat: "If you wet your hands and pet [the cats], it's like a bath, like a mother cat grooming her kittens."
"Over the last 12 years, I've spent about 2.5 million NT [New Taiwan dollars, or $83,000] on fostering," Joanne Wu Young told me during a visit to her house in Taichung City in February. "My mother's mad because I could have gotten a really good house." She and her husband, who is Canadian, estimate that they've fostered about 900 animals during that period. Both work for foreign bicycle-manufacturing companies.
Her home resembled those where the needs of young children are clearly paramount; here, the furniture and layout were devoted to the demands of her pets. The permanent household included four cats—Shandie, Oscar, Minou, and Elle—and a long-haired Chihuahua named Butter. In a playpen in the living room, beside a 10-foot-tall, carpeted climbing tower, was a golden-eyed foster cat named Bean, who was paralyzed from the waist down from being hit by a car. Bean wore a navy bandana around her waist and her back legs stuck out straight, like furry twigs. Wu Young explained that since the cat's digestive tract was impaired, she had to squeeze urine and feces out of her twice a day. "Can she crawl?" I asked. "Of course!" said Wu Young. "She can move forward with her two front legs."
Wu Young, 36, has been married for 10 years, "and I'm pretty happy without kids. I have a pretty good quality of life in Taiwan. We don't have luxury cars, but we have no debts. The issues are freedom and financial; we have extra money to travel the world." Her parents are "really upset" that she doesn't have kids, and "his parents are upset." But, she added, "I feel life is cheap in Taiwan. … I see people hitting kids and abusing them with language. I don't want to live the way they live."
She has maintained this position even though the government is working hard to encourage Taiwanese to have children. She told me about a friend who is pregnant, noting that the Taichung City government will give the expectant mother 65,000 NT ($2,200) in a red envelope when the baby is born and, for six years after the child's birth, coupons for babysitting or preschool totaling 5,000 NT ($170) a month; a preschool can cost around 8,000 NT ($270) a month.
We looked at Butter, who had been trotting around the living room, sometimes peering at Bean through the playpen. I asked Wu Young if Butter wore clothes. "Butter has a closet of clothes! He gets cold in the winter," she responded, opening a nearby closet to reveal roughly 50 tiny, neatly folded outfits. "For Halloween he was a wizard," she recalled while taking out some of the getups. One was a pink tutu.
"Does Butter wear a tutu?" I wondered aloud.
"This one is hers!" Wu Young said, referring to Bean, the paralyzed cat, who was stretched out in the playpen below. In the living room, above the mantel, hung a family portrait: a pen-and-ink drawing of Butter and Wu Young's five cats. Beside it sat a pile of disposable diapers for Bean.
In March, Wu Young whisked me north to Taipei, the beating heart of Taiwanese pet culture. We went to meet Scott Lee and Rita Chang, who design high-end pet furniture, and Chelsea and Kevin Lin, who run pet hotels. Butter accompanied us on the high-speed train, sitting snug and silent in a rolling suitcase with mesh on top. Envious, I thought back to how difficult it was to travel with my children when they were younger.
En route, Wu Young and I discussed the link between pet ownership and family demands in Taiwan. "It's the Western influence that leads people to adopt pets instead of having kids," Wu Young told me. "If I had married a Taiwanese man, I'd be divorced. … I'd be expected to have kids, not to work full-time, if I was part of a traditional Taiwanese family."
Upon reaching Taipei, we drove to a warehouse and showroom belonging to Scott Lee and Rita Chang, a middle-aged Taiwanese couple who own the cat-furniture company Catswall Design. Scott and Rita, both former graphic designers, had grown tired of their jobs and rescued a couple of cats in Taipei, which led to their new line of work. The spacious warehouse was teeming with 22 cats who functioned as salespeople, lounging in wooden boxes and marching up orange wheels. Outside, they enjoyed a trampoline and treehouse with a swinging bridge.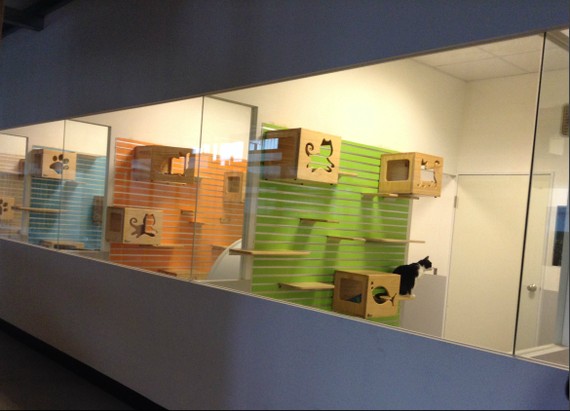 "When we see the cats happy, we're happy," Scott explained. "We've moved three or four times to make the cats comfortable." I wondered, guiltily, if I had done enough to make my children comfortable.
Much of Scott and Rita's income goes to caring for the cats. They spend about 20,000 NT ($670) per month on food, litter, and vet bills. (Later, during lunch at a Thai restaurant, conversation turned to the fact that Taiwan doesn't have laws regulating how many pets a person can have, and the question of how many is too many. We discussed a woman in the city who kept 200 pets. The consensus was that 200 is too many.)
Over tea, I asked what their families thought of the cats, and their answers were surprisingly upbeat. Scott said his mother is supportive because he grew up with animals. She also backs their effort to build a corporate brand.
Wu Young was shocked. "You're lucky!" she exclaimed. "In traditional families, a daughter can have many duties … having kids, helping the mother-in-law, taking care of the family. … Sometimes animals get abandoned when there are issues with the in-laws."
As we drove through the streets of Taipei to the pet hotels, Wu Young recalled her experience teaching kindergarten for 10 years. She quit, she said, because of the difficult parents she encountered. "I had one child who came to school in a Burberry shirt," she said. "In art class, he got a smudge on it. The mother sent a note that said, 'My son came to school in a Burberry shirt. … It got dirty. … Please keep him away from art class.'"
We all marveled at this controlling parent, and it occurred to me that all human children can, occasionally, become chongwu; I thought about the times I'd bragged about my children's accomplishments, or overprotected them, or put them in funny costumes when they were little. In Taiwan as in America, and probably anywhere else, we strive, not just with pets but with humans, to move from perceiving our beloved as chongwu to engaging with him or her as a companion.
At the cat hotel, called Cat and Life, we met Chelsea, 30, and Kevin, 42, who live together and own ("officially?" Chelsea asked) "about 22 dogs." Chelsea and Kevin are from Taiwan. They both lived in Canada for many years and worked in banking before getting into the pet-hospitality business. On the second floor of their establishment, we came across a cat-adoption area—one reminiscent of a child's playroom, with a linoleum floor, wooden tables, and a bookshelf—that functions as a kind of dating/hangout scene where petless people can meet pets (or, in the case of polyamorous pet owners, more pets). On the third floor, cats lolled in 20 small glass rooms that can hold up to four cats each. (Some VIP rooms sport furniture intended to simulate home—one features a wooden desk and black office chair on wheels, another contains a crib with pillows, yet another houses a love seat and a stained-glass lamp.) Video cameras are aimed at each room so owners can watch their cats 24 hours a day while they're out of town. "Everyone is watching all the time!" Chelsea told me. "People say, 'Turn the cameras, nothing is happening,' and I say, 'The cat is sleeping, what do you want it to do?!'"
Pet's Dream Park, which Lin opened 10 years ago as Taiwan's first dog hotel, was cheerful and extensively surveilled, with 64 video cameras patrolling the place. But it smelled strongly of dog, and had a slightly more downmarket feel than its cat counterpart—while Cat and Life resembled a shiny new Hilton, Pet's Dream Park recalled a Ramada Inn. Inside, one dog was wearing a chewed-up purple funnel and a disposable diaper. A series of surgeries had damaged his bladder, requiring him to wear the diaper and a plastic cone to keep him from tearing it off. He stood motionless, staring at us with an unbearably sad expression.
"The vet wanted to euthanize, but the owner didn't want to because of religion," Chelsea said. "The owner comes by and walks him. We try to make things better for him."
What is this love about, I wondered. Who is it for? We left the husky standing in his room, in his diaper, his eyes utterly heavy and confused. He looked like he had been waiting and waiting. Or maybe like he had stopped waiting.
It was time to go home. Butter had successfully socialized with the other dogs at the hotel, and Wu Young had warmed to the idea of dropping him off there in the future. Back on the high-speed train to Taichung, racing by rice paddies and a sky pale with industrial haze, Butter stared at Wu Young from his carrier, blinking repeatedly, as she gazed back at him. "He's trying to go to sleep," she said. "But he wants to look at me." And the thing is, she was right. Butter was looking up at Wu Young with pure love, the kind we all—mothers, fathers, spouses, children—seek out. Was he chongwu, or doungwu banlu, or something else entirely? Butter blinked. Once. Twice. Then he lay down and fell asleep.